Kabuto don at Izna K-Town
Reading Time:
3
minutes
Izna Japanese Donburi House
137 King Street East
Kitchener, ON
(519) 570-1304
www.iznadonburi.com

Imagine you're outdoors: a busy street corner amid the hustle and bustle of traffic and people and bicycles, the city's visual flotsam and jetsam of signs, lights and sensory stimulation buffeted by sounds that mark the urban environment.

Though indoors – and though much more serene – Izna Japanese Donburi House in downtown Kitchener re-imagines that slice of the metropolitan.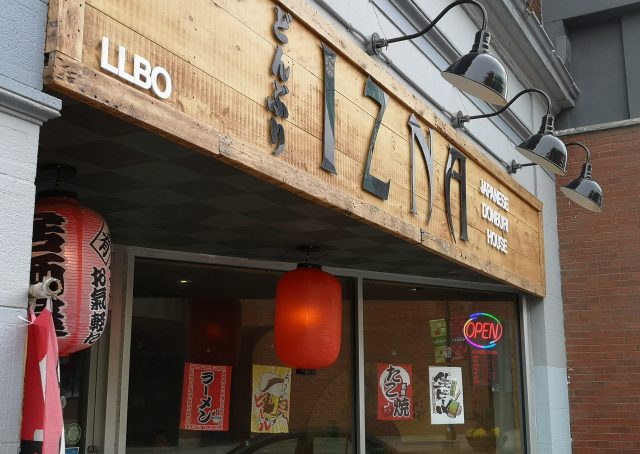 At the centre of owner Chris Lee's restaurant is a wood pergola, which is known as a yatai. It's a replica, of sorts, of a Japanese mobile food stall that is wheeled out, erected and opened to serve customers before shutting down and being wheeled off again in early morning hours.

Lee says simply that he's enamoured of food in the outdoors.
"I love to eat outside, and I want this to feel like outside," Lee told me.
Surrounding the yatai, there's a forest of wood: wood tables, wood benches, wood chairs. The other stimuli include a tin-design ceiling, flags and banners and interesting and engaging bric-à-brac and curios.
There are lanterns emblazoned with "Ramen" in large black lettering but also the kitschy "live laugh love"-style posters that extol the virtues of wine, for instance, and a re-production of the Eisenstaedt sailor-kiss.
Staff will greet you from 15 metres away asking for the number in your party and directing you to a table – or to the yatai where you can sit opposite your companions, or beside.

Juxtaposed to it all is a Japanese Zen-style garden taking up most of one corner of the restaurant; when it's very busy on Friday and Saturday, Lee could likely use that space for a table or two.
Izna is a vibrant venue that captures the chattery spirit of an izakaya: I admit I love that chatter and freneticism, but I like the food, too, at Izna.
The appetizer menu includes at once vegetarian japchae and takoyaki deep-fried octopus. There are two dozen donburi rice bowls, about a dozen noodle dishes as well as a blend of classic Japanese dishes like okonomiyaki pancake and Korean dishes such as galbi on sizzling cast iron.
There is both sake and soju, the latter the Korean distilled beverage; interestingly, you can also order a schooner of beer.
"This food is my history," he says referring to his 12 years as a cook and restaurateur having owned other restaurants. Korean, Japanese or Chinese, each item has been tweaked and re-imagined from former menus. "I love fusion food," Lee says.

Among the donburi selections, there is kabuto don ($14.95). It takes its name from the Japanese samurai helmet, the image of which Lee has captured in two large and wonderfully crisp tempura-battered shrimp that he mounts on top of the bowl.
The base is delicious and gently tangy sushi rice on which is layered fine slices of avocado, a couple of pieces of crab, an assortment of mixed greens, crispy shards of fried batter and house-made kewpie-style mayonnaise slightly thicker and slightly sweeter than Hellman's. A punch of flavour is by virtue of furikake, a seasoning rich in umami. Nori tops it all off.
Like its bowl-of-food cousins Korean bibimbap and Vietnamese bun cha gio, donburi is a satisfying rice "salad" (in a way a salad can rarely satisfy). Mix it up or eat the individual components: either way, it's delicious and filling.
In the yatai, on the tray replete with a place mat advertising the best dish for your astrological sign, you'll find side dishes of pickled Korean radish, some kimchi and an excellent miso soup with cabbage: the urban cacophony, real or imagined, subsides as you dig in, the warm rice doing its soothing work.
Izna is open Monday to Saturday for lunch and dinner.
*****