Shingleesh at Mashawi Charcoal Grill
Reading Time:
3
minutes
Mashawi Charcoal Grill and Shawarma
572 King Street North
Waterloo, ON N2L 6L3
(519) 880-8008
www.mashawi.ca

[Originally published in The Kitchener Post]
The menus at Middle Eastern restaurants always include "Mezze" — if you don't see that particular word, look for "Starters" or "Appetizers." However they are listed, they are delicious.

Mezze as a concept is a simple and communal one: you order many dishes to the table and your entire group of family or friends, or both, share.
It's exceedingly civilized and, really, an entirely proper way to take a meal and one which is different than traditional North America meals where people order their own appetizer and main course, and often dessert.
With its name referring to barbecued meats, Mashawi Charcoal Grill and Shawarma, located in north Waterloo adjacent to Conestoga Mall at about King Street and Northfield Drive, has been open about 18 months.
Tucked a bit behind a number of other businesses, inside it's a sleek, modern dining room with seating for about 30, spotlessly clean and drawing a good lunch crowd of people who work at businesses in the area.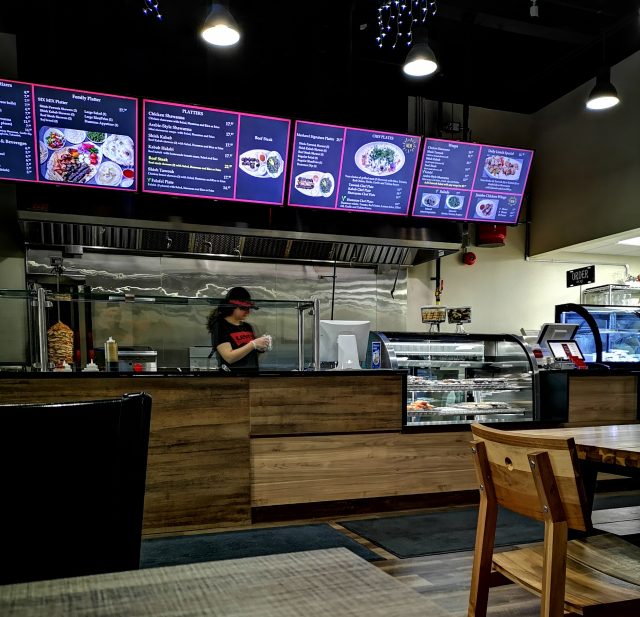 The owners, Abdul Alzahal and sister Lina Alzahal, have come from other first careers in scientific fields in Ontario; by training, he is an agricultural engineer and she is a mechanical engineer.
Originally from Syria, the pair decided they wanted to open a restaurant and do some cooking. And so they have, and they've engineered a pretty nice restaurant as a result.
In Waterloo region, I'm guessing that there must be three- or four-dozen places selling shawarma. Mashawi, I'm sure, sells its share too.
The rest of the menu is traditional kebabs, hummus, falafel, tabbouleh and fatoush, with the Alzahal's interpretations of the dishes and with prices ranging from $5 to $57 for a platter for a family of four. Desserts include baklawa, butter cookies and creamy dates.
However, among the half-dozen or so mezze is a rara avis, a dish I don't think I've seen before: shingleesh ($7.97).
Shingleesh, a cold appetizer, is essentially a cheese ball, according to Abdul, but it has much more flavour than those North American cheese balls that were once a part of our culinary past and pop-culture food magazines.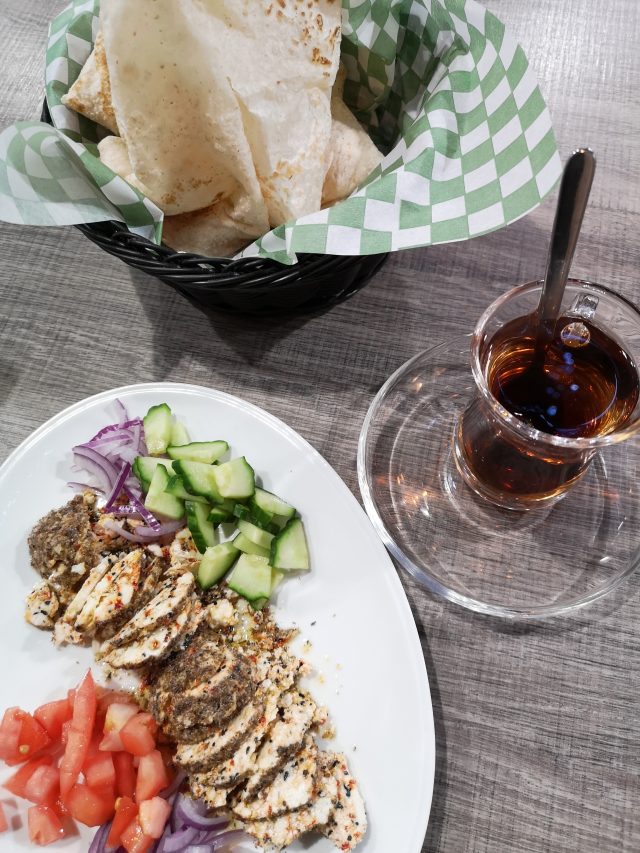 At Mashawi, they slowly cook down some salted yogurt (if there's time, they make their own yogurt) and make a type of cheese.
It's seasoned with herbs, salt and pepper, spices like za'atar (a Middle Eastern spice blend that often includes sumac) and red pepper.
The cheese is formed into balls and allowed to dry for 24 hours. "Back home, the cheese might be left out to age, but we don't do that here," Alzahal says.
"Shingleesh is a common dish at home for us, but it's not so common here. It's eaten as an appetizer but also at breakfast too," he says.
When you order shingleesh, the balls are cut into slices and fanned on the plate. Accompanying it are chopped cucumbers, red onions for a bit of bite and chopped tomatoes.
There's another important and delicious element to the simple dish: utensils are set aside because the pieces of cheese and the veg are scooped up with a superlative type of freshly baked bread call saj.
To make saj at Mashawi, a thin dough is applied to a large steel convex grill using what is essentially a pillow. In a matter of seconds, the dough cooks into a marvellous bread, the blend of textures of which is both slightly crisp and slightly chewy while it is still deliciously warm.
The bread itself is amazing, and Alzahal adds that no matter when you eat shingleesh, it's best with a cup of hot tea.
"It just melts in your mouth when you eat it with tea."
Mashawi is open daily.
*****