Tim Simpson: pastry instruction at Conestoga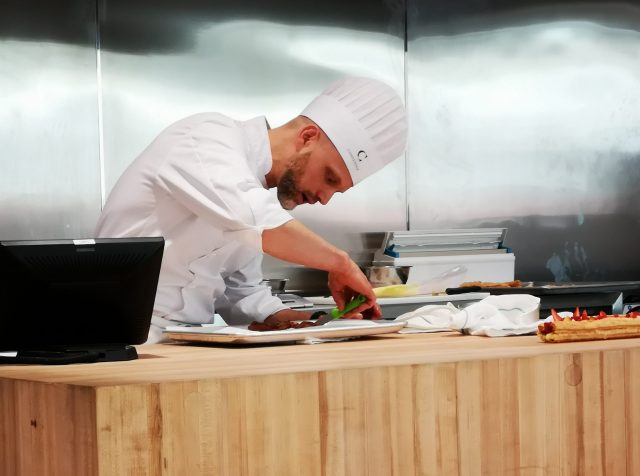 You can tell while observing him during class that instructor Tim Simpson loves sharing his knowledge of the fundamentals of baking and pastry with his Conestoga College students.

And in such a course as "Baking and Pastry Arts," techniques and the basics are front-and-centre in class.
 
"We're trying to give them the fundamentals of all aspects of pastry, from laminated doughs and breads to chocolate work and cakes and tarts," says Simpson, a culinary faculty member at Conestoga's Waterloo campus since last summer.  
 
The goal, he adds, is a comprehension and depth that will give students a solid foundation when they head out into the industry, even if they don't want to be a pastry chef. "They need to go into the industry not just understanding cooking but with a balanced side of pastry knowledge," he adds. "The course explains the how and the why."  
"There seems to be growth in the industry for pastry labs and training," he says. "That's especially true in international markets."

— Tim Simpson
Having seen Simpson's demonstration and his detailed instructions and theory over the course of a three-hour class, students, later that week or even later that day, will head into the kitchen to try to duplicate the task under the guidance of a Conestoga culinary technologist, in this case Sam Curtis, who instructs and supervises them in their cooking labs.
As I watched the latter portion of the class, Simpson pulled a tarte Tatin from the oven and, without hesitation, expertly flipped the baking pan and turned out a neatly constructed example: it's an action he's likely repeated many, many times. The students, of course, should be so lucky to hit the mark on their first attempt at this classic of French pastry from the Loire Valley. Such a skill, Simpson points out, comes only after practice and repetition with the right fundamentals.
 
His passion for the art and craft of baking supports his expertise when it comes to the techniques. He adds to the lecture portion of the class regular tips and encouragement intended to motivate and give the students confidence: "I want you to have success with this," he announces.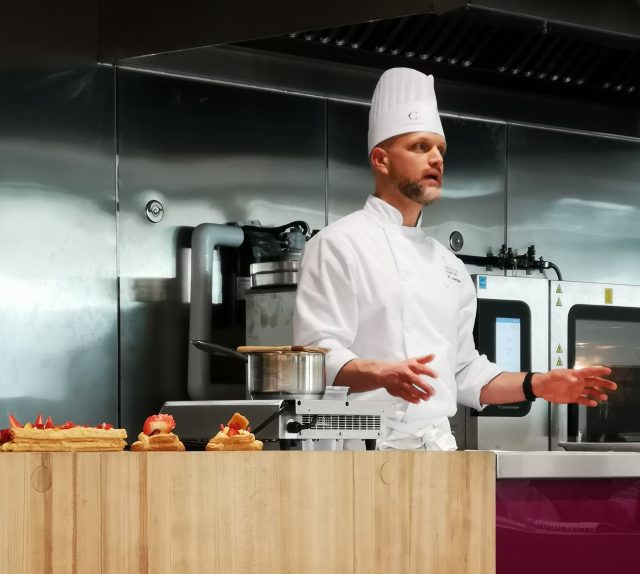 Kitchener-born, Simpson attended Bluevale Collegiate and then George Brown College for culinary training. He worked at restaurants in Toronto before deciding he wanted to pursue pastry. "The very first job I had was in 1999 when I was still at George Brown. I worked for several months at Peter Martin's 20 King Restaurant in Kitchener. Lori Maidlow, a Stratford Chefs School graduate, was chef and an excellent teacher. I learned so much there," he says acknowledging the importance of good teaching.
 
Eventually, Simpson co-founded downtown Kitchener's Golden Hearth Bakery and Ambrosia Pastry Co. on Roger Street in Waterloo. He then spent six years as a pastry instructor at George Brown before entering the staff ranks at Conestoga about six months ago. He started by helping develop the new curriculum.   

"That summer, I got to write a course called 'Chocolate and Confections' as one of the first things I did and then implement it in September," he says. "It was probably my favourite course to teach. I got to do all my favourite chocolates and confections." 

Now, with students lined up at the front of the class taste-testing the tarte Tatin, I ask Simpson what he thinks of the status of the pastry kitchen in the current industry. "There seems to be growth in the industry for pastry labs and training," he says. "That's especially true in international markets."
Anecdotally, it is a truth that I could find at least three examples in the last several months where professional chefs have disclosed to me that they have gotten their current cooking job because they were able to answer a simple question when looking for a position in a professional kitchen: "Can you do pastry?" 
 
I asked Simpson if the ratio, precision and attention to detail – Simpson refers to them as "properties" in the scientific sense of density, temperature, malleability and so on – that are required of pastry chefs build a solid foundation for a young cook at other stations in the kitchen. He says yes: "I've found that with cooking and pastry, you really have to turn one off and turn the other one on to do really well at it."  
There's an intuitive "put-some-things-together-and go-on-the-fly" approach that works well for cooking, he says. "But that usually leads to detrimental properties when baking," he quickly adds. "You really have to focus on the planning, precision, accuracy and repetition of that skill to really develop that property." 
 
So, if you say you "don't like pastry," Simpson has a hunch that you're not inclined to those properties and characteristics. You need a balance of both, he stresses.

"What I'm finding is that many of these students here seem to have an interest in culinary and the art and science that are behind it. With that, the planning of our curriculum can get them where they need to be."