Wednesday Word: Rémoulade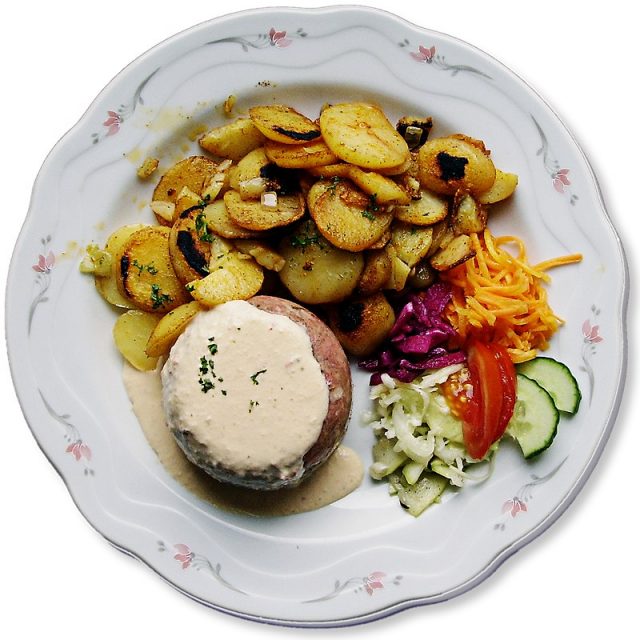 Reading Time:
2
minutes
Rémoulade [ray-muh-LAHD]
The classic French sauce starts with another classic French sauce, mayonnaise, to which is added mustard, capers, chopped gherkins, often parsley and chervil or other herbs — and anchovies.

Generally served with cold meats, fish and shellfish, rémoulade is versatile sauce. It can also be prepared with paprika.

You can find rémoulade at The Bauer Kitchen in mid-town; it is part of a cheese fritter appetizer featuring a local fior di latte Mozzarella and house red-pepper preserve.

Also, on the menu at Little Mushroom Catering of Cambridge is a dish of crab cakes and dill rémoulade.
At the Lancaster Smokehouse, a local bastion of low country and southern U.S. cooking, rémoulade has played a key sauce-role in the past, according to chef and co-owner Tim Borys.

"We've had rémoulade on the menu for years but currently not with the downsized pandemic re-opening menu. We've served it with catfish, fried tomatoes, hush puppies and po' boys," Borys says.

Traditionally, rémoulade was served with meats, but today it likely appears more at table as a dipping condiment. It plays a key role in Cajun cuisine but a version of it is found in cooking around the world, from Iceland to North America, with lots of European countries drawing on it.
Holding the banner for a classic rendition, food writer Elizabeth David [her rémoulade recipe from French Provincial Cooking (1960) is below] says the sauce, when made properly, should be creamier and less rich than a mayonnaise.
*****
A classic French rémoulade [based on Elizabeth David recipe]
Ingredients
2 hard-boiled egg yolks
1 raw egg yolk
Drop of vinegar
1 teaspoon mustard
salt and pepper
1/2 cup of olive oil
Chopped capers
Chopped herbs such as tarragon and chives

Method
Pound the yolks to a paste and add vinegar. Stir in the raw egg yolk and add mustard, and salt and pepper. Add the olive oil slowly and incorporate into a mayonnaise. Season with your selection of tarragon, chervil, parsley and chopped capers.
[Banner image/Wikimedia Commons]