Rosel's Flavours for Life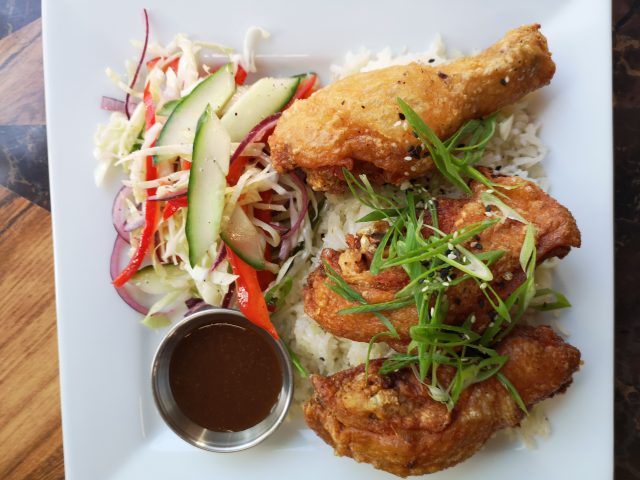 Reading Time:
3
minutes
Dating from a week or so ago, from Rosel's Facebook page …
"WE ARE BACK!! We are so excited and happy to be back! Catering is available now. Groups from 4 to 50 people. Give us a call and we will be happy to serve you. Menu coming soon as we get back into the swing starting September. We will be doing delivery. Sorry no pickup at this time. Thank you all for your patience and understanding."
*****
Rosel's Flavours for Life
#1-20 Hurst Avenue
Kitchener, Ontario N2J 2X7
(519) 722-7995

[Previously published]
For Rosel De Guzman, opening Rosel's Flavours for Life food business has been a bittersweet endeavour. Cooking a dish such as pandan chicken instills in her a sense of pride, but her voice quavers slightly as she talks about its origins.

"We were very poor in Philippines and sometimes had to beg for money for food, so we were lucky my dad and mom could make this kind of chicken, especially at holidays. It's a dish that has a lot of memories for me," De Guzman says.

Creating memories with food
As a three-day pop-up restaurant sharing the space at the Wooden Boat Food Company, she opened Rosel's last year. It came off the back of having graduated from culinary arts training at St. Louis school and working in Jerrit Raney's kitchen at Proof Kitchen and Lounge in Waterloo.

Rosel's does catering and creates meal plans too. Though he's employed in industry elsewhere, her husband, Chris Dry, helps out when he can.

The space is industrial with a huge open and screened garage door that lets in a beautiful fall day, almost like a lanai, when I have visited. "When I saw that it was an open space, I said it's just like the Philippines," De Guzman says with a laugh.
She was born in Marikina City, northeast of Manila and worked in Hong Kong for a few years before coming to Canada in 2012. "I grew up seeing my parents cooking outside and selling food, and since I was seven years old I've been doing my rice," she says.

Adding her own twist to Filipino dishes
Rice is a foundational food for Filipinos, and De Guzman describes her seven- or eight-item menu ($6.25-$16.95) as traditional dishes as you'll find in Marikina: siopao steamed bun with braised pork with a side of pickled papaya, pansit bihon noodles or lumpia spring rolls – but, she says, with a twist. "Pork adobo is better known here, but I've added a few different ingredients in addition to the soy sauce and vinegar, including wine."

In addition, Rosel's creates monthly specials such as gluten-free long silong, a Filipino breakfast with home-made sausage, over-easy egg, garlic-fried rice and cucumber ($10.50).
The deep-fried pandan chicken ($16.95 with rice, tamarind sauce and a fresh crisp salad) is among the best fried chicken I've had.

It's marinated over night with gluten-free soy and oyster sauces, spices and the long green leaf of the pandanus, or screw pine, which is like a small palm tree. "I grind the leaves in a mortar and pestle for the marinade," she says, adding that she sources the leaves from area Asian markets.
Pandan chicken is light and crisp
A light and bright tasting dipping sauce is made by soaking tamarind paste in warm water, bringing it to a boil with sesame oil, brown sugar, fish sauce and salt and pepper.

It is a delicious accompaniment. "I remember my dad wrapping the chicken and marinating it all night," De Guzman says. "It's important for me to be able to share my Filipino food with people here."

Her dishes will likely be memorable for you too. The chicken is lightly spiced and lightly battered with potato flour – that results in a delicious, pleasantly shattering crunch before yielding to the hot, tender and moist meat beneath. I believe it's a texture we all love, no matter what corner of the world we come from.
"When we started, I was worried that people here wouldn't know Filipino food, but I wanted to introduce them to the food we ate where I come from," says De Guzman who smiles when she thinks of her opportunity to do just that.

"I love it," she says. "It's been really remarkable for me."