The rising tide lifts all boats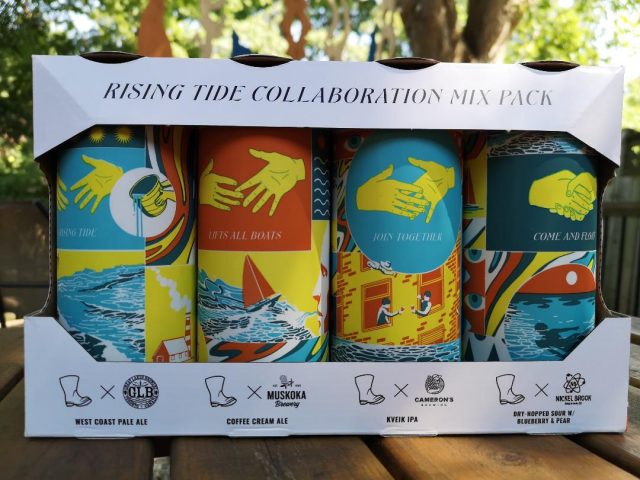 Reading Time:
2
minutes
Recently released is the "Rising Tide Collaboration Mix Pack" of unique and inventive beers.

The initiative, brought to my attention by Wellington Brewery, one of Ontario's first craft brewers with its 35-year history, was inspired by the challenges brought to all industries — but especially food and beverage — by the coronavirus.

That's a reality we sadly know all too well.
Collaboration is key
Collaboration is a relatively new phenomenon in the food and beverage industry, but brewers have been particularly adept at embracing it. They have been so for a long time and have, in fact, come of age together as a key industry in our communities and economies.

So, that position stated, Wellington has collaborated with some fellow breweries to make "something special happen," as they phrase it.

"Our friends at Great Lakes Brewery, Muskoka Brewery, Cameron's Brewing and Nickel Brook Brewing Co. worked with us to create these four unique collaboration beers, each inspired by the brewery's history and featuring local Ontario ingredients," according to Wellington.

I've tried them all, and all are delicious: the pack includes a west coast IPA, a coffee cream ale, a Kveik IPA (an ancient Norwegian yeast, pronounced "kwike") that draws on the yeast expertise of the fabulous Guelph-based Escarpment Laboratories and a dry-hopped sour with blueberry and pear.
"It's a showcase of the craftsmanship and creativity at the heart of Ontario craft beer, and it simply wouldn't have been possible without the resilience and camaraderie of our craft beer community."
Rise together to help save hospitality
However, that's not all …

There's another, even more important, element to the Collaboration Pack: proceeds from the Rising Tide Mix Pack will go to support SaveHospitality.ca.

SaveHospitality.ca is an advocacy group of more than 1,000 independent restaurants across Canada dedicated to raising awareness about and support for the hospitality industry as it faces the ravages of the novel coronavirus.

"We are hoping to raise over $10,000 to support workers and small businesses in the Ontario hospitality industry," adds Wellington.
Choose your beer wisely
We can help when we make our beer choices: the Mix Pack ($13.95) is available at the LCBO, select grocery stores in Ontario and from the brewery, while supplies last.

Do you what you can to support local restaurants, bars, cafes and other hospitality businesses: buy the Rising Tide Collaboration Mix Pack, as you are able.
It's true: the rising tide does lift all boats. Collaboration should be a guiding star now, in these difficult times, but always as we move forward.

Be kind! Help each other! Drink good local beer!