Sichuan-pepper chicken at King Tin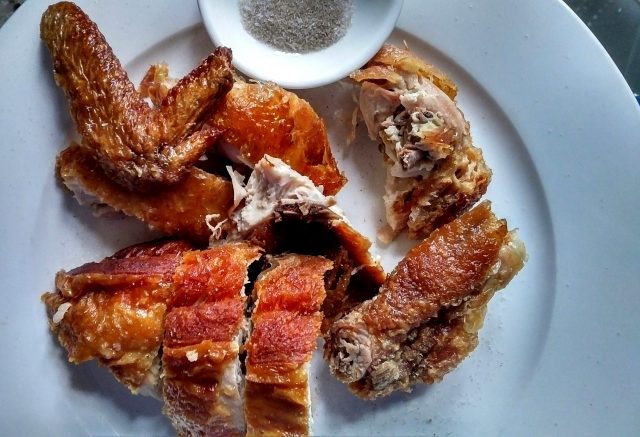 Reading Time:
3
minutes
King Tin Restaurant
101-318 Spruce Street
Waterloo, ON N2L 3M7
(519) 885-4716
kingtinchinese.com
Chicken, generally, can be a humdrum affair, especially the white meat—and even if it's cooked properly. Too often bland and dry, it's usually a place-holder on menus, along with salmon, for folks who have, shall we say, less adventurous palates.
The exception that proves that rule is a really, really good rotisserie-roasted bird, herb-seasoned, salty and dripping with fat; some sort of heavily smoked capon, juicy and earthy; or very good hot and crisp spicy "Nashville-style" chicken served with some nicely acidic, crispy pickles and an ice-cold beer.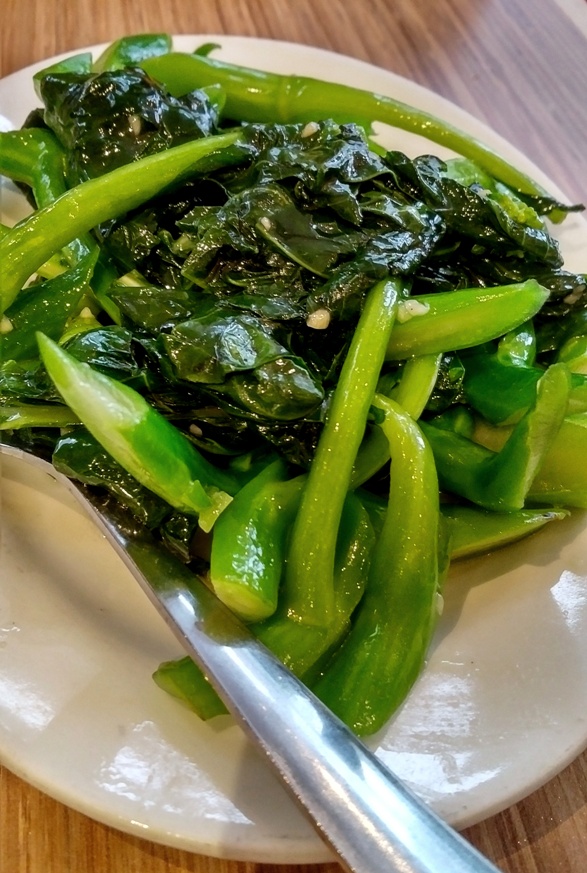 Or, deep-fried whole Cantonese-style and served with a Sichuan pepper salt, then hacked into pieces and garnished with those curvy shrimp chips. It's a classic dish of the region and is often served for important ceremonies. One example is at King Tin Restaurant on King Street, Waterloo, near Laurier.

Cantonese cuisine derives from the south of China in Guangdong on the South China Sea coast. The province has a population three times that of Canada—and delicious food that makes Chinese one of the world's great cuisines.
Located on the ground floor of a sparkling new apartment tower-cum-student dorm in one of Waterloo's shanty-town neighbourhoods, King Tin moved from its original home on King Street near Bhima's Warung about a year ago. At their old location, and in their prime, they did awesome dim sum. The crispy chicken was good too.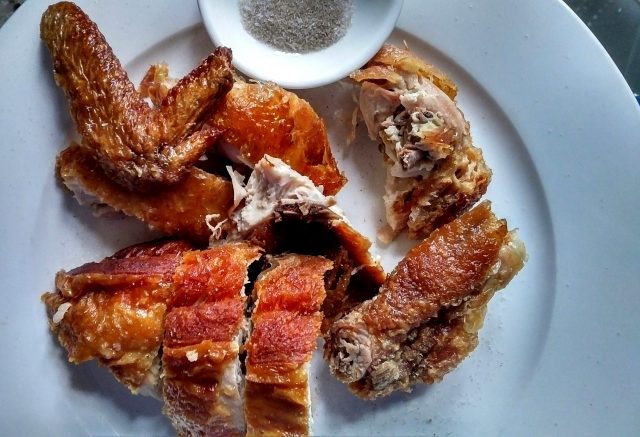 The logistics of the dish are somewhat complex and require time, patience and the bravery, ability and equipment to deep-fry a large piece of poultry, if you wish to try it at home.
But save yourself the trouble and visit King Tin. The multiple-stage technique is first gently poaching the whole bird in a seasoned bath of spices of star anise, cinnamon, nutmeg, green onions and ginger, and then let the chicken dry.
Next comes a massage with what is essentially a gastrique, to use a French culinary term, which is a sort of syrup of vinegar and sugar. Once this tart and sweet syrup is well integrated, the chicken is again dried. (I've heard, not literally, of places that have used hair dryers, but that is uncorroborated.)
The dry bird is then deep-fried, that being the shortest part of the process. It is chopped into small chunks and served with prawn or shrimp crackers. But best of all is the small dish of grayish-white pepper salt that you sprinkle on: it has a five-spice flavoured Sichuan pepper which elevates the entire dish.

King Tin's Cantonese-style deep-fried chicken can take 30 minutes or so when you order it, so be prepared. (There are also small bones to deal with too.) What you receive, though, is an amazing culinary experience with sweet and slightly tart moist chicken and a fabulous crispy-crunchy skin.
A half order of the deep-fried chicken is $12, but get the whole bird for $20: you'll finish it in one sitting.

*****