Tepache at Grand Trunk Saloon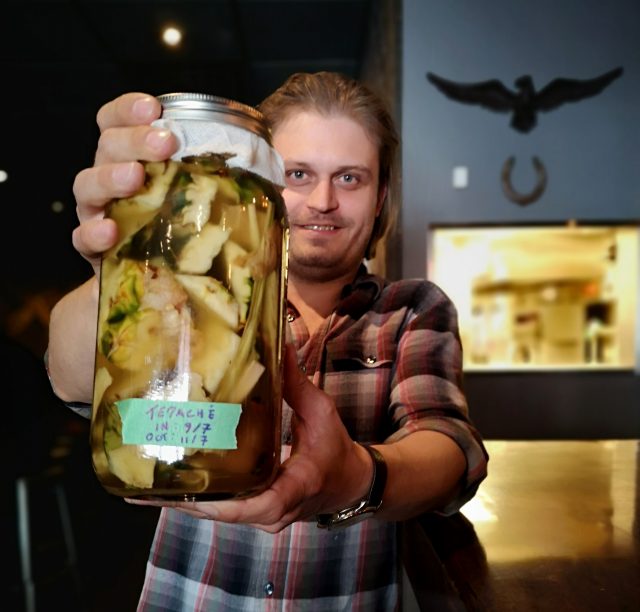 Reading Time:
5
minutes
Tepache is a popular chilled street drink in Central America, but it's also part of the bar at Grand Trunk Saloon. And with the help of sister restaurant, The Grand Surf Lounge, the two venues are making something delicious and reducing food waste.

Also the name of a small town in Sonora state, Tepache is a traditional Mexican beverage, lightly fermented and naturally carbonated, according to Matt Hewson, a mixologist at Grand Trunk Saloon (GTS).

"You could use a lot of other foods, but it's usually pineapple. It changes but I generally keep it to the classic recipe, very simple and basic," Hewson says. "You'd get a similar sort of drink at food carts on street corners in Mexico."
Collaboration reduces food waste
To the discarded rough and spiky pineapple rinds, still packed with a bit of luscious fruit and delivered by Grand Surf Lounge chef Alex Krawczyk, Hewson adds basic larder ingredients such as sugar, cinnamon, allspice and some cloves, as well as brewer's yeast, to make the beverage. "This current batch has some lemongrass, ginger peel and lime leaf," he says.

Hewson says he started making just a couple of big Mason jars but has recently been filling a large pail in preparing the drink. "It's definitely picking up."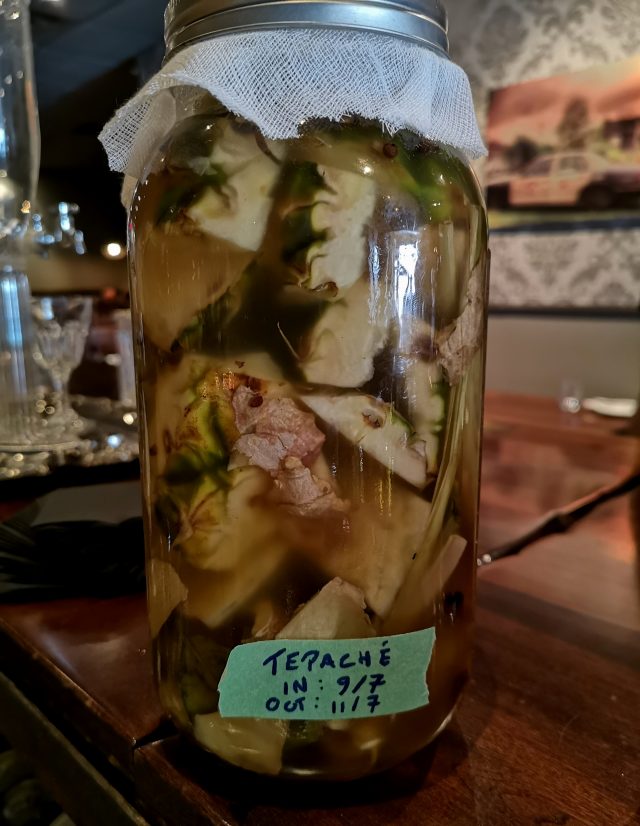 A Kingston, Ontario, native, Hewson worked in Vancouver for a few years, and he has experience in restaurant kitchens. He says a restaurant like Grand Trunk lends itself to collaboration between kitchen and bar and between himself and Krawczyk and Grand Surf, which is a few south on Ontario Street in downtown Kitchener.

He's quick to point out, though, that his endeavours with Krawczyk are not trailblazing and that he came by the process via a cocktail pioneer. "I'm interested in the prep side of things and the creation and blending of spirits," he says. His interest deepened while at Kitsilano's The Oakwood restaurant (which is now closed after eight years) while working with Kelsey Ramage, from whom, he says, he learned a great deal.

A few years ago, Ramage was at London, England's, Dandelyan, now Lyaness, when it won a host of awards including "World's Best Bar" in 2017. Since then, Ramage has become a front-and-centre advocate for anti-waste in cocktail programs – the emanation of which is her Trash Tiki with its improbable name and its very blunt and loud hashtag, #DRINKLIKEYOUGIVEAFUCK.

Closed loop cocktails
The word and the drink "tepache" derives, in the era before Columbus, from the Central-Mexican Nahuatl, or "Aztec" language, a language which also gave us the words avocado, chili and chocolate. It refers to a drink made with a corn base; however, tepache eventually came to be made with the rinds of the pineapple shell characterized by its roughly pentagonal shapes.

While the beverage perhaps fits thematically with the food at the southern-U.S. inspired GTS, there is another goal that Hewson and Krawczyk were after: sustainability and responsible waste management. "It's a closed-loop cocktail program between the Surf and Trunk, and Alex and I collaborate. He brings me ingredients and there's some creativity between the two of us in using them." Grand Trunk also makes avocado syrup, for instance.

The restaurants aren't exactly outliers, but they're early adopters. The downtown Kitchener BIA, in fact, has started a pilot program with about a dozen downtown food operations to divert organic waste, and Krawczyk says they're interested in doing what they can to reduce what they bin. If making tepache doesn't exactly eliminate waste, it does diminish it and derive another use or two — and perhaps even three — from the food. "We're much more conscious about how much waste we produce and that it's going to landfill," Krawczyk adds.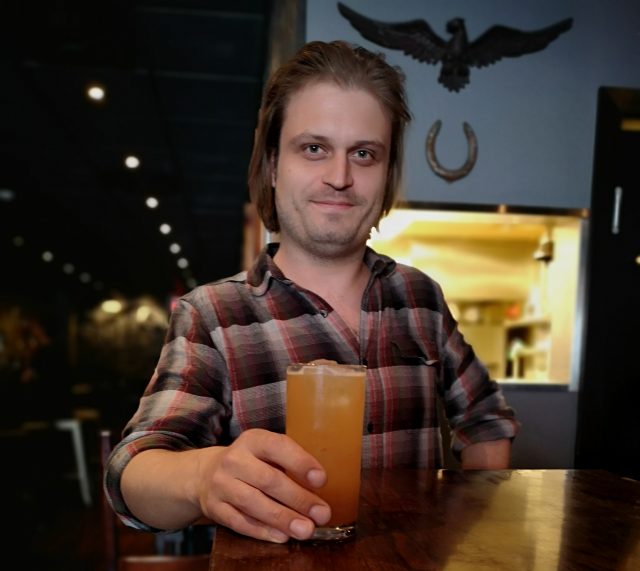 At many busy bars, kilograms of lime peels, for instance, are thrown away each day (you can read more about bar waste, in an article by Corey Mintz, here). Limes are one of the worst bar-waste offenders, with pineapple waste in the top range. "Citrus husks are a significant waste, but there's a lot of flavour there and ways of re-purposing it which allows us to cut down on the amount of fresh citrus that we bring in," Hewson says.

For his part, Krawcyzk uses about a half-dozen pineapples or more a week for his cooking; the rinds would ordinarily be thrown away. "I essentially just create the garbage and get it over here," Krawczyk, a Conestoga College culinary graduate, says. "I use a lot of pineapple and have a lot of rinds left over. It's the same with lemongrass. Whatever I can't feed people with, I give to Matt."

Batches are always different
Tepache is rare, perhaps, partly because it is a result of food waste, and the perception of what that is; rather, something like kombucha is fermented and made from food ingredients, says Krawczyk. Yet, it's relatively easy to assemble: Hewson adds water to the jar (or pail) of ingredients along with a bit of brewer's yeast; once the sugars are activated at room temperature, it starts to ferment fairly quickly and Hewson has to burp it to release gas. "I then put the yeast to sleep by putting the mixture into the fridge," he says. "One reason I like it is because the batches are always slightly different because it's a living thing and there are a lot of environmental conditions. In this batch, I wish there was more carbonation, actually."

Hewson leaves the jar covered but unsealed to allow gases to release. After a few days, there's a lot of activity in the jar. The alcohol content is very low. "After a few more days, I'll strain it, taste it, and then cap it. It's just like making a kombucha," he says. A batch has about a week's shelf-life while refrigerated. Krawcyzk notes that the liquid is acidic and that it's a healthy ferment. The glass that I tested was quite refreshing and tasty, and although it started off as if it was going to be very sweet, it mellowed and some acidity and pleasant tartness took over.

"Last Saturday, we sold about six liters. We do tacos that night, and it's a great pairing," says Hewson, who, along with the other GTS bartenders, mixes drinks that are topped with tepache.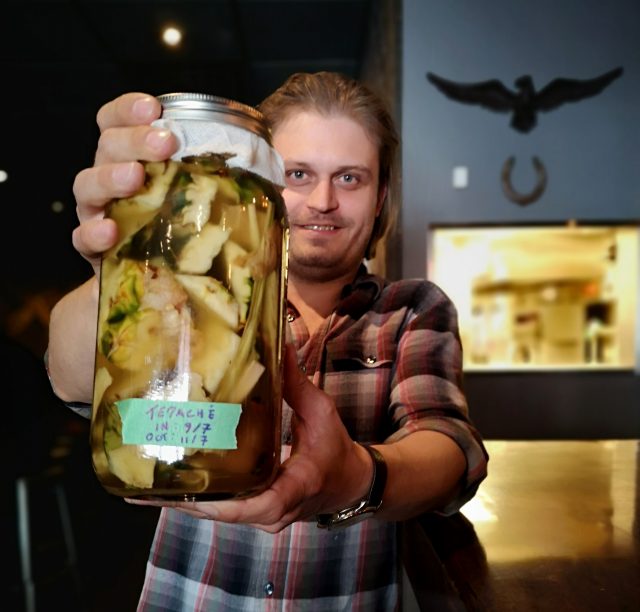 From closed loops to Froot Loops
As for a GTS cocktail using Grand Surf pineapple rinds, I give you the "Goodbye Stranger," for example, a rum cocktail which now has the interesting and unique tepache story behind it.

"It's classic with white rum and St. Lucian rum," says Hewson. "I put a bit of smokey mezcal in and some of our Cherry Bomb hot sauce. The syrup is interesting because it's actually the third life of the tepache. I strain it and make simple syrup. What really comes out of that is the lemongrass."

To which Krawczyk adds that a strange phenomenon takes place that both he and Hewson have noticed — and find a bit humorous.

"We've noticed that it tastes like lemongrass Froot Loops."
That's fine by me.
*****
Matt Hewson's GTS tepache cocktail: "Goodbye Stranger"
Ingredients:
.75 Chairman's Reserve Rum
.75 J. Wray White Rum
.5 mezcal (something smoky like Creyente)
.75 fresh lime juice
.5 lemongrass ginger syrup (made from the solids after straining tepache)
2 dashes Angostura bitters
8 drops of 25% saline solution
2 dashes of hot sauce (optional; I used our smoked Cherry Bomb hot sauce)
Method:
Shake, pour into Collins glass over fresh ice, top with tepache and serve.