Three treats for good eats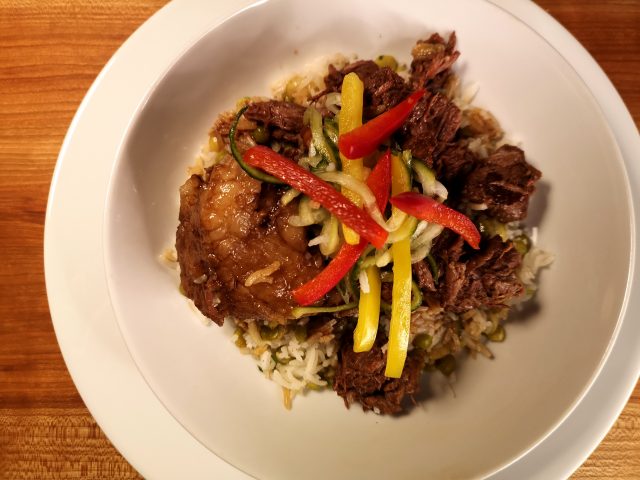 Reading Time:
3
minutes

Here are a few suggestions for some good eats, if you are looking for a bite in the spring-like days ahead. (Please check with individual venues for dish availability and hours of opening.)

A national dish of the South American country with cultural links to the Caribbean, pepperpot has a family connection at Red House.

Dan McCowan takes oxtail and boneless beef short rib, flavours it with a traditional ingredient called "green seasoning," ginger, and cinnamon and orange to create a sweet and yet spicy character. It's served with basmati rice, split peas, a cucumber pickle for some good acidity and sweet pepper slaw.
But there's more to the stew than that: pepperpot has both an interesting culinary history and family history for McCowan.

"My dad is Guyanese, and I grew up eating West Indian food," he says. "I also remember it being too spicy for me when I was a kid. Like a lot like the curries dad made for us, he'd have to make a milder version for the kids. He likes his food really, really hot."
At its most basic, seitan (SAY-tan) is made by mixing vital wheat gluten with water and some seasonings. You obtain vital wheat gluten by hydrating hard wheat, which activates the gluten (the thing that makes bread dough stretchy), and removing the starch. You dry the gluten and make it a powder again.
"Seitan has a meat-like quality when you bite into it," explains Grand Trunk Saloon staff.
At Big Jerk Smokehouse, doubles have been part of Lucinda Nicholas' repertoire since the days she and her late husband, Jim, owned another famous local Caribbean restaurant. It's part of that "under-the-radar" element, according to Nicholas.
"People here, Canadians who have discovered them, have loved doubles," she says of the snack.
Nicholas adds that she will spend quite a bit of time to get the chickpea consistency right. "They first soak overnight, and we cook them gently for two hours."
Paul Ludford, a cook at Big Jerk, acknowledges the street food's history. They've tweaked the recipe but only slightly.
"Doubles are certainly a Caribbean food, originating in Trinidad and Tobago in about 1936. It's a breakfast but it caught on for lunch too. We've found out over time that guys who drink a lot want something a little spicy in the morning," Ludford says with an ironic laugh.
[Pepperpot banner image/andrewcoppolino.com).