Chef profile: Patrick Laverty on cheese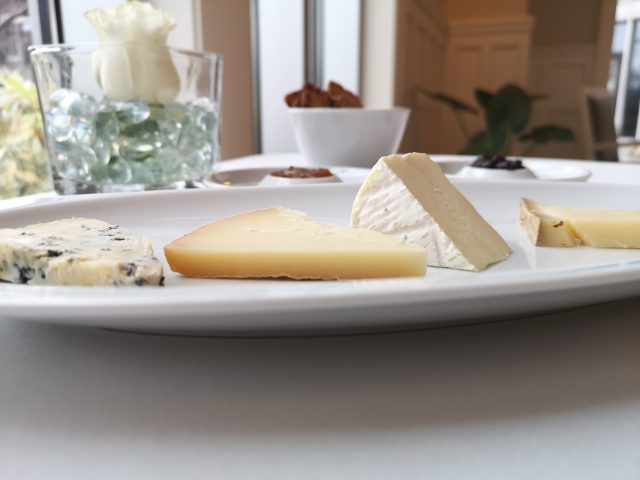 Reading Time:
6
minutes
You may not know Clifton Fadiman for his intellectual career as an editor, critic and television personality, but you may have heard his eloquent praise for what happens when you add rennet to milk.
Fadiman said, "A cheese may disappoint. It may be dull, it may be naive, it may be over-sophisticated. Yet it remains cheese, milk's leap toward immortality."
"That's the fascination for me"
While he remains grounded in his work in the kitchen at Stratford's The Bruce Hotel, sous chef Patrick Laverty can wax poetic when it comes to the ethereal heights cheese can reach.
"Those textures, the process of how it's made, the final product in the flavours drawn from what the animals have eaten and how that translates through: that's the fascination for me," Laverty says of cheese.

That phrase "translates through" is Fadiman's leap to immortality.
Laverty, born in London, Ontario, but having grown up in Aurora, about 40 minutes north of Toronto, starting cooking when he was 15 years old. Now 31, the kitchen is where he's spent a lot of his time. "I've been cooking professionally pretty much my entire adult life," says Laverty, a graduate of the Niagara College culinary program.
The Shaw Club Hotel in Niagara-on-the-Lake was his first fine dining restaurant, and he also spent some time at Trius Winery Restaurant before heading to Killarney Mountain Lodge. Laverty arrived at The Bruce Hotel, a beautiful boutique venue at once exactingly detailed and exceedingly and charmingly comfortable in Stratford, in July, 2019.
"Cheese was always on the table at home"
Like Fadiman, I'm fascinated by cheese: I love eating it; I love learning about it; I love nibbling it — and more than just nibbling it — with a good glass of wine or an excellent pint of beer. So, needless to say, I'm thrilled when I find a restaurant that serves a cheese course.

I'm even more excited when I learn that somewhere in the kitchen there's a cook who, rather than whose "job it is" to prepare a cheese course, actually has a bona fide passion for cheese: Laverty is that cook — and that turophile.

He comes by it honestly too.

"It stems from my parents, and especially my mother who has Italian background. She's an incredible cook and passionate about food, as was my Nonna," says Laverty. "Cheese has always been in my family and has always been on the table."
He says picking a favourite, when he gets to sample so many wondrous selections, would be difficult. "But for blue cheese, for instance, that would be a classic English Stilton with port and apples and walnuts," he says. "That represented the first time I had the combination, and the impression has stayed with me. Cheese became very special to me from then on."

If there's a cheese that is always in the fridge at home, Laverty says that would be Parmigiano-Reggiano and likely some Gunn's Hill Dark Side of the Moo: "It's a great cow's milk table-cheese, soaked in stout [from Upper Thames Brewery] with a wonderful flavour." Otherwise, he might head to Ontario's cheese Mecca, Cheese Boutique, for more discoveries.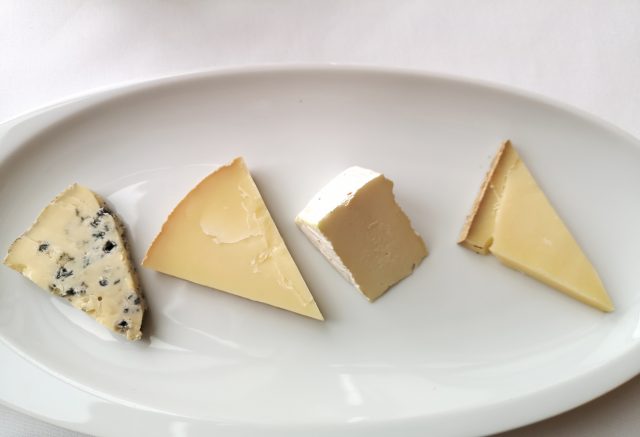 Aside from a bit of culinary school caseiculture instruction, the technical aspects of cheese — the paste, the rind, the wash, the terroir, the maturation or affinage — he has learned on his own and on the job. "It's about tasting, it's about talking to cheese producers when you visit them. They're really open to sharing how they work."

In many a restaurant, cheese — sadly — is too often ignored, diners rather preferring to dip into a sweet dessert than an Époisses de Bourgogne, a Morbier, a Monforte Dairy Piacere. Cheese is amazing both in its flavours and its production. I say we need more cheese in our lives and in our restaurants.

At Shaw Club Hotel, Laverty's home-honed love of cheese was sparked in a professional sense when the kitchen started bringing in some superb Canadian cheeses. The diversity and range of textures and flavours stoked his interest, he says, and he found a re-newed love for it. I can certainly understand that.
Exciting to see wide variety
Even in his relatively short time in the business, he notes that he has seen remarkable evolution in Canadian and Ontario cheese production. I had a visit from Montforte Dairy cheesemaker Ruth Klahsen when I hosted the 570 News Food Show many years ago: Klahsen has been instrumental in nurturing the idea of what Ontario cheese can be with her delicious cheeses — and she's drawn to our attention the totality of food production and sustainability across the province and the country in doing so.
Laverty is part of how that evolution has manifested itself. "Earlier in even my career, I would say that with the exception of cheeses from Quebec, there were few quality Canadian cheeses. Now there are Dutch- and Swiss-style cheeses coming from this area of southwestern Ontario. It's exciting to see the diversity from one farm, and one family, to another."

He cites small producers, little known several years ago, that are now popular and with a wide variety of cheeses. That range, he says, is local quark cheese (which I've sampled in The Bruce's butter tasting) to the more finessed products like Gunn's Hill 5 Brothers Gouda-Appenzeller hybrid, and others. Monforte too, of course.
"They transform into something special"
Working with executive chef Brandon Clemens, Laverty selects the cheeses that the hotel restaurant brings in. The process is research and exploration of local creations and those a bit further afield. "We taste many cheeses and talk to producers looking for unique reserve cheeses that you can't necessarily find at local stores and that are short run."

Laverty adds value to the cheeses too: by properly storing the cheese at temperature and humidity, the immortality blossoms. "We take some cheeses and hold them to age them further. They transform into something special."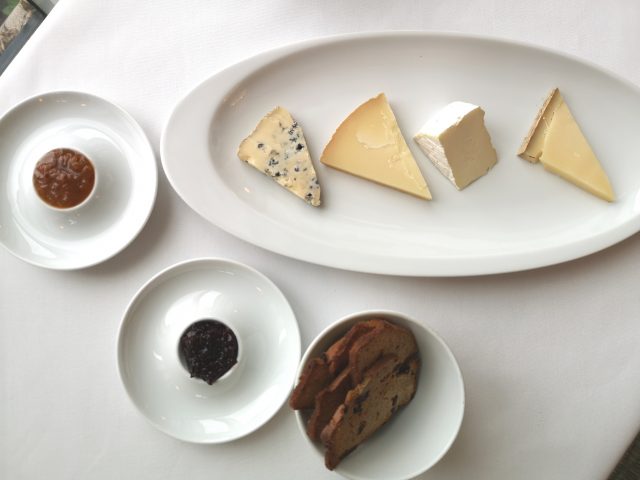 The cheese selection at The Bruce changes just about every month and is designed to pair with Clemens' menus, so conceivably you could visit every few weeks for different tastes of transforming immortality.
***
Laverty's and The Bruce Hotel's cheese course
As for Laverty's cheese course at the time of writing, it has a couple of selections that are from right next door and a little further afield; the cheeses are served with cloudberry and Saskatoon berry compote and cherry toasts:
Stonetown Cheese
St. Marys' Stonetown Cheese Grand Trunk four-year Gruyere-style cheese is named for the old railway bridge in St. Marys. "It's distinctly salty and a great way to start off the cheese course," Laverty says. "It really brightens the palate."
Gunn's Hill Artisan Cheese
Buffalo Bliss is an all-buffalo milk Brie-style cheese by Shep Ysselstein at Gunn's Hill. "The milk is from the Hope Dairy Cooperative in Aylmer. It's aged for six weeks and with its high fat and protein, you get a really rich creamy flavour but without being runny," Laverty says. "It sits nicely on the plate."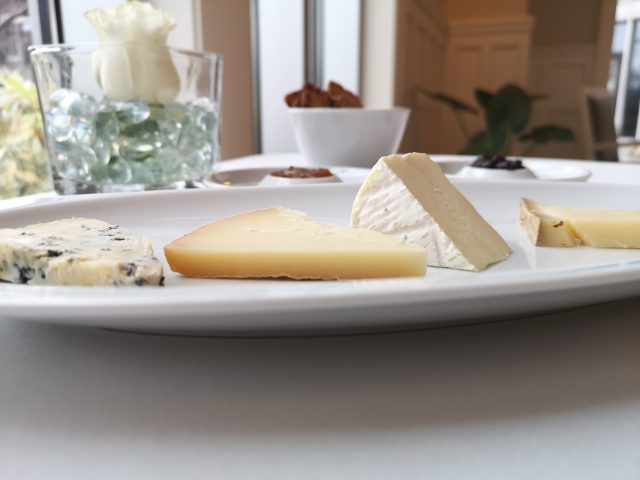 Lenberg Farms | Mariposa Dairy
Lenberg Farms near Lindsay, Ontario, gives us a hard cheese in the style of a Pecorino-Romano called Tania Toscana, according to Laverty. "This cheese speaks to me a little bit more. It's a sheep's milk cheese — cheese that is my personal favourite. I find the flavour profiles of sheep's milk so interesting. It's tangy with lots of nutty notes that remind me of cheeses on our table at home as a child."
Glengarry Fine Cheese
Lancaster, Ontario, Glengarry Celtic Blue is a mild, buttery, semi-soft blue cheese with age anywhere from three to six months. "We age it for another three months here giving it a drier characteristic and a chance for the blue veins to further develop," according to Laverty. "The blooming of the mold brings slightly more punch but remains mild."
***
Cheese can be a simple food that is often, and often in a nonchalant manner, stocked in our fridges without as much as a second thought; yet, it is also an incredibly complex and incredibly delicious food that we can pay a lot more attention to if we choose.

Laverty uses both his passion for cheese and his cheese course-platform at The Bruce for the latter — and to inspire potential new cheese lovers to make the immortal leap in a tasting of "transformed" milk.

"By offering cheeses that are appealing to everybody, it's an opportunity to introduce people to more cheese and from there they can develop their tastes and understanding," he says. "It's opening a door for somebody to walk through, and that's special."