DTK dinner feeds hundreds in need
Reading Time:
3
minutes
A few minutes after five o'clock Monday evening, the line of people out the door of B @ THEMUSEUM in downtown Kitchener wended its way along the sidewalk on King Street nearly reaching Queen Street.  
 
Inside the restaurant, the queue zigzagged around the dining room and through the door that leads into THEMUSEUM, where a couple of hundred people were enjoying a full holiday-style turkey dinner put on by a local hospitality company. 
 
Now in its fifth year, the event, called "Dinner for Those in Need," has become a notable partnership between B Hospitality and THEMUSEUM. It's designed to give anyone in need in the downtown area a nutritious and community-spirited meal.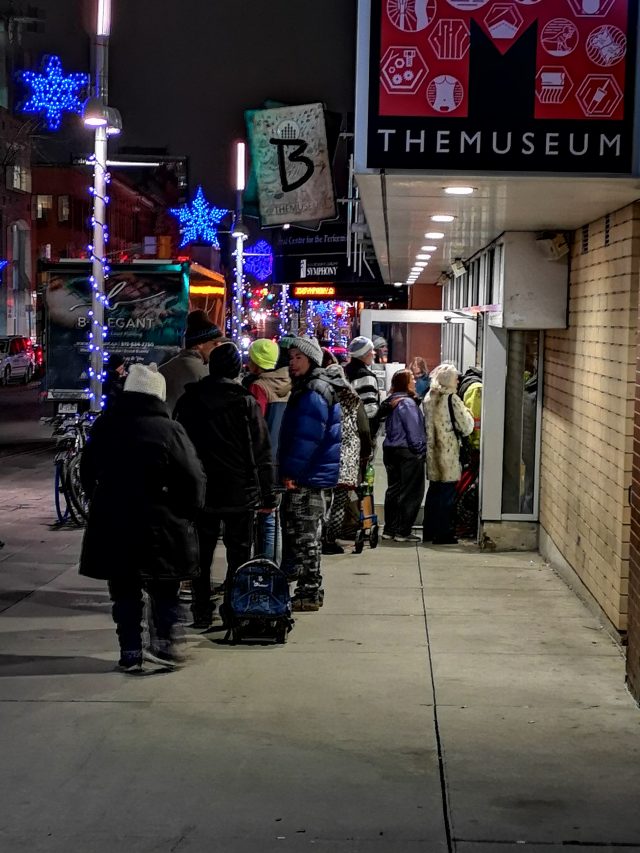 B @ THEMUSEUM head chef Collin Morrison estimates that staff served about 450 people in the two-hour span. That, he says, is up from last year's dinner. 
 
"All we do is let a few local support services like House of Friendship and The Working Centre know about the dinner, and the people come. We just want to give people a good, hot meal," Morrison said. 
As partner, THEMUSEUM provided support staff and opened its doors and floor space for dining tables and chairs to be set up – and offered free admission to the entire museum and its exhibits. 
B Hospitality, which includes B @ THEMUSEUM, the kitchen at Lot 42, Bruce Craft House and the Cambridge Hotel and Conference Centre, sent about 50 of its employees as volunteers to serve the dinner, according to Morrison. "We also brought in a Santa Claus for any children who might be here. In past years, we've had 15 to 20 kids or so." 
 
THEMUSEUM was filled with the holiday aromas of turkey and stuffing, while guests sat at communal tables on a couple of floors of the building. I saw several guests walking through the exhibits and heard a couple of them say thanks to Morrison, noting that dinner was "just delicious."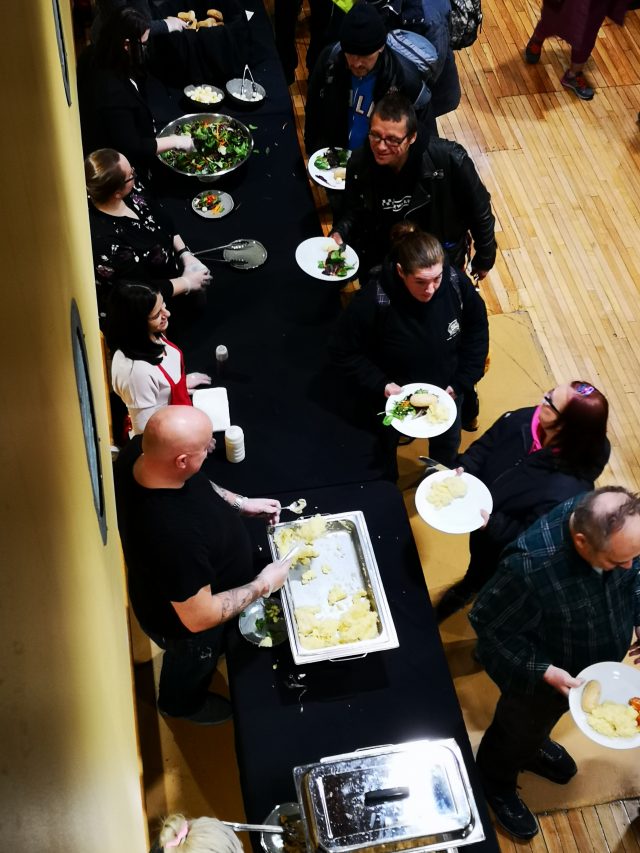 The food for the two-hour event was prepared at the Lot 42 kitchen on Ardelt Place in Kitchener: 160 kilograms of turkey, 80 kilograms of mashed potatoes, 90 kilograms of vegetables, 68 kilograms of stuffing, 50 litres of gravy and 600 rolls, with the meal being rounded out by 500 cookies and 60 pies, according to Morrison. There was also a full hotel pan of cranberry sauce. 

Adam Beke, executive chef at Cambridge Hotel, and Nick Ruthardt, chef de cuisine at Lot 42 joined Morrison in overseeing the food preparation at Lot 42 beginning at noon Monday; it was then transported to warming ovens at THEMUSEUM and served cafeteria-style. 
I think one of most notable aspects of the large gathering was the camaraderie and the family atmosphere. As with any festive food event, many guests had heaping plates of holiday dinner, and there was a palpable energy and excitement among they sat together talking and laughing.
Morrison said that the company is happy and proud to put on the event and be able to give back to the community with the meal, adding that B @ THEMUSEUM is a part of the fabric of the downtown core.  

"This event is something that we wanted to do for people in the downtown, and with THEMUSEUM as our partner we're able to do it. We're happy to do it for those in need in our community."