Nuestro 88 for Filipino food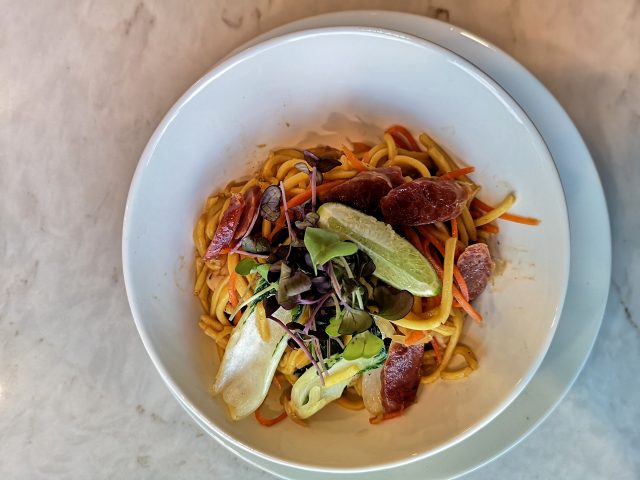 Reading Time:
3
minutes
If you haven't noticed, Paul Masbad has been doing more baking at Nuestro 88.
I've tried a few of his sweets and pastries now. But you will also find cakes, some which make use of Filipino ingredients like ube, a purple yam with which he makes items such chiffon cake. I also love Nuestro's milk buns — they are delicious!
Make sure you visit and try them out sometime. Nuestro 88 is located near Deer Ridge.
*****
I wrote about Nuestro 88, located in Deer Ridge Centre along the furthest reaches of King Street East near Sportsworld Crossing, about a year ago. Of course, a lot has changed since then.
Chef and co-owner Paul Masbad, along with his wife Evelyn Masbad, have created one of only a handful of restaurants in the region that prepare Filipino food.

Nuestro 88, however, blends that cooking with some of the food of Evelyn's background too: Central American. That makes for a delicious and interesting combination.
In a time of Covid-19, Nuestro 88 has re-imagined and re-organized itself as a take-out and pick-up venue in order to stay viable during these difficult times.

"We have no patio, but we have transitioned to pick-up and take-out," Masbad says. "It was harder than I expected. Most of the businesses in the Deer Ridge Centre — my customers and clients — are still closed. We do some catering and are trying to stay afloat."
Currently, Nuestro 88 is offering some interesting dishes, including "Father's Day Feast Platters," unique to restaurants in the area: nopales and queso quesadillas, Managua shrimp cocktail, elotes (Mexican street corn) and Argentine empanadas, to name a few.
The below article was previously published in The Kitchener Post and has been updated and revised.
*****
Nuestro 88 Restaurant
Deer Ridge Centre
4293 King Street East
Kitchener, ON N2P 2X7
(519) 219-7888

Local restaurants have grown more sophisticated, but not in an artistic and fussy fine-dining kind of way.

Rather, comfort foods and home-style cooking techniques from a broad range of cultures are landing on the dinner plates in front of us. That makes for a terrific fabric of food in our communities.

To the numerous southeast Asian, Central American and African flavours to be enjoyed, we can also add Filipino, thanks to Nuestro 88 which located in the Deer Ridge area.

Manila-born Paul Masbad, who has been a chef in Waterloo Region for decades, including with the Charcoal Group and New Dundee Emporium, cooks the food of his home and that of Evelyn, his Nicaraguan-born wife.
Memorializing arrival in Canada
They each came to Canada in 1988, memorialized in the signifier that is the restaurant's name: "our year 88."

The food is as much a result as colonial influence as anything, combining Filipino, Central American and Spanish ingredients, according to Masbad.

"Filipino cuisine combines different flavours from the Spaniards, the Chinese and Japanese, even the Indonesians," says Masbad.

"Each region of the country has its own dish, or a variation of it, just as in Mexico there are variations on a taco or a tostada."
Nuestro 88's menu includes tacos al pastor Manila and empanadas with gochujang, for instance, or ropa vieja Jinotega, the Nicaraguan city where Evelyn was born. The pancit Canton noodles are particularly good, blending Filipino and Chinese elements.
Growth in Filipino restaurants
However, Filipino restaurants are few and far between. The Manila-based multinational Jollibee, known for its fried chicken and sweet spaghetti, got an excited reception when its downtown Toronto location opened a couple of years ago.

On Madison Avenue at Courtland in Kitchener, J and P Filipino Store, in its own version of fusion, carries Asian and Newfoundland food products and has a small hot-table at the back.

In Guelph, Filipino chef Arvi Gosmo runs a catering company, and she regularly offers Filipino cooking classes, but Nuestro 88 was for the time the only full-service Filipino restaurant in the area. (Since then, Sari-Sari Filipino Cuisine has opened on Lancaster Street West; I haven't been, but it seems to have gotten a positive reception so far.)
The foundational flavours at Nuestro 88 are balanced and not too bold, says Masbad. "There's sweet, salty and sour but not too much on the spiciness. That's considered a condiment for dipping, rather than something integrated in a dish."
Exploring bitter flavour
When it comes to bitterness, he says, that is not much explored here in Waterloo Region. "We might use bitter gourds and melons, but it's something that has a different profile that we don't really appreciate here. People ask why would I want to eat something bitter?"

As for techniques, dishes often start with French methods that includes a mirepoix of sautéed onion, celery and carrots. "We build that flavour base before integrating other ingredients, whether it's pork or chicken. You start with a base and slowly build flavour. Filipino food is meant to be comfortable to your palate," he says. "It uses a lot of spices, but they don't overpower the taste."

I think the most interesting cuisines are those that share the cultural elements that we grew up with. That's evident in the growing diversity of restaurants that we now find in our communities, and considering the multicultural festival on this weekend. Masbad would agree that it's the essence of Filipino cooking.

"Many countries gave us a piece of their cuisine, and we integrated it into ours. But a lot of these dishes are my memories too."