Street food selections for the weekend
Reading Time:
3
minutes
Imagine you're outdoors: a busy street corner amid the hustle and bustle of traffic and people and bicycles, the city's visual flotsam and jetsam of signs, lights and sensory stimulation buffeted by sounds that mark the urban environment.

Though indoors – and though much more serene – Izna Japanese Donburi House in downtown Kitchener re-imagines that slice of the metropolitan.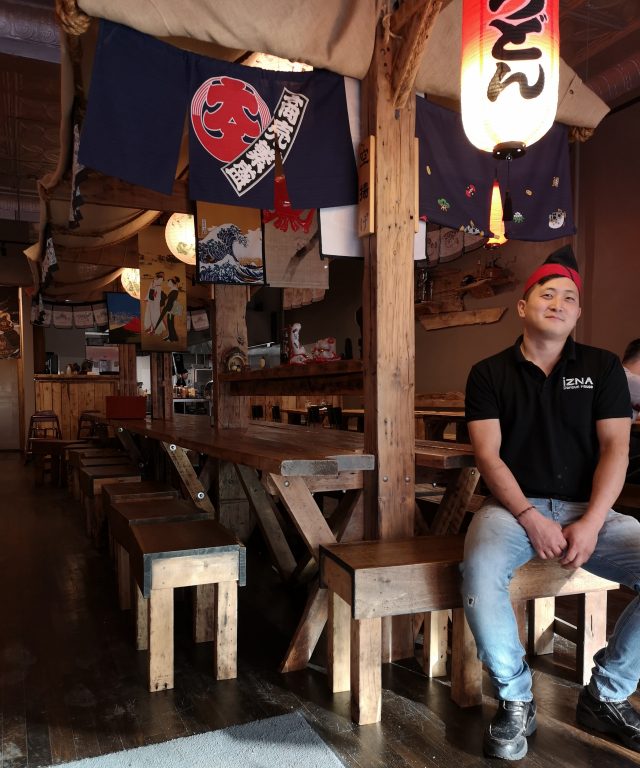 At the centre of owner Chris Lee's restaurant is a wood pergola, which is known as a yatai. It's a replica, of sorts, of a Japanese mobile food stall that is wheeled out, erected and opened to serve customers before shutting down and being wheeled off again in early morning hours.
Lee says simply that he's enamoured of food in the outdoors.
"I love to eat outside, and I want this to feel like outside," Lee says.
Among the donburi selections, there is kabuto don ($14.95), taking its name from the Japanese samurai helmet — the image of which Lee has captured in two large and wonderfully crisp tempura-battered shrimp that he mounts on top of the bowl.
The base is delicious and gently tangy sushi rice on which is layered fine slices of avocado, a couple of pieces of crab, an assortment of mixed greens, crispy shards of fried batter and house-made kewpie-style mayonnaise slightly thicker and slightly sweeter than Hellman's.

A punch of flavour is by virtue of furikake, a seasoning rich in umami. Nori tops it all off.
*****
Todd Johns has a pretty precise idea about the food he serves at Wuddup Dog. He owns and operates the casual and fun gourmet hot dog joint in Preston, Cambridge, with the texting slang for a name.
"I basically take my favourite foods, and I deep fry them and either put them on a hot dog or on French fries," Johns says. "If the customers don't want to eat it, then I can eat and still get a tax write-off for it."
The Philly Cheesesteak dog ($10 with fries and a drink) riffs on the iconic south Philadelphia sandwich likely invented in the 1930s; in many iterations in the "city of brotherly love," Cheez Whiz is used on the hoagie roll.
But Johns was adamant he didn't want to go that route for his version: it's a wiener with sautéed mushrooms, onions, green peppers, grilled steak chunks, steak seasoning and Swiss cheese. It's hefty.
*****

It's a hidden gem, if there ever were one: in fact, Bao Sandwich Bar is virtually impossible to find.
Tucked into a subterranean space, and metres below grade of the parking lot of a student dorm and apartment behind the Lazaridis School of Business and Economics building at Wilfrid Laurier University, Bao Sandwich Bar is, regardless of its concealed nature, very popular.
Inexpensive and delicious, Bao's bao steamed buns and banh mi sell by the dozens each day. The entire business, cloistered as it is, has grown by virtue of a kitchen being able to churn out hundreds of sandwiches that cost less than $12.
The bao is made from a traditional dough recipe that includes a bit of sugar to give it a slight sweetness. Rolled into a sphere larger than a golf ball, the dough is proofed, shaped into an oval and steamed at service. It then becomes the delightfully pillowy envelope for pork belly, beef, fish, duck and even crispy breaded avocado.
Japanese-style fried chicken, the katsu is slathered with a garlicky mayo, tonkatsu sauce (which is sort of like Worcestershire and often accompanies a pork cutlet) and seasoned amply with flakes of togarashi, which come from a small Japanese chile pepper. Added to the dish are a handful of scallions sliced on the bias.