Patates bravas at Public Kitchen & Bar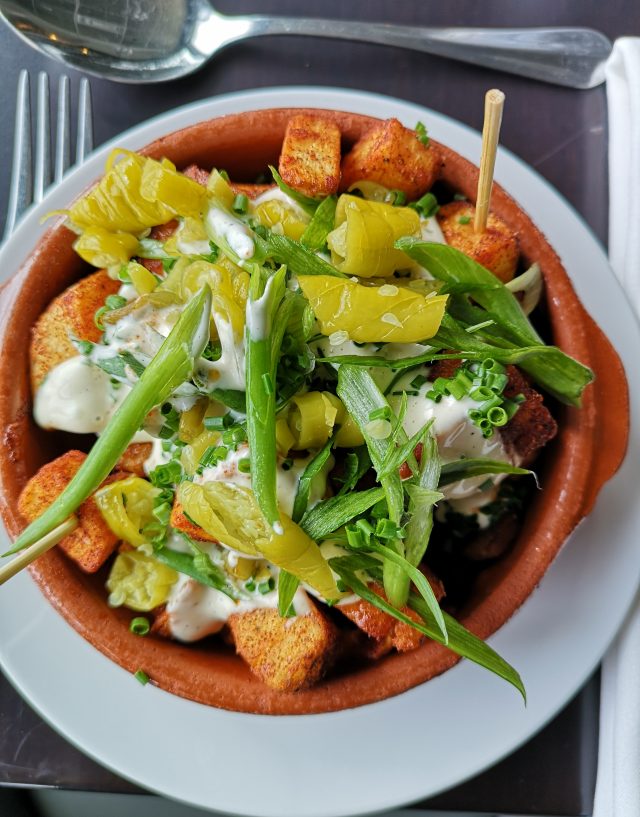 Reading Time:
3
minutes
300 Victoria Street North
Kitchener, Ontario N2H 6R7
(519) 954-8111
www.kwpublic.com

A recent visit to Public for a tasting menu / small plates / tapas menu was, of course, delightful. It always is at Public.

Of course, during the pandemic the business has shifted and evolved in order to survive — like many, many of our hospitality outlets.

Co-owner Carly Blasutti, for instance, has basically thanked the provincial government and the LLBO for changes to the way liquor can be sold. She calls that a definite positive in all this mess.

The restaurant has also learned that adding meal kits, take-out kits, gift packages and a new orientation to the foods they sell — "Gord's Burgers," for instance — has been beneficial.
So, as I usually do — and as a lockdown looms — I will ask that you please support Public and all of our food and beverage businesses in Waterloo Region and beyond. Don't use third-party phone delivery apps unless you need to — and tip very generously please!

******
[previously published; please check with the restaurant for updated menus, prices, hours] Nearly two years or so ago now, Public Kitchen and Bar moved from its birthplace on Lancaster Street in the Bridgeport neighbourhood of Kitchener to larger space in a commercial plaza on Victoria Street North near Lancaster.

The move was indeed a happy one and gave Public owners Ryan Murphy and Carly Blasutti more room to play and grow—and build a cheese cave, which is, to me, exciting beyond all culinary words.

The menu at Public changes regularly, some of it daily. That too is exciting. Murphy is a student of Spanish cooking and through his travels in the country has gotten the inspiration and the techniques to develop a tapas menu. It's just about perfect for sitting and sharing over a glass or two of old-world wine with friends.

Food selections are broken down into "Crudo y Curado" (raw and cured marinations, jamon with pickles, warm olives and such); "Snacks" like chicharrón, pâtés and terrines; and more composed "Plates." Save room for a cheese selection and desserts too.

Despite the good that's inherent in change, one constant at Public is patates bravas, literally "brave potatoes."
"It's a classic dish of Spanish tapas," Murphy says.

The spud variations are legion: they may be pan-fried or deep-fried; they may be heavily salted or not at all. "They actually do it very simply in Spain. A lot of times, it's just a bravas salt and mayonnaise," he notes.
And yet, the ingredients can vary wildly too, according to Murphy. The bravas salt is a seasoned salt that might have paprika or cumin in it, for instance. "Or whatever each particular bar has decided to add. It's unique to each," he says.
Public, in its history, has done many variations. "We got bored doing it the same way all the time and have had at least 100 reincarnations, if not more," Murphy estimates.
They start with russet potatoes, a popular French fry variety that creates good crispiness outside and creaminess inside. The chunks of potato are blanched in water until fork-tender and then cooled. "Then we fry them to order and toss them in the seasoning."
Currently, Public's sauce is a home-made interpretation of a Buffalo wing hot sauce. "We turn it into almost a beurre blanc (a classic French sauce usually of wine, vinegar, shallots and, of course, a lot of butter), and then add our ranch-style sauce."
The ranch sauce is the contrapuntal cooling feature to the spice. Patates bravas (about $12) are then garnished with scallions, chives and some Basque guindilla peppers (with heat milder than a jalapeño).
On a menu that changes regularly, patates bravas gives Public a steady, readily identifiable dish that varies slightly and satisfies regular customers.
"I mean people always love a fried potato dish," Murphy says. "It's easy to make and it's a good sharing dish. It's just a fun way to do simple potatoes."

Public is open for lunch and dinner Tuesday – Saturday.