Five courses: Chef's Table at "The Kitchen"
Reading Time:
6
minutes
An early iteration of The Kitchen's dinner series at LOT42 a couple of weeks ago combined five courses and wine pairings amidst the stainless steel, glass and concrete that is the sleek and cool industrial-style setting for the "Chef's Table" events coordinated by B Hospitality.
At the same time, I think it's important to note that the event exposed some young cooks to the experience of preparing and serving a multi-course dinner to a group of about 30 discerning diners.  

Giving the cooks a chance to express themselves and break out into new territory is an important aspect of seeing that our food and hospitality culture continues to grow.

Overseeing the menu and its preparation was Conestoga College culinary grad and B Hospitality sous chef Reeghan Peister (see our previous profile of Peister here) and B Hospitality Chef de Cuisine Nick Ruthardt. 
 
"The chefs' table series at The Kitchen is a series of dinners that lets our culinary team collaborate on unique events in our space," Peister said. 
Joining Peister and Ruthardt were junior sous chef Michael Legacy and line cooks Siddharth Ranpara, Parth Mandge and Devashish Bhatt.

Peister says it was an opportunity for the line cooks especially to get some additional experience that allows them to stretch themselves (after all, the kitchen is located at the LOT42, Global "Flex" Campus).

"Parth is actually in construction at Conestoga right now, but he wants to make the transition to cooking," according to Peister.
Bhatt is a dishwasher at the LOT42 kitchen and is learning the art and craft of cooking from the ground up and all the kitchen stations, added Peister. "He's trying to move into the industry, so we're slowly moving him into the kitchen more and more," he said. "We thought that an introduction to plating and this event would be good for him – and fun too."
Peister's five-course meal saw a progression through a passed course of canapes and a classic crudo first course, a seafood course and intermezzo and on to a riff on a classic French pastry for dessert.
A classic crudo starter
A classic beef tartare, what Escoffier called bifteck à l'américaine, always gives the palate a bit of energizing and refreshing. The softer textures of the dish Peister contrasted with some crispiness.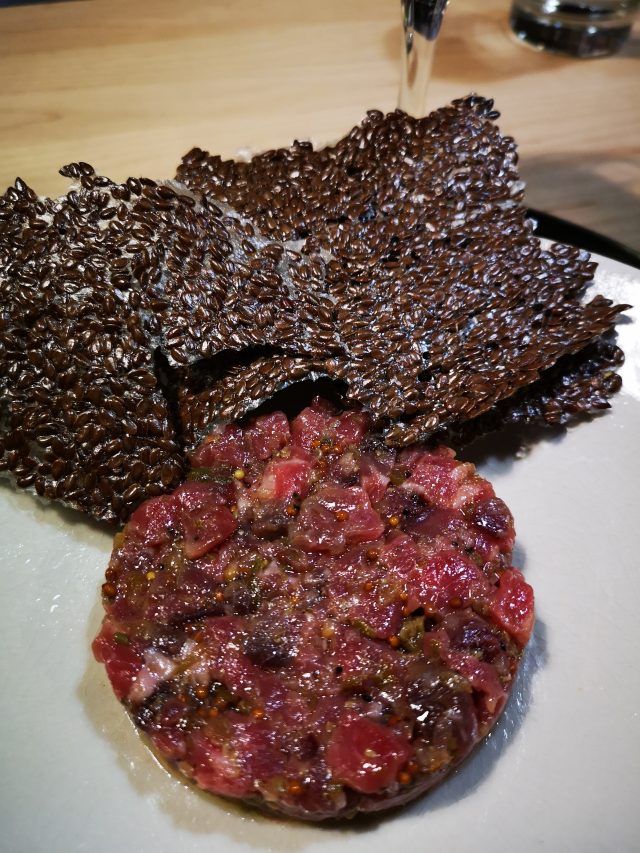 "This was a simple tartare with the classic flavours," he said. "But then we elevated it with a unique linseed crisp."

It's an example of where Peister's interest in experimentation and understanding of basic food science takes over. "We used some potato starch which gave a clear glass element to the cracker with a really deep nutty flavour. It accented the tartare nicely."

And so it did. The tartare preparation was minimal: hand-cut beef with pickles, capers and shallots seasoned with salt and pepper and olive oil. "There's no egg here because we didn't want to muddle the clean flavours," he said.

Salt-cooked vegetable
Next course was Peister's favourite, he says, in which a whole root vegetable is encased in the world's favourite mineral and table condiment: using egg whites and a bit of water, the entire root was covered in salt and roasted in the oven for about an hour.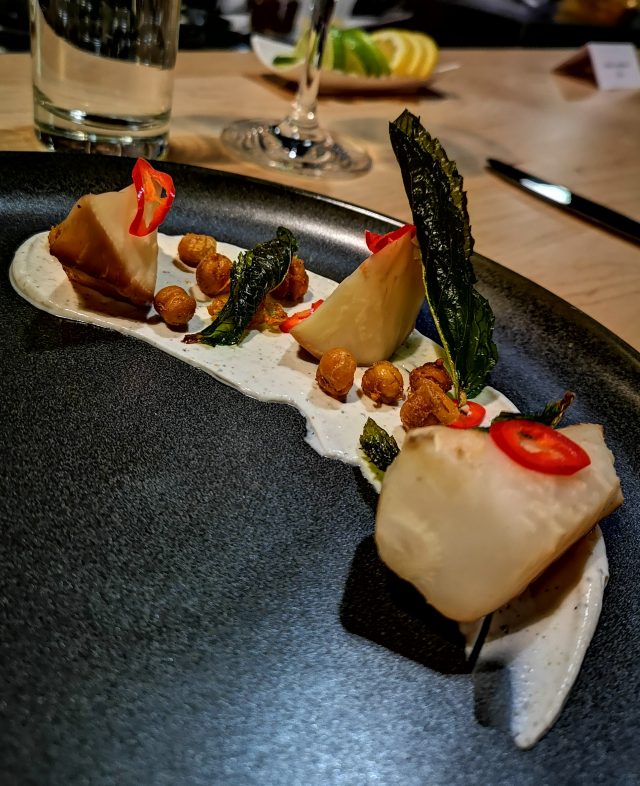 "We salt-baked the celeriac, then cooled and peeled it. We smoked it for an hour with apple and cherry wood and paired it with a very bright cardamom-yogurt sauce," said Peister, adding that the sauce balanced out the smokiness. "It was paired with some crispy curried chickpeas, some mint and pickled chili for a touch of heat."

77-degree octopus
Peister's octopus course, with potatoes and tomatoes, was inspired by Portuguese flavours. "I think creating a composed dish rather than octopus as sushi or in a stew was a nice turn. We sous-vide the octopus for five hours and then cooled it before charring it on a barbecue-like grill we put over the flames and got it as hot as possible."

The octopus was garnished with a tomato sauce, olives and some preserved lemon.
Intermezzo
An apple sorbet snow arrived as a palate cleanser. "It came at a time in the dinner as a break following the heavier char flavour of the grilled octopus." The balance of sweet and tart was there in the sorbet, cooling and invigorating.

"Eleven Madison Park" duck
The duck course – a half dozen or so whole ducks wheeled out on speed racks and carved and broken down in front of guests – was inspired by Daniel Humm and his three Michelin-starred New York City restaurant Eleven Madison Park.
"There's a honey-roasted duck always on the menu, and they change what gets paired with it," said Peister. There's often no need to gild the lily; it's an example of an excellent ingredient which a cook hasn't meddled with or complicated.

His duck plate was clean and uncomplicated yet attractive in its simplicity. "It's perfect by itself and can go with just about anything you want to pair it with. We decided we wanted to try to play on the duck-and-an-egg-idea, so we built a little nest out of leeks and charred green onions. There was butter and the runny egg yolk became a sauce component," he said. There was a blueberry sauce as well.

A thousand layers of dessert
The Kitchen team finished the dinner by assembling a cherry mille-feuille – a puff pastry was piped with several dollops of cherry pastry cream and a lime gel between the layers.

An ancient French pastry preparation, which Carême modernized and made part of the culinary canon, the mille-feuille translates loosely to a "thousand sheets."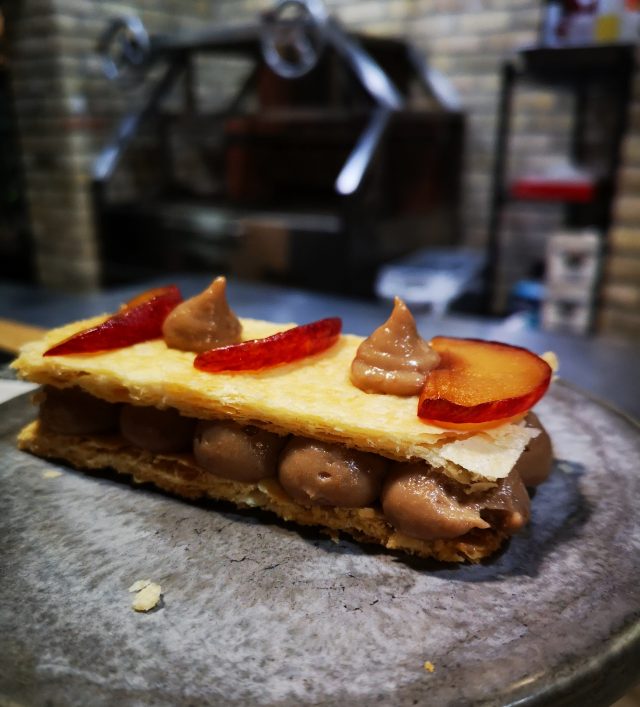 The lime gel is more technically-driven: it's made by zesting and juicing limes, heating and adding sugar and agar agar, a sort of algae-based vegetable gelatin a component of which includes pectin. "We cook it to 86-degrees Celsius and let it set up in the fridge. It then gets pureed and passed through a fine-meshed sieve, and it's ready to go," said Peister.

The preparation is part of the interest in the science of cookery that Peister uses as a means, he says, to make a dish better – and tastier. "Winter-spiced vanilla plums garnished the dessert," he said. "We compressed the plums with a simple syrup."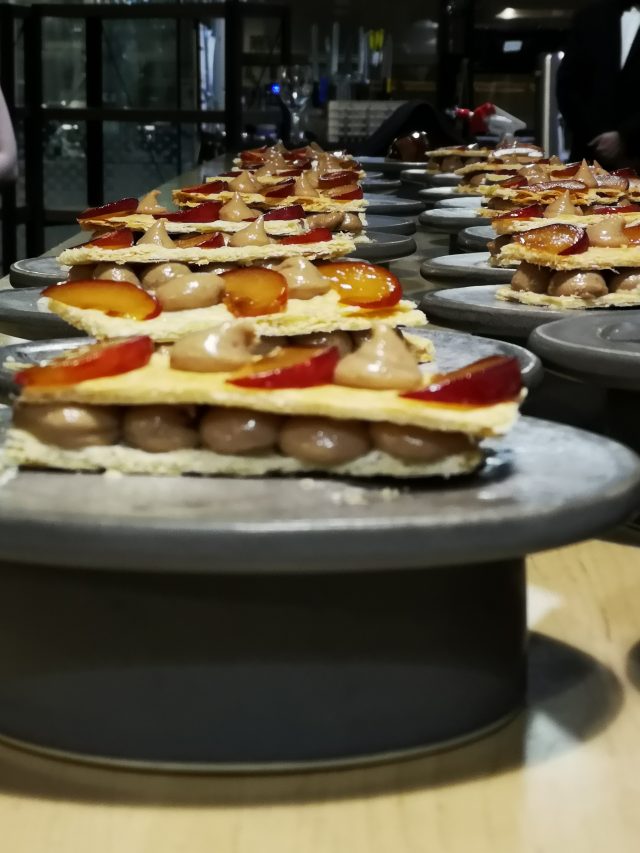 Indeed, there was a lot of flavour compressed into the five courses which came out of the open kitchen in good time and with curated wine selections by Jenny Oesch. Sammy Duke, playing a "parlour" guitar, provided entertainment and a musical background to the courses.

It will be interesting to watch how the Chef's Table and other events at LOT42 and B Hospitality grow and evolve. The venue certainly lends itself to them: the chef's table and open kitchen, it seems to me, offer a great opportunity. Peister and the others cooks would likely agree.

"The space is just great for chef-table events, and it's a big kitchen that's really good for collaboration," he said. "We want this concept to grow in the community and involve other chefs."