Chef profile: Reeghan Peister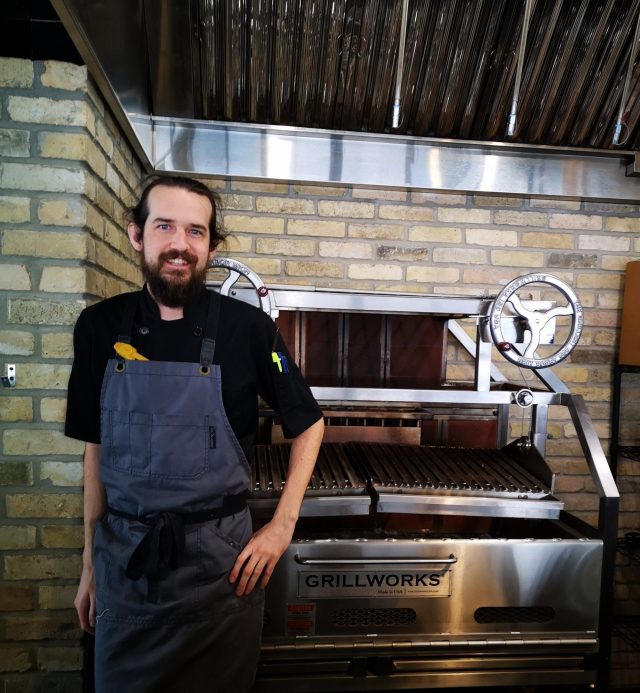 Reading Time:
5
minutes
A bit of time behind a desk at a computer was enough for Reeghan Peister to make a change. The B Hospitality sous chef, working at LOT42 Global Flex Campus in Kitchener, turned his sights on cooking.

The Cambridge-born Peister had graduated from high school and had spent a few years in Wilfrid Laurier's Bachelor of Business Administration program, but it's a world he soon left behind.

"I did a job where I had to sit at a computer for about two months and I said, 'I can't do this.' Cooking had always been an interest of mine and especially the science of cooking." 

Peister, who takes care of the food production side of things for B Hospitality at LOT42, graduated from Conestoga's Culinary Management Co-op program in 2017, during which time and after he worked at restaurants in southwestern Ontario.
 
While at Conestoga, he found himself as prep and line cook at Borealis Grille in Kitchener. "I worked with Borealis for Conestoga's "Iron Chef" event and the chef at that time (John-David Jacobsen) liked my work and asked me to join his kitchen."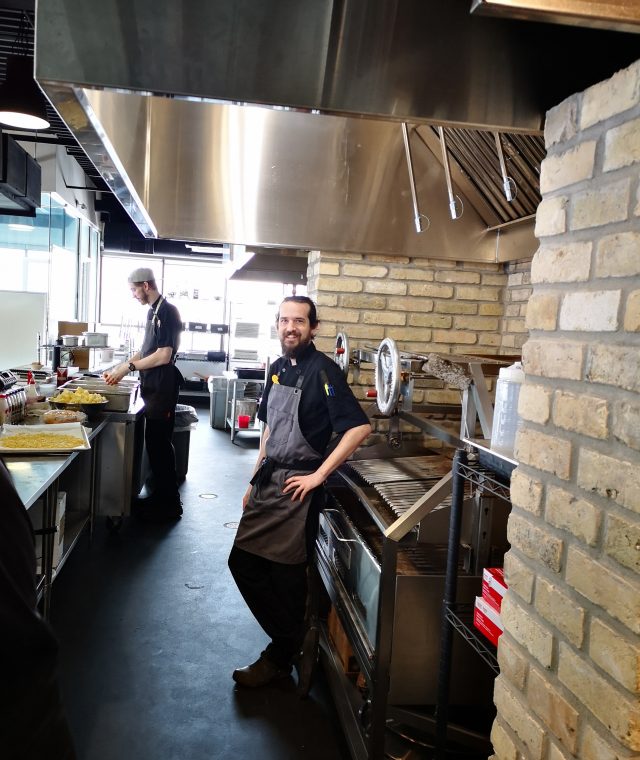 Peister's next step was to join the team at the short-lived but highly respected Fistro Supper Club Bistro in Cambridge where chef and Langdon Hall alum Darnell Gregg ran the kitchen. Most visitors to the restaurant agree that Fistro suffered from its location but that it created some excellent food in its short time, garnering popular and critical praise.

"Chef Terry Salmond, who was teaching at Conestoga at that time (and who is now with The Charcoal Group) put me in touch with Darnell. He was one of the best professional influences I've ever had. I learned a lot from working with him," Peister says.
A pastry stint at Millcroft Inn and Spa with James Buder, formerly of Langdon Hall and The Charcoal Group, followed. "It was good training, and I love the bread aspect of the pastry kitchen." The combined experience, coming off the back of his formal Conestoga training, helped Peister land his current position at B Hospitality, which he started in fall of 2019. "This is a busy place, and we do a lot of prep. But I get to be creative as well. And we have chef's table events too," he says.  
 
The large, open kitchen has a sleek, modern industrial design with a wall of windows opposite a long cooking line that includes a Grillworks live-fire wood-burning grill with adjustable grates. In between, the dining area is communal tables and seating for about 24, though the room can accommodate about 60. (Note: the next chef's table event is February 15 which features a "secret menu" that will prove to be interesting, according to Peister.)

Otherwise, he's working functions that host as many as 2,500 guests at the LOT42 facility. "There's a balance to be found between 100 people and offering an elevated experience for 1,000 or more people."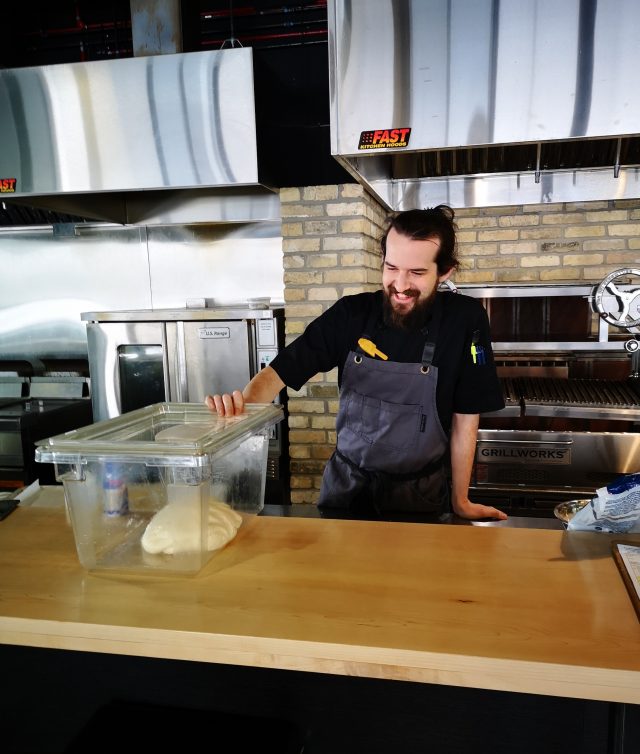 Reflecting on his previous decisions, Peister sees his formal training in the classroom as having been key to his present work. He says he felt he was late into the career, so culinary school could help him move ahead faster and with more knowledge. "The school helped me get my foot in the door, and I felt I could make my case and get a job that I wanted." 
 
Citing practical fundamentals – the temperature eggs cook at, how to make Mother Sauces, traditional dishes and foods from other parts of the world – he says he uses them regularly.

As for the "food science" element, he embraces that, not from a molecular gastronomy "trick" perspective but as part of that "elevating" philosophy wherein one can understand that the white of an egg cooks differently than the yolk. "We can use it to improve what we do, but it doesn't have to be the 'Modernist Movement' and making tomato water look like a strawberry," Peister says with a laugh.  
 
"It can be the best way to leaven bread and finding ways to improve textures and things like that. We can experiment a bit with those things here in order to elevate what we do." 
In addition, Peister, along with fellow Conestoga College culinary graduate Paul Gauthier of Cascata Bistro, have opened a made-from-scratch food truck, The Good Food Truck. "When we operate, we try to change the menu every week. We'll have some comfort food – pulled pork sliders or tacos – that people recognize along with a dish or two that is out-of-the-box thinking for a food truck." 
In his career ahead, Peister imagines himself in an ideal of casual fine dining. "Something like Fistro," he says.

"It would be my dream. You had the ability to be creative and change menus and have the clientele who appreciated food. Working with people who are really passionate about food and cooking is important. Location is less important. It's about the people I work with and what we get to do."

*****

22 Questions for Reeghan Peister


Best thing you've ever eaten?
Reeghan Peister: It was a cube of rice with whipped pork fat and slightly toasted in the salamander. I still dream about it.

Other career you could have pursued?
Peister: Something in the arts.

Favourite beverage?
Peister: Bellwoods Motley Cru Wild Ale, 2017.

Beverage that once just about killed you?
Peister: Tequila. Still scared of it.

Chef you'd most like to meet?
Peister: Heston Blumenthal. His brain is probably a cool place.

Best footwear (for the kitchen or otherwise)?
Peister: I like Crocs but a couple pairs of shoes is a nice change.

Favourite "international" food in Waterloo Region?
Peister: Whatever creation Thompson Tran at Wooden Boat Food Co. thinks up.

What scares you in a kitchen?
Peister: Lack of music. And dull knives!

Greatest failed recipe?
Peister: I tried to make these "corn poppers" that are set with gelatin, breaded and deep fried. They melted and the breading didn't hold. But once I figured it out, they were amazing.

Something that gives you great pleasure?
Peister: Sharp knives and good beer. I even have a jacket that says it.

A favourite teacher you've had?
Peister: Darnell Gregg. He taught me a lot when I was at Fistro Bistro.

Do you ride a bike?
Peister: Yeah! Check out Recycle Cycles in downtown Kitchener.

A moment in your life you'd like to have back?
Peister: Nothing. Everything leads to something.

Favourite band?
Peister: Five Fingers of Death on Shade 45. (I don't really listen to bands.)

Who would you like to cook for?
Peister: The Queen. Until I found out she isn't a foodie and eats her steak well done. So, Rene Redzepi.

The thing you wish for Waterloo Region?
Peister: I wish that we had the landscape that could afford for passionate chefs to work under the same roof and push the food scene to a new level.

Go-to late-night snack?
Peister: Miss Vicki's salt and vinegar and sun chips left over from Halloween mixed togther.

Best thing about being a chef?
Peister: The cool places and people you get to see and meet.

Dumbest purchase you've ever made?
Peister: I actually just bought Modernist Bread. The jury is still out.

Favourite city?
Peister: New York.

TV chefs who annoy you?
Peister: I don't know. I don't watch them.

Would you describe yourself as sweet or savoury?
Peister: I have two sisters. There was only one option: sweet.