Espresso + ice cream = affogato deliciousness
Reading Time:
2
minutes
It's a blend of hot and cold, of smooth and sharp, of rich, creamy butteriness and acidity that is one of my favourite coffee beverages.

It's straddles dessert and a final sip of caffeine after a meal.

It's caffé affogato.
If you're thinking it's too hot for coffee, or that you don't want a processed coffee beverage on ice from a chain restaurant, then affogato — the original — is the way to go. It's a simple shot of espresso poured over some vanilla ice cream or gelato.
The word affogato is derived from the Italian verb affogare, "to drown," but the culinary usage also includes a sense of poaching (as in an egg). Either way, the ice cream languishes and luxuriates in its rich espresso bath.
Here are eight area affogati for your caffeinated ice cream-consideration.
[ Please check with individual venues for hours of operation and availability of dishes. ]
*****
Monigram Coffee Roasters, Cambridge
There's a combination of great ingredients in a Monigram affogato: there Mad Cat signature espresso and Four-All Ice Cream's wonderful ice cream.

Matter of Taste Coffee Bar, Kitchener and Waterloo
When there's gelato at Matter of Taste, there's affogato.

Ennio's, Kitchener and Waterloo
House-made Nutella gelato topped with espresso. Maybe add some Frangelico, Amaretto, or Bailey's?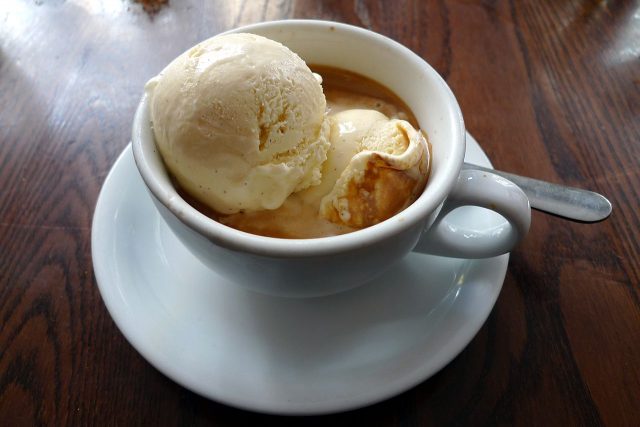 Settlement Coffee Co., Kitchener and Waterloo
Located in Uptown Waterloo and at 1 Victoria Street South across from the UW Pharmacy building and the new ION Central Station stop. There's also a new Northfield Park location too.
Balzac's Coffee Roasters, in many places in Ontario
With more than a dozen locations, this hugely successful indie coffee shop serves an affogato with Belly's all-natural ice cream doused in Balzac's Fairtrade Organic Espresso. There is a dairy-free option too.

Famoso Neapolitan Pizzeria, Waterloo
Adjacent to Waterloo's central piazza, Famoso, a small chain from western Canada, serves their affogato as a shot of espresso over a scoop of gelato. They also serve it as salted caramel or mint stracciatella.
Mumuccino Cafe, Kitchener
Located on Victoria Street North behind the Swiss Chalet, Mumiccino Cafe prepares four affogati are available: vanilla, chocolate, chocolate mint and Oreo vanilla.

[ Top image: Richard Huber / Wikimedia Commons ]