Crazy Canuck: hangin' in there, eh?
Reading Time:
3
minutes
The popular Crazy Canuck Restaurant'eh has two locations — one in downtown Kitchener, tucked inside the Corporation Square building at Ontario and Duke streets, and the original location kitty corner to the St. Jacobs Market on Weber Street in Waterloo.

Both are open limited hours: 11 a.m. – 2 p.m. and 5 p.m. – 8 p.m. Call the downtown location to order and pay; a Crazy Canuck brings your order to the door. In Waterloo, there's a delivery take-out window.
Like all restaurants, there has never been a tougher time for the business. But like many, many restaurants, the Crazy Canuck team has adapted, become more inventive and is working hard to keep afloat.

We caught up with Crazy Canuck co-founders Freddy Hayes and Jeremy Monforte (via telephone and email) and asked them how they are doing and how they've adapted.

[Interview edited for brevity and clarity.]



*****
andrewcoppolino.com: So how did you get to the stage you're at now?
Freddy Hayes: It's hard to keep track of time, but several days ago when the announcement came down, we had all the guys come in and we asked what we felt comfortable with. Did we want to truck on through until it was mandatory to close down completely?

And what happened?
Hayes: When we shut down the dining room right away and went to delivery only, we did unfortunately lose some part-timers. We've never had a big staff. We have five currently.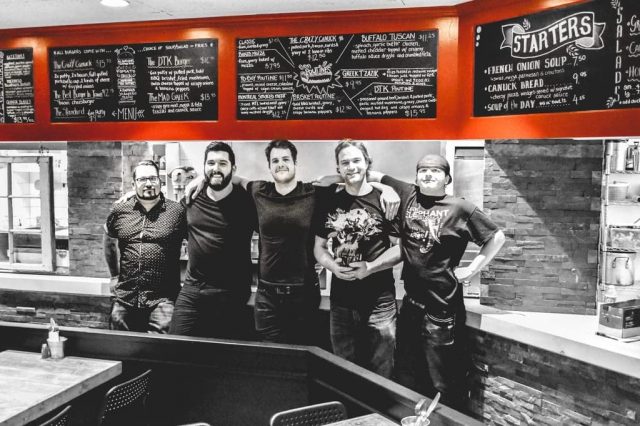 As you would expect.
Hayes: But the core team said they didn't want to sit around. They said they didn't want to stop the business. Why don't we try to keep going?

And how has that played out? What have you done?
Hayes: All of us go from work to home. We're focussed keeping interaction outside of the restaurant to a minimum, of course. Inside, we keep distanced from each other too.

So given that, what are the nuts and bolts of the business now?
Hayes: It's take-out and gift cards. We hit social media. We've picked up a bit of catering, and we have also helped at fire halls and group homes. And the workers at Martin's [Family Fruit Farm] around the corner from our Waterloo location.

I understand that you've got 30 delivery orders within 20 minutes tonight?
Jeremy Monforte: Our delivery through Skip the Dishes and Door Dash have increased significantly over the past two weeks and for that we are grateful.

That's something. How has the general community responded? Your regular customers?
Hayes: People have reached out and were calling left and right saying we really want to help you out. Booked some catering. For some of our older regular clientele, we've put some food packages together and drop them off. I ran one today.

It's a good thing that gas prices are so low!
Hayes: Yes it is!
So people know, how is pickup done?
Hayes: We've built a temporary pickup window in Waterloo. All interactions are done one at a time through the window. Order on the phone, pull up and call when you arrive. No one is coming and going inside. There always has been, but there's lots of hand-washing and sanitizing after every exchange.
Monforte: No guests enter the dining room and none of our staff come into direct contact with customers. It's been working very efficiently. The amount of sanitizer, bleach, Lysol, and isopropyl alcohol that we've gone through in the last two weeks has been an eye opener to say the least. But we aren't going to let up with sanitizing virtually everything and washing our hands likely hundreds of times a day.

Financially, is all of this more difficult at the downtown Kitchener location?
Hayes: For sure. We're only two years there and everything is at its tightest. We have to do what we can to continue until told otherwise.

It's certainly a difficult time.
Hayes: It is, but we've had a lot of thank-you's for being open from customers. And it's great to be able to help people on the front lines, taking food to a group home, or a fire hall.
Monforte: We will get through this together. The entire Crazy Canuck team is so proud of the city and community that we call family. We look forward to the day that we can open our doors again and welcome our guests into our "home."

[Banner image/Crazy Canuck]