Conestoga culinary: baking for entrepreneurs
Reading Time:
3
minutes
Laminated doughs, viennoserie and artisan sugar confectionery: theory meets practice — with an eye to raising the standards of the pastry arts locally.

Starting this fall Conestoga College's new "Baking and Pastry Arts Management" diploma will focus on advanced pastry and baking training, in addition to teaching the management skills necessary to be successful in the industry.

The two-year program builds on the foundation of Conestoga students' first-year training, or any interested pastry chefs who have a pastry certificate. (There is a process with admission where transfer credits will be applied though some courses might have to be taken out of Conestoga's certificate program.)
"The course is designed to help students see the bigger picture and help them to aim to open their own businesses. This instruction will give them a broad perspective," says Conestoga baking and pastry arts professor Sabine Heinrich-Kumar of the multi-disciplinary approach.
That includes practical, theoretical and hands-on training in baking, cake decorating, sanitation and safety, and pastry-shop management. Students will test themselves in advanced techniques and will work in the College's state-of-the art labs and teaching facilities learning artisan breads and breakfast pastries, wedding cakes, chocolates and confections, plated desserts as well as classic and modern tarts, entremets and petits four. Laminated doughs and viennoiserie along with ice cream, sorbet and artisan sugar confections will also be taught.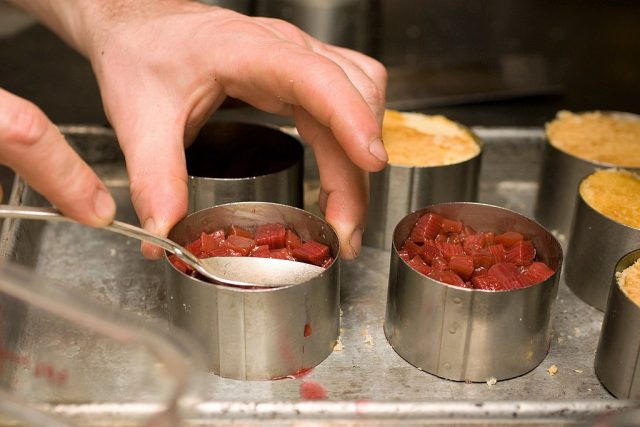 The course, which will include a local, sustainable-food approach, will also guide students in business and marketing aspects, as well as what Heinrich-Kumar calls "hospitality leadership" that will contribute to operating a pastry shop. The diploma is also focussed on the entrepreneurship of baking and pastry.

A capstone project for the diploma is to conceptualize, plan, create and deliver a "pastry booth" as a business that will be marketed by students and tested by customers at the College in conjunction with the culinary program.

Twenty-four students can be accepted into the program this first year.
Most customers at restaurants aren't familiar with the industry on a professional level, including the detail that goes into training: that includes the technical knowledge of ingredient function and formula balance, as well as the current technology and science that now defines this ancient and noble craft. (Just as a point of reference, for instance, the well-known food writer and celebrity cook Michael Ruhlman has a book — Ratio: The Simple Codes Behind the Craft of Everyday Cooking — which, essentially, says cooking is "about" ratios and not recipes.)
Further to advancing the skills and art of this specific culinary training, students in the course will have the chance to visit other culinary and academic destinations in collaboration with Conestoga College partners for what can be a life-changing experience, according to Heinrich-Kumar.

"I believe this training will elevate the standards of pastry in the region, and once the standard rises, the understanding of customers will adjust too," says Heinrich-Kumar. "The need is there."
***
For more information about the new baking program, please visit https://www.conestogac.on.ca/hospitality-culinary/