Career paths for trained chefs via Stratford Chefs School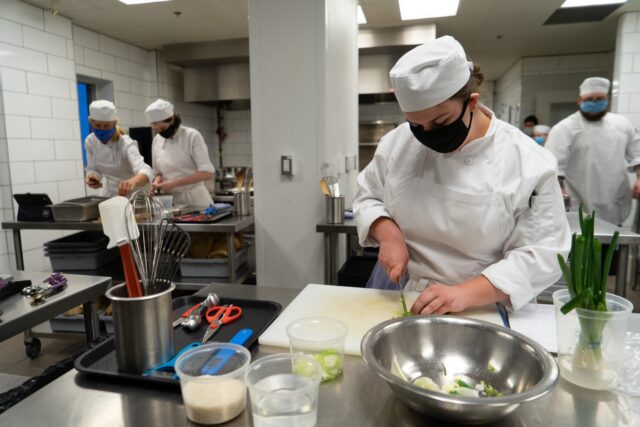 Reading Time:
2
minutes
As the restaurant and hospitality sectors continue to evolve and adapt to the COVID pandemic, an education in the culinary arts can open the door to endless career possibilities.
An upcoming free online Stratford Chefs School (SCS) information session on Sunday, January 23 at 1 p.m. EST will provide anyone considering a career in culinary arts and hospitality an opportunity to hear directly from many SCS graduates who have carved out distinct and rewarding careers across professional cooking, restaurant ownership, food writing and photography, catering, culinary education, viniculture, and recipe development.

"Regardless of who and where we are, all of us have to eat – and there is a huge industry that feeds people," said Jeff Leney, Stratford Chefs School's Director of Marketing and Admissions Development.

"This exciting information session will allow food lovers to hear from Stratford Chefs School graduates who have real world experience in many different roles and careers. These graduates have found rewarding careers that reflect the many ways in which a Chefs School education can lead to a new or changed career."
Participants will gain a deeper understanding of the many diverse pathways that emerge from a culinary education and how to build a resilient career, even in the context of a global pandemic that has disrupted the restaurant and food and beverage industries.

For both younger students and those considering a career change, the session can help to inform educational and training choices.
The Webinar Information Session will include SCS graduates representing a broad range of potential career paths:
• Randi Rudner – Core Instructor, SCS Program Manager and Professional Chef
• Bob Blumer – 2021 SCS Writer-in-Residence, Author, Artist, Creator and host Surreal Gourmet and Glutton For Punishment on Food Network Canada
• Donna Borooah – Former Chef Instructor, Recipe Developer and contributor for Hello Fresh, Chatelaine and the LCBO's Food & Drink Magazine
• Simon Briggs and Anna Marano – Co-Owners The Panetteria Bakery, Amherstberg, Ontario
• Amanda Bradley, Co-Creator Alo restaurant and Co-Owner, Vela restaurant Toronto
• Jordan Mazzanti – SCS Wine Instructor, Head Sommelier Langdon Hall
• Carrie Rau, Chef, recipe developer, Sommelier, Co-Founder Vinequity
• Ryan Donovan, Co-Owner Richmond Station
• Eric Robertson – Co-Creator and head chef The Restaurant at Pearl Morissette.
• Mel Athulathmudali – Flight Director and Catering Consultant Air Transat, Catering Company Owner, Educator Strata Montessori School
Those interested in the free information session can register now through the website: www.StratfordChef.com – Webinar January 23rd.
For more information, please contact:
Jeff Leney at admissions@stratfordchef.com
Jennifer Otter-Leaney at admin@stratfordchef.com
[Banner image/Terry Manzo]