Reading Time:
3
minutes

 
A traditional Genoese preparation, pesto is simply delicious. The word derives from the Italian for "pounding," and as such is related to the pestle half of mortar and pestle, the ancient grinding and mashing tool found in many cultures. 
 
As a wonderfully sharp uncooked sauce, the brilliantly verdant green pesto is made with very fresh basil, usually pine nuts, garlic, a piquant cheese such as Pecorino or Parmigiano-Reggiano and olive oil. 
 
With the bounty of basil you can currently find in grocery stores or at farmers' markets, it's a classic sauce for pasta that, while it requires getting a pot of water boiling, is a refreshing summer plate if there ever was one. 
 
Pesto has been made with the grinding action of the mortar and pestle for centuries, but today cooks use a food processor – making it an even more simple dish than it already is. 
 
However, the respective actions of grinding and cutting very finely produces a slightly different flavour when the ingredients are exposed to the air and when it becomes a part emulsion with the olive oil. 
 
Any way you slice it, pesto has a rich history. It's said that Genoese sailors, having left their homes in the capital, located in the mezzaluna-shaped "Italian Riviera" province of Liguria in northwest Italy, wanted a full-bodied and flavourful dish when they returned home.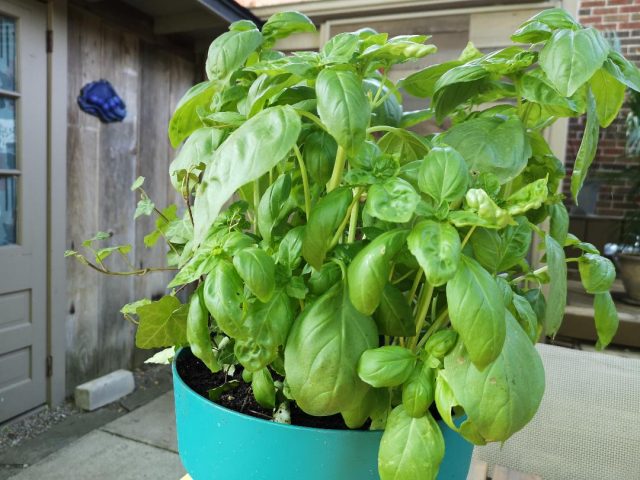 And, true to form, pesto from Genoa, if prepared according to original recipes, would be quite sharp and aggressive on the palate. (Its cousin from nearby Provence, pistou, is milder.)    
 
Pesto's main application is as a rich dollop added to minestrone soup or on pastas such as the traditional string-like trenette al pesto or on gnocchi alla Genovese. 
 
As for aromatic plant itself, basil has dozens and dozens of species in the genus – the original plant likely came from Africa through India.  
 
While it was certainly known to ancient Romans, the plant really got a foothold in Liguria. The varieties there carry with them more of the clove-like aromas, as compared to the anise and liquorice ones that we know in our Thai basil. 
 
It wasn't until the 1960s and 1970s that pesto appeared in North America.   
 
The food history of the preparation is such that it was thought to be  impossible to chop the basil finely enough, so it needed to be pounded down into the finest possible bits using a pestle.  
 
To make it though, you don't need a mortar and pestle so a food processor will do. 
 
Tedious though it must have been, chefs who are sticklers for detail and tradition insist that the larger, coarser veins in the basil leaves should be removed. That's a hard thing to think about doing, so skip the step when you are making pesto. 
 
Otherwise, while pine nuts are the traditional ingredient, walnuts do quite nicely: toast them lightly in large pan, but don't let them burn. 
 
For serving on pasta, add the pesto (at room temperature) to the warm noodles and toss.    
 
Walnut basil pesto 
Ingredients 
1¼ cups washed and dried basil leaves, lightly packed 
¼ cup chopped walnuts, lightly toasted (don't let them burn) 
1 clove garlic or to taste 
¼ – 1/3 cup of light olive oil  
4-5 tablespoons of grated Parmesan or Pecorino cheese 
1 teaspoon freshly squeezed lemon juice 
A few grates of lemon zest 
A few red pepper flakes 
Salt and pepper to taste 
 
Method 
Whiz together pesto and walnuts in food processor or blender (if you're not using a mortar and pestle, that is). Add garlic and buzz together; add olive oil and incorporate. Whiz in the cheese stopping to scrape down the sides of the bowl. Add remaining seasonings, taste and adjust. Store in sealed container in fridge. Bring to room temperature and add more olive oil if needed before using. Cook your pasta and add the room-temperature pesto and toss.