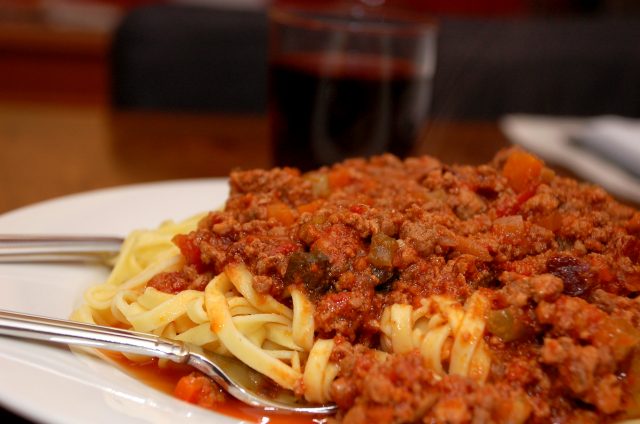 Reading Time:
3
minutes

If you visit restaurants frequently, and especially those serving Italian food whether or not it is a traditional Italian restaurant, you have probably seen spaghetti Bolognese on dozens of menus.

The classic pasta dish is doused with a heavy and rich meat sauce which, with a glass of robust red wine, satisfies mightily.

The question is: have you actually had a true Bolognese?

Likely not.
Onions, carrots, pork, beef and veal
First some background.

In the style of Bologna, a major city in the Emilia-Romagna region in northern Italy, the sauce is a ragù, a meaty stew-like preparation of onions, carrots, pork, beef and veal, butter and tomato.

In their cooking, the Bolognese will use three or four fats: olive oil, butter and lard, some of the country's best pork produced in the region. It's no wonder you don't leave a meal of tagliatelle alla Bolognese hungry.
Like the "Feast of the Seven Fishes," spaghetti alla Bolognese seems to be primarily an Italian-American creation, though an Italian culinary organization claimed to codify a recipe based on an historical record from the 1800s.

While we traditionally visualize spaghetti sauce as primarily a tomato-based creation to which meat is added, a Bolognese puts the meat first: there is relatively little tomato compared to beef and pork – and sometimes even chopped chicken livers and giblets.
A long winter's braise: eye-opening result
Another aspect of a true Bolognese is the several cooking techniques used and the time required to build the flavours.

Finely diced vegetables are gently "sweated down" to a soft texture but without colouring them, diced pancetta and butter are sautéed and rendered, and the integrated ingredients are slipped into a low-heat oven for what is essentially a long winter's braise.

And while we can splash together a bright, acidic and fresh tomato sauce and twirl the pasta round our forks for dinner in a relatively short time, a Bolognese can cook for anywhere from four to six hours.

The result, when it is dished out and you taste it, is eye-opening.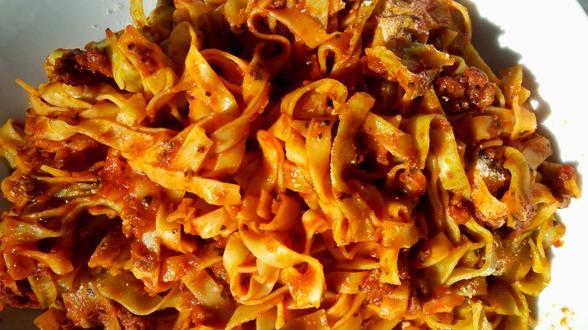 There is another quality of cookery in Emilia-Romagna that warrants attention, both because of its uniqueness and because of how it influences the flavour and texture of ragu Bolognese: milk. The region traditionally prepares "maiale al latte alla Bolognese" – pork simmered in milk.

The ragù for pasta includes a cup of whole milk or a cup of heavy cream – or both.

Otherwise, it is a dish with relatively little seasoning: sage, popular in the region along with bay leaves, are really the only herbs added to the dish and perhaps some nutmeg. There is usually no call for garlic.
A few local ragù examples
Several local restaurants (but not limited to them) prepare a variation of the dish:

Del's Enoteca features a red wine-braised beef ragu, roasted mushrooms, red onion, ricotta and spinach served on casareccia (rolled) pasta;

Casa Rugantino, spaghetti with meat sauce;

Ennio's Pasta House a meat sauce over spaghetti. Many family-style restaurants also serve a pasta and meat sauce, and;

La Cucina Kitchener has tatgliatelle Bolognese with their house-made fettuccine and a traditional pork and beef ragù sauce.
However, none likely takes the time to braise its meaty sauce for six hours; that remains for you to do.

The pandemic, offering perhaps a bit more time at hand to play in the kitchen, may be a good opportunity to prepare your own rich Bolognese.

You'll find the deeply braised flavours of some simple ingredients, along with a bit of interesting food history, deeply satisfying.
---
Ragu alla Bolognese
Ingredients
1 tablespoon olive oil
2 tablespoons butter
1 onion, finely diced
2 celery stalks, finely diced
1 carrots, finely dice
1 lb. ground beef
1 lb. ground pork
1 lb. pancetta, diced
1 28oz. can tomatoes, pureed
1 cup red wine
1 cup whole milk
2-6 cups beef stock as needed
2 bay leaves
1 cup whipping cream
salt and pepper
Parmesan cheese for garnish
Method
Preheat oven to 300-degrees F.
Heat the olive oil and 1 tablespoon of the butter in a sauté pan and gently sweat down the onion, celery and carrot until soft. Meanwhile, in a second pan heat the remaining butter and sauté the pancetta. In a large oven-safe casserole dish, gently brown the ground beef and ground pork. Drain some of the rendered fat.
Add the vegetable mixture and pancetta to the casserole of ground beef and pork and incorporate. Add the tomatoes, red wine, milk, 2 cups of stock and bay leaves. Season with salt and pepper. Bring the mixture to a gentle boil. Place the casserole in the oven, uncovered. After 1 hour, stir in the heavy cream. Let the sauce simmer for at least 4 hours stirring and scraping down the sides of the pot occasionally. Add some stock if the sauce seems too dry.

Serve with tagliatelle, freshly grated Parmesan cheese and full-bodied red wine. Enjoy!