Bloom Restaurant Conestoga College
Reading Time:
5
minutes
I've eaten at Bloom Restaurant at Conestoga College at its various locations over the years, from its early home on King Street North in Waterloo, quite some time ago, to its gorgeous and modern space that recently opened at the Waterloo campus on University Avenue at Weber Street.

The new 55-seat dining room, a striking glass-walled room within a room, is perhaps unlike any other restaurant in the region. This fall, of course, Bloom has a new cohort of students and new menus designed to help train them.

I believe Bloom customers have a role to play in that education.
Bright, airy, sleek
At the heart of the campus, Bloom is bright and airy, looking onto University Avenue from one set of windows and the building's outside courtyard from another. The east facing windows look into the bustling students' common-area; the other view is into the kitchen. The positioning puts Bloom in the midst of a hurly-burly of activity, yet the restaurant is sleek and calm with a relaxed Danish modern feel in the way the light, glass and wood intermingle. The Bloom menu is referred to as "Canadian bistro" by executive chef Brad Lomanto.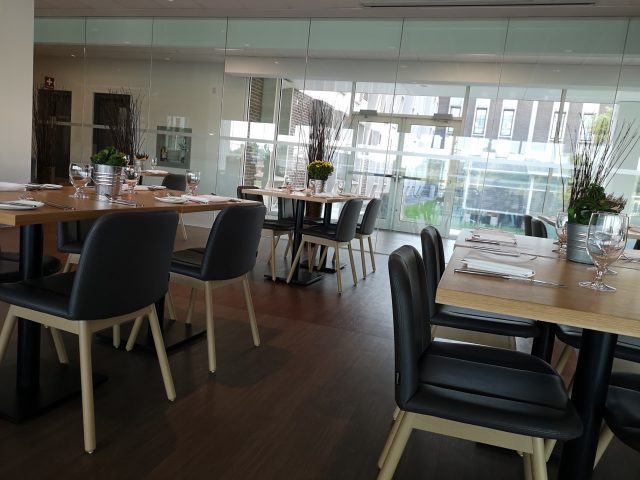 "The focus is on local and working with the traditional techniques of cooking," says Lomanto who arrived at the College after nearly a decade at the Cambridge Mill a year or so ago.

A recent four course prix fixe dinner menu was $29. Over the course of a couple of visits, I've enjoyed heirloom tomato salad with lime and jalapeño, a characuterie board with a delicious ham hock terrine, mushroom risotto, house-made garganelli with seafood, a "surf-and-turf" of scallop and pork belly with a succotash and grilled peaches with Chantilly.

The food was quite good, and in addition you simply will not find better value — with so much flavour — for less than $30. Anywhere.
Great value
Lunch is a variation on the dinner theme, with upcoming two course lunches for $25 or three courses for $27. It too represents great value in a pleasant setting; at the meal's end, it's very good food that is carefully prepared and thoughtfully presented. The wines selected at Bloom are designed to give students a basic understanding of the varietals and how they pair with foods. (Just a note that the last seating time for dinner is 6 p.m. These are students, remember, with other course work to see to.)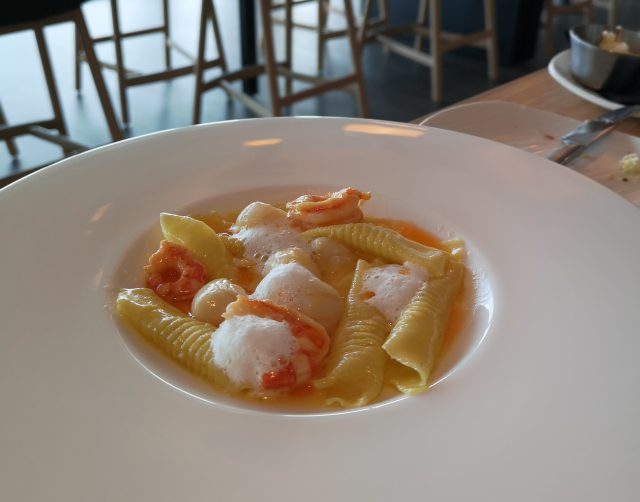 In the coming days and weeks, the culinary program will evolve to introduce instruction and menus that connects the students with well-known cooks and restaurateurs. "Over the course of a couple of weeks for each, these are menus inspired by and featuring the cookbooks by some top chefs," Lomanto says. "The students have seen the fundamentals, and they can work on dishes that are from world-class cooks. In essence, they get a chance to warm up with the bistro menu and then we switch the menu. That too is part of the learning."

The dishes will include those of culinary icons such as Thomas Keller, David Chang, and David Kinch, as well as working with, and visits from, Canadian restaurateurs Jeff Crump, Donna Dooher and Mark Picone of Vineland, Ontario, the latter of whom will be visiting Conestoga on September 24.
Customer participation in culinary education
Over the past decades, the culinary training at Conestoga College has had an impact on food and hospitality in Waterloo Region; recent alumni are the proof in the pudding: Emily Schlieper, Grant Holdbrook, Mark Pagett, Megan Dron, Chris Sperduti, Paul Gauthier, Greg Dove, Navita Singh and Scott Hergott, to name a few, currently cook at a wide range of restaurants, in the region and elsewhere (see map below for detail). More graduates will soon make their mark as cooks and food entrepreneurs as well.
This outcome is the core of the mandate of Bloom: culinary and hospitality instruction. Teaching front-of-house waitstaff and cooks in a real restaurant kitchen for paying customers follows up on the demonstration and instruction that takes place in the labs — the theoretical is tested by the practical.
In cooking for lunch and dinner service, classes of students are supervised by professionals: Lomanto; Eric Neaves, formerly of Fork and Cork; Craig Gilbertson, formerly of Public, and a host of others. In the front-of-house are Haus of Kitchener's Grand Trunk Saloon and Grand Surf Lounge and experienced instructor Sunil Kumar.
Restaurant customers have an educational role
So, despite the vagaries of a restaurant service, an excellent customer experience at Bloom, as it is at any restaurant, is paramount but with a significant difference: there's a primary focus on student education, the reason the culinary program at the College exists. It's a focus to which I believe customers should willingly contribute.
Among the first contributions is recognizing that students learning the craft, both in the kitchen and in the dining room, will make the occasional mistake. Seeing those mistakes and being given the instruction from staff along with the chance to correct them is important to student development; that process is, in fact, learning.

Let's be clear: the task of being able to balance preparing food and cooking it for a service under a time constraint takes a while to learn; similarly, in the front-of-house, balancing setting tables and restaurant amenities, understanding how to pace and time a meal along with mastering opening a bottle of wine and its service does not come naturally. Students need practice. That's where we, Bloom customers, play a role — with our patience.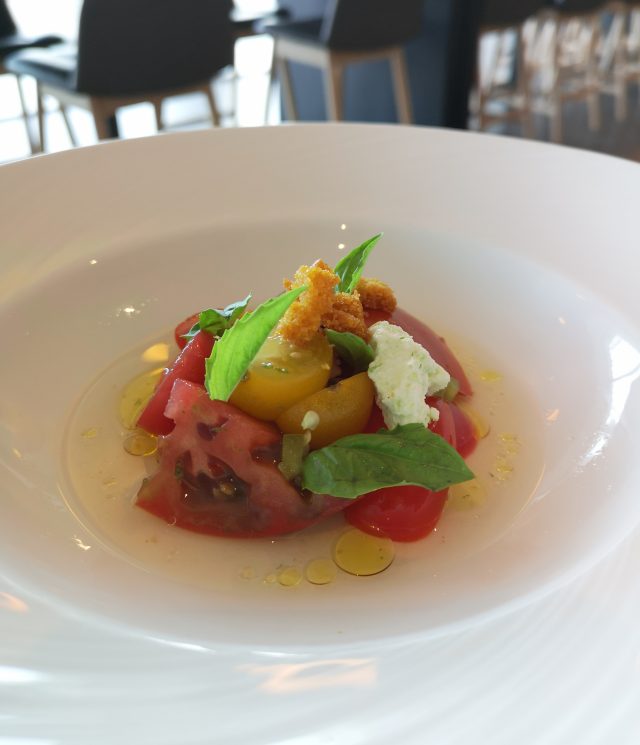 A healthy dining and restaurant landscape in this region and beyond relies on strong basic training in a real-world setting. Frankly, when you visit Bloom and eat, you are a part of the teaching formula where students learning their craft need the exposure to guests and paying customers. As your meal proceeds (and I will say it will be a very good meal), you will see instructors observing students and hear them delivering teaching points and constructive critique.
At any restaurant, rare is the perfect service; rare, too, is the perfectly executed series of multiple courses: it takes a lot of practice to achieve mastery. At Bloom, customers are a link in a chain; it's almost as if you are part of the training process: the students need you in the dining room in order to learn.

It's a rare responsibility as a guest that you can have an impact in how a part of the future food and beverage culture develops in our region. It's something that doesn't happen over night.

"The hardest part is the nuance of service," says Haus. "There are strict steps of service we are teaching them. They have to learn that so they can read a table and adapt to what specific guests want."

So I say embrace your role in helping with culinary training when you visit Bloom — it's relatively effortless and at the same time you can enjoy a fine meal from an imaginative menu in a lovely setting.