Obie's Cambridge for meatloaf & short rib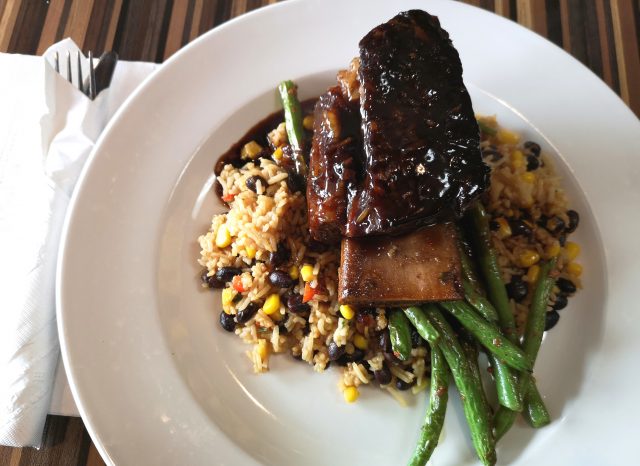 Reading Time:
3
minutes
A few days ago, Obie's Bar and Grille opened a small patio for limited dine-in patio service. Strongly recommended is making a reservation for one of their tables for your social bubble.

As for the menu itself, Obie's will be serving a limited version — as is the usual case with many restaurants during this time. The elk meatloaf sandwich, for instance, remains on the menu.

For take-out and curbside pickup, call the restaurant at (519) 624-6243.

Obie's is open Wednesday to Sunday from 5 p.m. to 8 p.m.

Previously published below is an earlier article about Obie's short rib dish and a couple of other items, as well as some insight into the restaurant and kitchen from chef-owner Justin O'Brien.
O'Brien and his kitchen strive to use as many local ingredients and products as possible and prides itself on its made-from-scratch quality.
The rib is not currently offered — but let's hope for some sort of semblance of normalcy soon and find it back on the menu.

I know I don't need to tell you: please support this small family business as you are able!

*****
Obie's Bar & Grille
209 Pinebush Road
Cambridge, ON N1R 7H8
(519) 624-6243
obiesbarandgrille.com

[Published previously] NFL Sunday football provided the background for a hefty beef dish that blends a few ingredients and flavours from multiple cuisines at Obie's Bar & Grille on Pinebush Road in Cambridge, a block or so south of Highway 401.
"Every Sunday during football season, we come into the restaurant to watch football, and I make dinner before we open. The beef short rib was one of the dishes. Both my manager and I said that it had great flavour, so we put it on the menu," chef and owner Justin O'Brien says.
That menu just appeared at the end of June [at the time of writing] and includes slow-braised Korean short rib with black beans, corn and rice, green beans and a sesame-ginger glaze ($24).
As for the restaurant, Obie's has 45 seats and serves lunch and dinner. The fact that it has been around for nearly five years is a testament to their perseverance. "We got through the roundabout construction and the bridge construction," O'Brien says with a laugh. "We're resilient."
It's tucked into the corner of the plaza, but don't be surprised: on busy nights they will serve well over 100 guests, according to O'Brien. "We see customers from everywhere. We have a strong following of locals but also people coming in from Hamilton. A lot of it is word-of-mouth."

O'Brien is that rather rare chef who learned the craft by working his way through the industry, rather than attending culinary school. He was chef at Guelph Borealis for six years and was at King Crab Oyster Bar in Kitchener. He also helped open Gilt in Kitchener.

"We try to do as much local as possible," O'Brien says of the menu. "And just about everything, including desserts, are made in-house. We butcher all of our own meat and make all of our own sauces and dressings."
The menu offers several shareable items, and sandwiches are popular. "We do burgers, Phillies, and porchetta. The elk meatloaf, made with Rising Star elk out of Fergus, is a staple here in terms of popularity."

There's also rice bowls, five taco selections (including buttermilk-fried haddock), a chicken bacon melt, a pulled pork mac and cheese, and vegetarian dishes. Proteins and produce are sourced in Ontario.
The Korean short rib is steeped in soy sauce, brown sugar, chili paste, ginger, garlic, green onion and parsley. "It marinades probably four or five hours, and we cook it in the marinade. Those flavours really get drawn in," O'Brien says.

Braising the ribs for several hours allows the collagen and tougher connective tissue of this cut of beef to soften and tenderize.

The dish is glazed with a sesame-ginger sauce made with hoisin, molasses, soy and jalapenos; it's served over black bean and corn rice along with sautéed green beans.

"The ribs are filling and flavourful, and the meat gets buttery. It almost melts in your mouth," says O'Brien. "That's what I like about it."