Letter from Montreal: Hélicoptère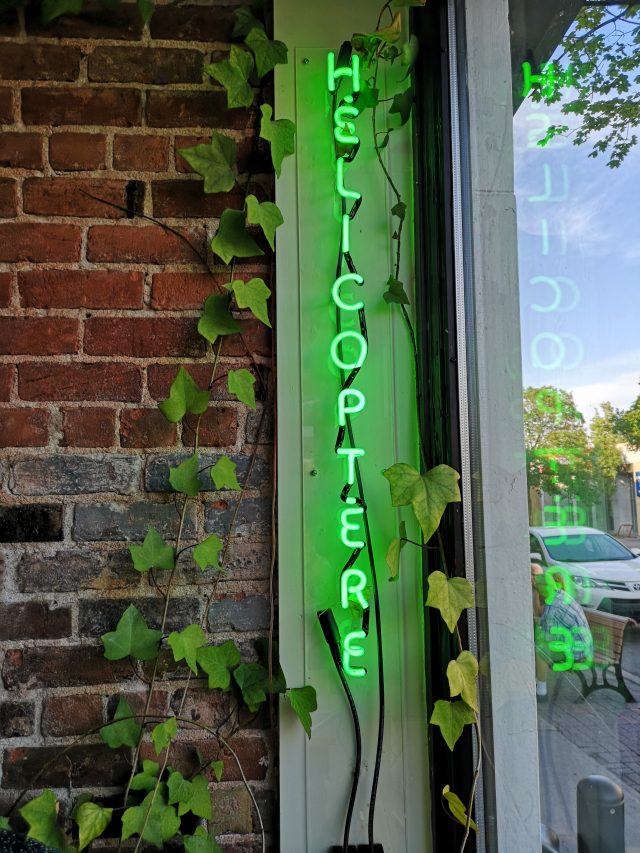 Reading Time:
6
minutes
Restaurants are first among equals when it comes to building a neighbourhood: if you want to re-vitalize a city block, make sure there's a good range of restaurants building out; other businesses will follow.
A team of young restaurateurs, led by owner and chef David Ollu and restaurant manager and sommelier Youri Bussières-Fournel, have taken this step with Hélicoptère, a restaurant serving delicious food at the same time as it strives to help re-vitalize a Montreal neighbourhood in the shadow of Stade olympic.
Cutting their teeth at Bouillon Bilk
Ollu and Bussières-Fournel worked together at Bouillon Bilk, a sleek venue with an inventive kitchen and artful presentation style at which I've enjoyed some very good food — many others have too: in fact, it's a restaurant which fairly recently held a spot for itself as #20 among Canada's 100 Best Restaurants.
Ollu, who cooked at Bouillon Bilk for five years, also did a stagiaire at Bar Tartine in San Francisco and in Avignon, France. He's a graduate of Formation Supérieure en Cuisine at Institut de tourisme et d'hôtellerie du Québec (ITHQ).

Bussières-Fournel came up through the restaurant ranks as a waiter, gained an interest in food prep and has assumed the role of sommelier and manager: he's put together both a good front-of-house team and a solid wine and beverage list. He also attended the ITHQ.
An evolving "HoMa"
With that training and experience under their belts, they set about to make a mark with Hélicoptère, and they're well on their way to doing so in the first 15 months of the bistro's life.
"We wanted something cozy. It's the same quality of food as Bouillon Bilk — we make everything from scratch — but it's a smaller restaurant," says Bussières-Fournel.
The location, Hochelaga-Maisonneuve ("HoMa" in the vernacular) near the Olympic Stadium, is a neighbourhood in evolution that's away from the busier areas of the downtown proper.

Bussières-Fournel says they wanted to be part of the change that was happening. "The area wasn't great a few years ago," he says. "But it's now better and more places are opening."
Shareables and small plates
With the private room in the back, Hélicoptère is cozy and seats about 60; their coffee shop, Hélico Café Pâtisserie, managed by Gabriel Martial, is next door. Pastry chef Natacha Lehmann takes care of the baking and pastries for both venues.
The menu is one balanced fairly equally across small and shareable plates that size-up somewhere between an appetizer and a main dish, with about two to three dishes per person being the target for the table; one or two items change each week.

"It's seasonal, and we work a lot with La pelletée, an organic farm in Saint-Marcel-de-Richelieu. Thirty or 40 percent of the wine list changes per week and there are many natural and organic wines from small agencies," says Bussières-Fournel.
Among other beverages, including a very quaffable saké, I tried a biodynamic Spanish "orange" wine, which is a young white with full-skin maceration that is fermented, apparently, in clay jars. It produces orange-ish flavours, has a cloudy appearance and was a unique and delicious experience.
Working with local producers and food entrepreneurs is an important part of the restaurant's business model and the forward-face of Hélicoptère. They have also taken some steps to being a fair and equitable workplace as well, a good thing in a demanding industry.
Vivid colours and contrasting textures
Ollu's hallmark, given these dishes and the season, is one of vivid contrasts of colour that are coordinated with differences in texture. There can be simplicity on one plate and more complexity on another; there is a cohesion among the dishes and balance too. (On this menu, he has put together four or five plates that carry a surf-and-turf theme.)

In a good mousse, the humble chicken liver can be elevated to a foie gras-like elegance (with foie itself appearing on another dish) — Ollu puts a generous serving on a financier, an almond cake with a touch of sweetness and the texture, along with rustic chopped almonds, to work well with the mousse. It's an attractive and delicious mouthful.
The colours on Ollu's halibut dish — a blending of snowy white with the crisp reds of radish edge and dried cherries and pomegranate — are striking and second only to the perfectly cooked texture of the fish against the crisp elements on the plate.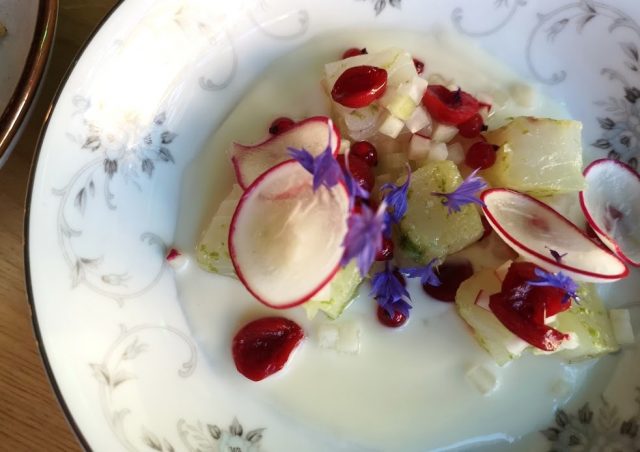 Coin-shaped and stamped corzetti pasta, a first experience for me, is served with white wine-braised clams with garlic flowers, fava beans, and an nduja purée all bathed in an herbed butter accented with white wine and clam sauce. It's a fairly complex dish but one that coheres — and pleases.
Soft shell crab, crisp and briny with a light batter, rests on kohlrabi along with kimchi, plum, mirin and ginger: in doing so, it hits notes of sweet, sour, crisp and tender.
Crisp-skinned Arctic char with fennel and delightful chanterelle mushrooms has a bit of lemony acidity for balance, making it another attractive and satiating plate of food; the only misstep of the many dishes, the fish is slightly overdone, but the flavours overall are just marvellous.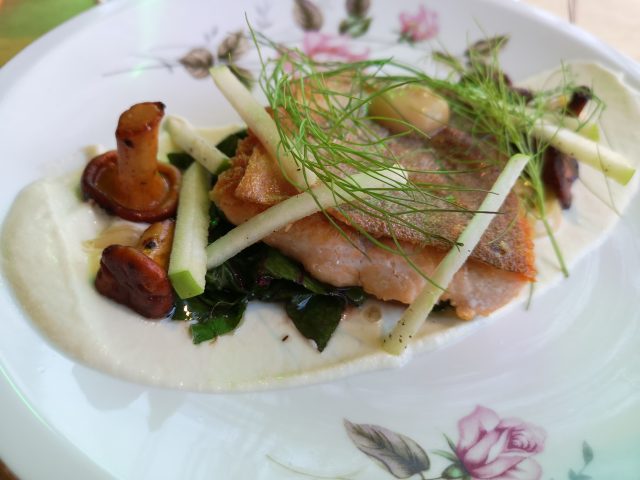 Vegetable dishes have a strong presence on Ollu's menu: beets combine with nectarine and spruce, but the dish moves from a faint Nordic influence to the Middle East with its base of labneh (a tangy, creamy yogurt) and pistachio crunchiness.
And, in another dish, tomatoes are tossed with kombucha, buttermilk, basil and croissant as a variation on a panzanella.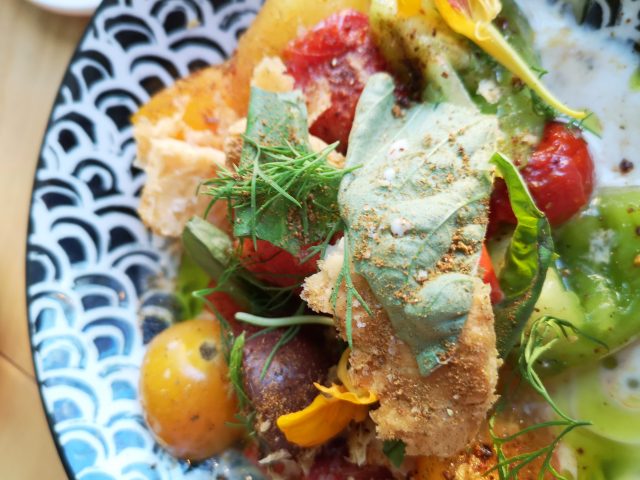 Good food and community spirit
In one of Canada's greatest cities, there are simply too many good restaurants to try to visit, but Hélicoptère is one that I'd love to be able to land at again: the good food, terrific service and comfortable confines will help make the business an important part of a re-vitalized neighbourhood, to which Bussières-Fournel, Ollu and staff aspire
"We want to help this neighbourhood that we're part of," Bussières-Fournel says explaining the balance that they seek. "We also want to cook what we like, and we hope that people will enjoy that. They have so far."

[Hélicoptère is open Wednesday to Sunday for dinner; tasting menu at time of writing is $55 (wine pairing $45); there's also a tasting menu for brunch.]