Scott Hergott: Conestoga grad at top of culinary world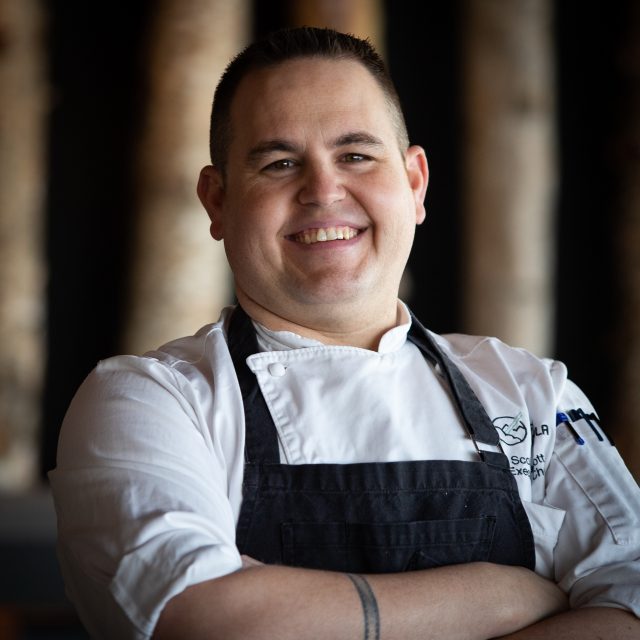 Reading Time:
5
minutes
Executive chef Scott Hergott attended Waterloo Collegiate and Conestoga College for food and beverage management — elevation about 390 metres — but he now cooks at a somewhat higher level: nearly 2,500 metres, to be specific.
Hergott, 40, graduated from Conestoga in 1999 and promptly headed west, where, for a decade, he cooked at the Fairmont Banff Springs and is now executive chef for Pursuit and the Banff Gondola restaurant.
Cooking came to him almost by accident.

He'd always been sports-focussed — an interest he maintains today — and he charted out a few career possibilities when he was in high school, including food and beverage management, business management and sports management.

"To be honest, I missed the meeting at the school for sports management, so I decided to take the kitchen route," he says with a laugh.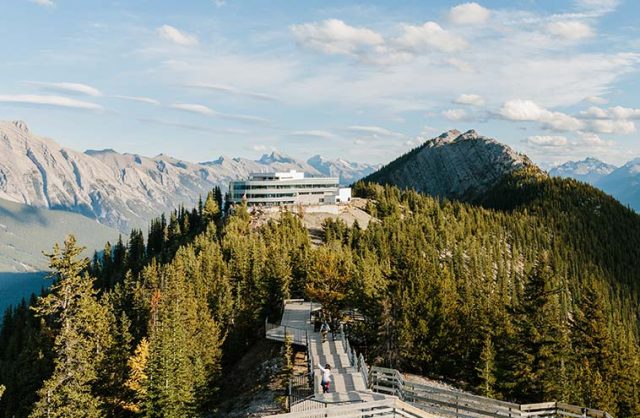 It was a cavalier decision, it might have seemed: but while he just about always looks down in Banff, he certainly doesn't look back. "It turned out I was actually good at the cooking thing," says Hergott. He started his career with a co-op term at Banff Springs in the summer of 1998 before returning to Conestoga to finish up and graduate in 1999. "I literally turned around and came back here."
Running four restaurants
When you talk to him, it's immediately clear that he loves it. And who wouldn't being more than a mile high? Every day, after some administrative details down below, Hergott travels up the mountain to the restaurant, a 4,000-ft. difference from bottom to top.

"There's basically four restaurants that I run up here. I'm in the kitchen every day and hate paper work," he says, adding that he spends as much time as he can with the other cooks prepping and getting ready for service.

He credits some of his preparation with his time in the Conestoga College restaurant when it was at the Waterloo campus on King Street North. "We had some good instruction, but what I remember most was actually operating a restaurant, cooking for guests and running it as a business. That made a difference. You had learn front-of-house and cooking," says Hergott who was named "2019 Prince of Pork" at the Cochon555 Banff culinary event in April of this year. Hergott is also a volunteer firefighter.
The work term at Banff Springs was no small piece in Hergott's development either and certainly opened a few doors. "I never imagined this would be my path. I came here and Pursuit gave me a great opportunity to build and change kitchens and implement new ideas. We've grown this from the ground up," he says with an entirely accurate metaphor.

At an elevation of 7,500-feet or so, Sky Bistro on Sulphur Mountain is the organization's fine dining restaurant, doing about 230 covers a night. Northern Lights is a buffet-style restaurant (serving nearly 500 people for lunch and dinner), as well as a coffee shop which makes all its own pastries. "We just opened a patio on the roof this summer serving burgers and dogs, as much local as we can get," according to Hergott.
The facility is open basically 365 days a year, with peak season (pun intended) being June, July and August: that adds up to about 5,500 people up the gondola every day. Perhaps counter-intuitively, given that this is the Rockies, it is not the ski season which is busiest, says Hergott, pointing out that it's an observatory and skiers go elsewhere.
Farm to summit Canada-wide
Regardless of what the calendar says, logistics at such heights become interesting. The restaurants cook with propane, and it has happened on the very odd occasion in the past where they've lost juice during service and have to rush to replace fuel. Their supply line is a relatively thin cable and a ride on the gondola in special material carts. "You have to be on point with ordering and storage and making sure you have enough up here. If it's a busy day at the bottom, there's no time to hook up supplies," says Hergott.

Given the geography, they've coined a term for themselves — and they're not being cheeky: "farm to summit." It's an approach that the restaurants have been nurturing. "We're trying to work with the great local farmers in Alberta. But we're Canadian-wide too," Hergott says. It's perhaps like another great restaurant among those venues at the apex — literally and figuratively — of Canadian cuisine, Canoe. "Our customers come from around the world, and we want to give them a truly Canadian experience with food," he adds. It entirely makes sense, given how much of the country you can see from such a majestic vertex.
The observation from the pinnacle is the take-away, of course, and that's to be expected. Sky Bistro has been featured in National Geographic and the Washington Post and gets regular nods as one of the top spots for the view (and romantic venue) in the world, including a place on Open Table's "100 Most Scenic Restaurants in Canada." But Hergott has his eye on further culinary heights: scaling the north face to make it into Canada's 100 Best restaurants — at this point, they have the ambiance and setting nailed.

"The view is exceptional," Hergott explains with a sense of awe, and as if he's seeing it for the first time again. "It's literally a 360 around the Canadian Rockies."
*****
Rapid fire questions for Scott Hergott
Best thing you've ever eaten?
Hergott: Beef tartare from 1888 Chophouse in Banff.

Other career you could have pursued?
Hergott: Anything to do with sports.

Favourite beverage?
Hergott: Coldest Corona you can find.

Chef you'd most like to meet?
Hergott: Escoffier.

Best footwear (for the kitchen or otherwise)?
Hergott: Sika clogs.

What scares you in a kitchen?
Hergott: Know-it-alls.

Greatest failed recipe?
Hergott: Tried to make a souffle when I was a student.

Something that gives you great pleasure?
Hergott: A perfect service.

A favourite teacher you've had?
Hergott: Mr. Piper (woodworking).

Do you ride a bike?
Hergott: Yes I do. A 2008 Kawasaki ZX-6R.

A moment in your life you'd like to have back?
Hergott: Not leaving my first job and exploring more parts of the world and culinary cultures.

Favourite band?
Hergott: Barenaked Ladies.

Who would you like to cook for?
Hergott: Anyone with an open mind and a passion for food!

The thing you wish for Waterloo Region?
Hergott: That it become a great culinary destination and continue to see the Conestoga College culinary program grow!

Go-to late-night snack?
Hergott: Slice of pizza.

Best thing about being a chef?
Hergott: The ability to share your passion with young chefs and guests alike.

Dumbest purchase you've ever made?
Hergott: A school bus to convert into a camper.

Favourite city?
Hergott: Seattle. "Go Seahawks!"

TV chefs who annoy you?
Hergott: Bobby Flay.

Would you describe yourself as sweet or savoury?
Hergott: Sweet.
[Banner image/Pursuit]