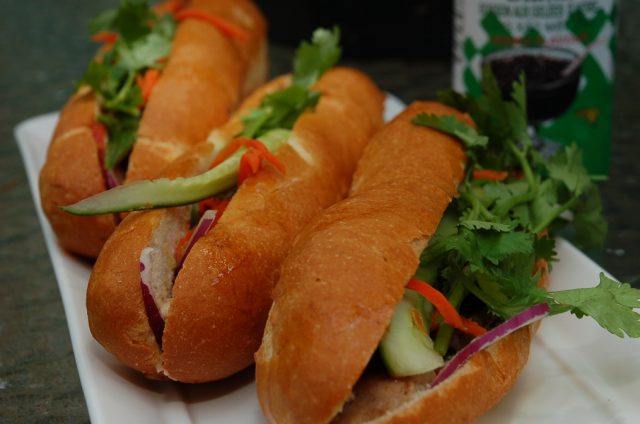 Reading Time:
3
minutes

Banh Mi Givral Deli
210 King Street East
Kitchener, ON N2G 2L2
519-743-5558
https://www.facebook.com/pages/Banh-Mi-Givral-Deli/638680296282546
In the long and delicious history of the simple sandwich, a form of food that has been around since the Earl of Sandwich demanded it in the mid-1700s, the banh mi is one of the greatest creations and a favourite street food that we can savour in Waterloo Region.

The humble baguette, toasty and crisp and loaded with a protein such as pork, chicken or beef, vegetables, cilantro and brushed with a spicy mayo, is the wondrous blending of Vietnamese and French cultures—yet carries with it the brutal imperialism of Indochina.

Unlike the Earl's original sandwich, the banh mi is not all that old. The circumstances of the banh mi's appearance in the 1950s can be distilled to a cliché: necessity is the mother of invention.

In a very abridged history of the sandwich in Indochina, it started out as a basic French plate of bread, cheese and meat, eaten as the French are wont to do.

However, when the Europeans pulled out of the region in 1954, one or another practical Vietnamese entrepreneur stuffed the baguette with meat, added more vegetables, possibly including slivers of crunchy cucumber like we get today, and slathered it with a spicy mayonnaise so that customers could take it to go.

It was simply a brilliant idea.
Banh mi diaspora
The next part of its evolution was for the sandwiches to pop up all over the country in banh mi carts.

Then, when the fall of Saigon rocked the world in 1975, the sandwich spread around the globe in a sort of banh mi diaspora.

So, the very happy fact springing out of a long-ago history of a repressed people is that Kitchener's Banh Mi Givral Deli, owned by Vinah Nguyen, has been free to win over hungry eaters for about 15 years now.

It's true that Givral basically introduced the sandwich to our region. And for that we should be very grateful!
The original shop Nguyen had for a decade was in the upstairs concourse across from the Kitchener Market on King Street.

Nguyen then moved Givral for a short time to the strip of King Street across from King Edward Public School, but she soon returned to the current location where she has been for five or six years now.
Menu items under $6
The BBQ pork version of her banh mi is pork seasoned and marinaded in a sauce for about 30 minutes before being cooked. Carrots are lightly pickled in vinegar, sugar and salt while sprigs of cilantro offer crunch. The spice level to the sandwich, when you ask for it, is a little above medium.
There are nine banh mi sandwiches at Givral, from barbecue pork and spicy chicken satay to a very good sardine version and a vegetarian one.

She also makea steam buns, slightly sweet sesame buns, fresh rolls and spring rolls. There is nothing over $6 on the menu [at the time of writing].

They can be snacks or meals, according to Nguyen.

"The sandwich is mostly for breakfast and lunch," she says.

"The Vietnamese get up early, so they need it. There are vendors open everywhere. It was a street food, but now stores have opened too."
Givral Deli is a blessing that it is now open again.