Pandemic-perfect pickle pizza
Reading Time:
2
minutes
McMullan's
188 Highland Road West
Kitchener, ON N2M 3C2
(519) 744-5300
Consider a polarizing comestible: the pickle pizza. Yes, it is a thing and is growing in popularity as quickly as cucumbers grow in the sun and heat of a July day.
When it comes to the polarization factor, a pickle pizza might eclipse its sister pineapple pizza, the origins of which have an Ontario connection: it can be traced to Chatham, and the Family Circle restaurant which claims to have created it in the early 1960s.
We know that people either love pineapple on their pizza or hate it; it's such a flashpoint that a food delivery app has engaged Mad Men actor Jon Hamm to extol its virtues.
However, putting dill pickles on pizza is similarly contentious: it's love or hate with no in-between.
There are a handful of pizza joints around the region making the pie. It's usually in the "bianca," or so-called white, pizza category.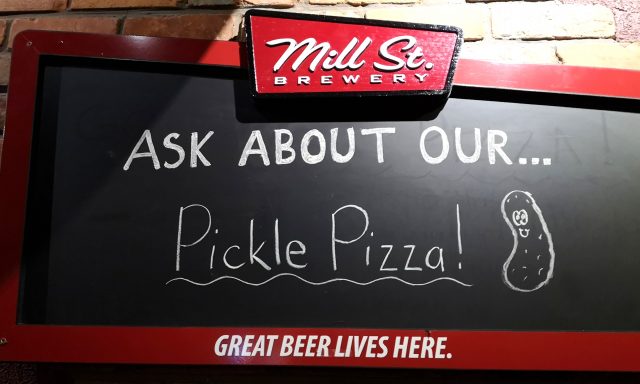 At McMullan's Canadian Pub & Pizzeria on Highland Road just about at Belmont, the pickle pizza – like at many pizza joints – might be referred to as "famous."

For more on how they make the pizza and its popularity, visit Waterloo Chronicle.