Celebrate Lao New Year April 14-16
Reading Time:
2
minutes

They've only been a part of the local food scene for about two months, but it's time for Knife and Pestle to celebrate.
The new year, that is.

April 14-16 is Lao New Year and — as specialists in sushi, poke and Lao food — the small business operating out of the Wooden Boat kitchen on Hurst Avenue has an all-Lao box for pre-order and take-out for the celebration.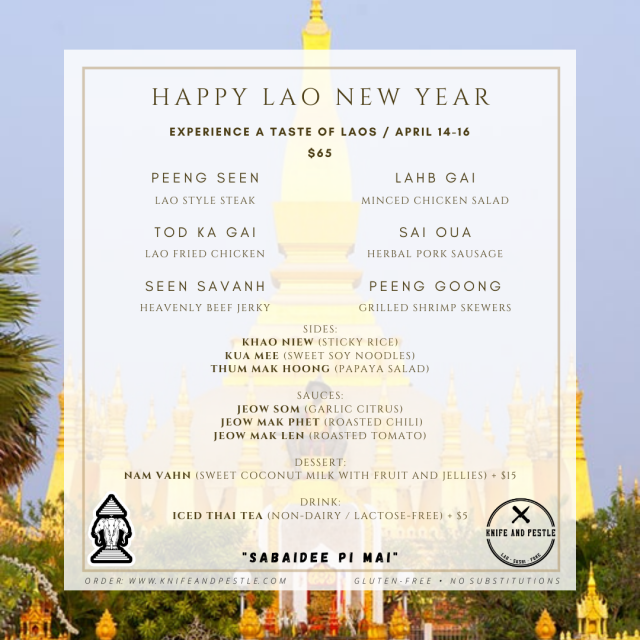 Knife and Pestle was founded by Kennedy Phounsiri and co-owners Mike Saengdala and Brittany Petrie.

They describe Lao culture as one of traditions, including Buddhist, where people head to the temples to make offerings and have street festivals that include a lot of good food.

"There's water sprayed at the street festivals, as well, to wash out the old year. It's a re-birth and better luck," Saengdala says.

As for food, Knife and Pestle usually prepares sushi and poke as well but will be focussing on Lao food for the New Year.

The meal includes Lao-style steak and fried chicken (pictured above) as well as a jerky called seen savanh. There is also lahb gai minced chicken salad, sai oua pork sausage and grilled shrimp skewers (peeng goong).

Also included is sticky rice, papaya salad, sweet soy noodles, along with garlic and citrus, roasted tomato and roasted chili sauces.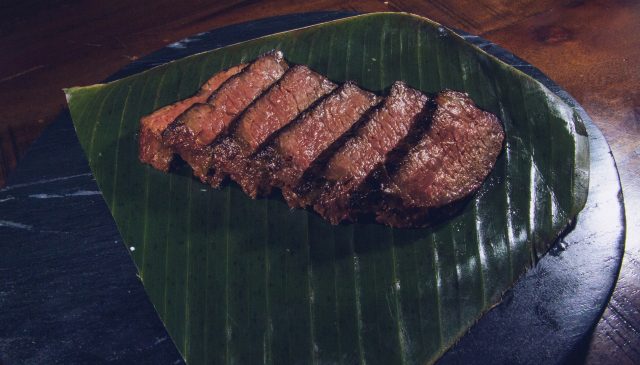 The knife and pestle of their name captures the blend of food that they prepare. "A crucial part of sushi is a good knife for cutting the fish. A good part of Lao food and its ingredients is the pestle," says Phounsiri.
K&P's Collective Boxes have proved popular in the kitchen's early days, according Phounsiri and Saengdala. "The response we have been getting has been great," says the latter. "We will use the same big box that customers have enjoyed but it will highlight Lao dishes to celebrate our culture's food. It's a taste of Laos."
The goal of K&P in its early days has been to introduce Lao food to Waterloo Region. The pending Lao new year is the perfect occasion to celebrate with dishes that might be less familiar to diners, according to K&P.

"This event gives the community a chance to try our food, the food of Laos and our culture," says Saengdala.

For more information about Knife and Pestle and to order a Lao New Year Box visit their website.
[Banner image/Knife and Pestle]