Brisket nachos at Lanc Smokehouse
Reading Time:
3
minutes
Lancaster Smokehouse
574 Lancaster Street West,
Kitchener, Ontario N2K 1M3
http://lancsmokehouse.com/


[Previously published; prices and menu items, along with hours of opening may have changed] The folks at the Lancaster Smokehouse in Kitchener have it boldly stamped on their website: "It's All Good!"
That's pretty much accurate. Long a popular dining destination—sometimes there's a wait to get a table (pre-Covid), but it's worth it—the Lanc was the brainchild of Chris and Cathy Corrigan that grew out of a mobile barbecue business in 2008.

The pair sold their original Hog Tails Barbecue in Waterloo in 2015 (it has since closed), a move prompted in part by having taken on extensive renovations to the dog-eared Kitchener tavern that was once an 1840s railroad hotel, The Lancaster Public House.

The Lanc crew have just come through a recent round of renovations that keeps the heart and soul (and essential bones) of the heritage building intact—but to which they've added, over the course of eight years, a wonderful and highly appetizing barbecue smokiness that is its hallmark.

The Corrigans and their daughter and co-owner Caitie Agostinho and executive chef and co-owner Tim Borys have built something of a southern barbecue empire with their food. (The business has continued to grow and includes Martha Borys's Crumb Bakehouse.)
Lanc menu items — likely having changed since the pandemic — run the range of a half-dozen side dishes that include "tater tots" and grits to six sandwiches and five Po'Boys.

Pit Specialties are ribs (including Flintstone-esque beef ribs when available), and meat platters (from $24 to $60, the latter for five smoked meats).

Six Southern Favourites include the iconic "Nashville-Style Hot Chikan Shak Chicken" ($20).
From among 11 appetizers, I direct you to the nachos, a classic of roadhouse fare not to be skipped.
Day to day, the Lanc kitchen is overseen by chef and kitchen manager Mark Pagett. He says the nachos are indeed big; it's a dish that can be shared by several people. It shouldn't be a surprise: that's the nature of barbecue joints that serve dishes the size of Texas.
Nachos start off in their basic vegetarian iteration of cheese-laden ($12), but this is barbecue so bring on the meat. That means you can select the Lanc's superlative pulled pork (add $5) or the smoked chicken or brisket ($6).
The brisket, a cut of beef taken from under the first five ribs, requires loving treatment and long, low-and-slow smoking preparation—like 12 hours—to see that tougher fibres are broken down into rich succulence.
Pagett says the cuts of brisket are sauced with sweet, smoky or hot (and all made in-house) and then chopped and added to the nachos. Even he marvels at the creation.
"We take corn tortillas, cut them and fry them to make our own nachos. We add our home-made pico de gallo salsa of tomatoes, onions and cilantro and then add lettuce and our own pickled jalapeños," he says.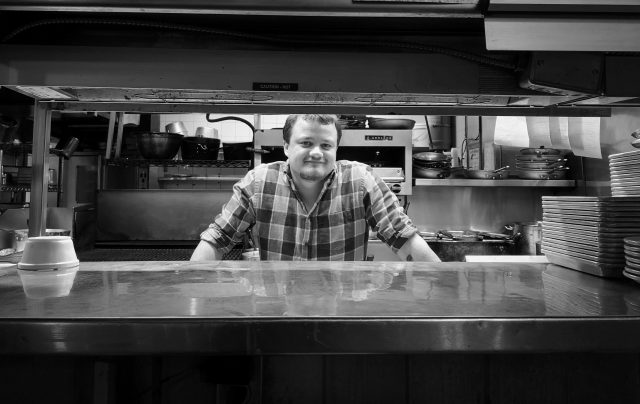 The nachos come with a small preserving jar of sour cream for dipping—or just slathering.
The other notable aspect that the Lanc proclaims proudly is support of local food businesses and suppliers. I support that too: there's nothing like living large and local at the same time.
[Nachos image/Lancaster Smokehouse]