Mark Pagett of Lancaster Smokehouse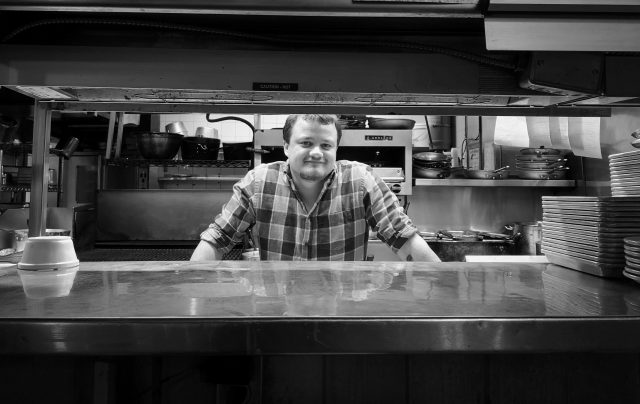 Reading Time:
5
minutes
On a Tuesday afternoon at two o'clock, the dining room at Kitchener's Lancaster Smokehouse is oddly quiet. Usually, the place is humming with a lunch crowd that evolves busily into dinner and more hum.
Even when the customers and staff have gone home at night, The Lanc is busy. The restaurant's smoke "pit" runs virtually all night as it low-and-slow creates the meats on the menu. That's roughly the 100 pork shoulders and another 100 briskets the kitchen will go through in a single week. Add to that approximately 25,000 racks of ribs served in a year.
Yes, it's a busy place, but this afternoon is an anomaly, notes Mark Pagett, The Lanc's chef and kitchen manager. Even he's somewhat surprised because it's a rare moment when the restaurant is this quiet (granted, it might also be that it's -20 degrees C today, along with the usual industry slow down that happens in February).

Soon, however, Pagett will be back at it, organizing the crew, and plating and executing dinner service. He's been with the restaurant almost seven years.

Hundreds served
Those full-on shifts can be crazy for the cooks because The Lanc dining room, at just over 100 capacity, is so busy. On a packed Saturday, they can be on wait from 12:30 in the afternoon until 9 p.m. and end up easily serving hundreds of customers.

"Sometimes there's no break or down-turn around two or three o'clock. It can be crazy going from lunch to early dinner and beyond," Pagett says.
Pagett, a Kitchener native and St. Marys High School grad, didn't really know what he wanted to do as a career, or even just a job, during most of his time at school.

But there were moments when executing good food with a time constraint was part of family life: at home, he and his father would challenge each other to pizza or burger contests. It got competitive.

"I believe it was in grade 11 when I took what was the equivalent of Home Ec. at high school. I soon realized that I was the only one who took it seriously. Everyone seemed to be taking it because they needed that credit," says Pagett.
When he started listening to the instructor, it became apparent that cooking was something he was interested in doing as a career. "I liked the classes, and right after grade 12, I applied to Conestoga College for their culinary program."
A graduate of the two-year culinary management program, Pagett did a co-op time at Kitchener's King Crab Oyster Bar and Grill, a once popular venue on Victoria Street that has since closed. "I trained under two Justins. There was Justin O'Brien, who now owns Obie's in Cambridge and Justin Bronson who has moved out west."
After a few years at King Crab, Pagett went to northern Italy for a few weeks to live in Bolzano in the Italian south Tyrol. "I learned to say, 'Where's the bathroom?' and other than some food terms that's about all I remember," he says laughing.
"The food was so good," he adds. "The family I lived with would go to the fishmonger in the morning and then to the butcher, baker and cheese maker. Every day. It was very different than from here."

Learning at breakfast
Pagett also spent some time at Cora's, the breakfast restaurant. He was in the kitchen as a line cook, expediting orders and did a turn in front-of-house. "I feel that breakfast is frowned upon as just fast food. But, as a cook, learning a really busy breakfast line is hard. You might have 50 different plates all in a row and all with different eggs, meats and sides and mods, allergies and all that stuff," Pagett says. "It's really fast paced even compared to here."
After a few years, he joined the staff at the Smokehouse. "That was after I lost a job opportunity during an interview at a vegetarian restaurant because I have a tattoo of meat," he says with a smile.
Ink or not, Pagett points out a gap that many cooks face: should someone wanting to be a cook go to culinary school? Lots of cooks don't–and some are quite famous (and rich). "Is it worth it? Pagett asks. "If you want to be a cook, you can go cook. But going to school will really help and teach you a lot of background and give you basics and fundamentals quickly. Those are essentially for learning and growing and being a really good chef," he adds.

Some basics not glamorous
He then points out the not-so-glamorous elements that are vital and which you may not learn cooking on the line: "The basics of finances and running a business. At Conestoga, I learned a lot about costing, which is very useful to know and understand. I learned that and how to be disciplined, focussed and really good at what you are doing."
It comes down to getting the best dish out that you can, at whatever style of restaurant you are working in, according to Pagett.
He notes that the basic instruction is critical, but he says he's been lucky being able to pursue some creativity at The Lanc. "There's always an opportunity to learn more. Working here, Tim (executive chef and co-owner Tim Borys) and the Corrigans, the owners, have given me the chance to grow. I've been able to take the reins on several projects."
That includes, as just one example, Bourbon-pairing dinners upstairs in The Lanc Loft, which was a five-course menu that was his to explore and create. "If I have an idea, I run it past them and we can do it," he says. "Cooks need that chance."
Pagett notes that the basic culinary school instruction is critical, but he adds that he's used that as a basis to pursue some creativity at The Lanc. "There's always an opportunity to learn more. Working here, Tim (executive chef and co-owner Tim Borys) and the Corrigans, the owners, have given me the chance to grow. I've been able to take the reins on several projects." That includes Bourbon-pairing dinners upstairs in The Lanc Loft, a five-course menu that was his to explore and create.

"If I have an idea, I run it past them and we can do it," Pagett says. "That's a great thing about working here. Cooks need that chance."