Alex Krawczyk: Chef at Grand Surf Lounge
Reading Time:
6
minutes
Kudos to Grand Surf Lounge for weathering the pandemic storm. Now open 4 p.m. – 9 p.m., Wednesday to Saturday. Text 226.753.5588 for take-out.
*****
[Published previously]
Conestoga College culinary graduate Alex Krawczyk remains a student of his craft, perhaps more than ever as he oversees the kitchen at downtown Kitchener's popular and unique The Grand Surf Lounge. The Kitchener resident and graduate of Resurrection High School draws heavily on the theoretical as he executes the restaurant's tiki menu.
"I like to learn and have done a lot of reading about the cultures and their foods," Krawczyk says.
The theoretical side started at Conestoga College, he says. "I learned a lot about international cuisines with Evelyn McManus. Every week we would pick a culture and create a giant feast. It was learning about many dishes at a time. As students, we'd all talk about it and ask each other how the dishes were executed and what made them different. I found that really interesting."
After he completed his Ontario Youth Apprenticeship Program, Krawczyk worked at Solé Restaurant and Wine Bar in Waterloo, where he worked for five years. "That was pretty cool," Krawczyk said of the experience. "There was a lot stuff to do there that I wouldn't have had the opportunity to do otherwise. They do their own butchery, for instance, and they gave me, at 19 or 20 years old, the chance to do it. I learned a lot while I was there."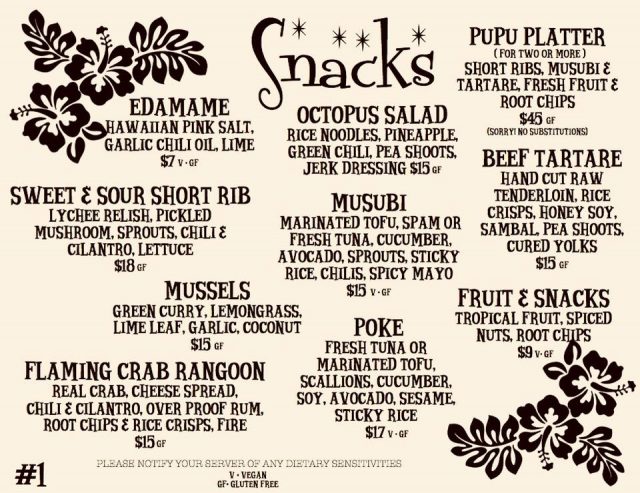 The pork belly luau is among his favourites dishes at Grand Surf. "It's a giant snacking board with a ton of fruit, some roasted pig, and sides that everyone can mow down on," Krawczyk says, adding that he also likes the Thai sausage. "It's a country I would love to be able to travel to. I've really studied Thai food and how they build flavours, but it's still so mysterious to me."
He calls the experience for customers coming into Grand Surf Lounge "transformative," and putting people "on edge" as they come to the neighbourhood near the Charles Street bus terminal and push through the door curtain.

"There's tiki masks and everyone is wearing Hawaiian shirts. People aren't sure what they're going to experience. Coming in here is unusual and maybe slightly jarring. And then they get a drink, and it's on fire. And then their food comes, and it's on fire."
Krawczyk admits that he flip-flops when it comes to the question of eventually owning his own restaurant. Having seen the family-side of the business (his parents opened the original Nougat in Kitchener) and the margins involved, he's not sure he wants the all-encompassing nature and stress of the industry.

"But yet," he says, "I could run such an amazing sandwich bar or ramen shop. I have so many ideas and concepts in my head! Then again, they are terrible ideas because they involve opening a restaurant," he says with a laugh. "Maybe some day."
What he wants is to continue to do things in his kitchen that will defamiliarize food for people. He says he has the theory that he needs and now he has the venue in which to execute it — and he's looking ahead.

"I'm really happy and looking forward to what can happen in the future."
**********
21 Questions for Alex Krawczyk
Best thing you've ever eaten?
Alex Krawczyk: China was definitely one of my favorite food experiences, but to pick a single meal is hard. The hotpot in Chengdu was some of my favorite meals because it was always so boisterous. You'd have eight people around this boiling cauldron, throwing in meat and veggies, knocking back glasses of Tsingtao and Baijiu (a Chinese liquor), smoking and yelling. It was an experience that really felt like community. The hand pulled noodles also haunt me to this day.
Other career you could have pursued?
Krawczyk: I would have really loved to be a writer. Could I have been a writer is another question. I do write once in a while still, and I love reading and literature so to channel my own energy into that I think would have made me pretty happy.
Favourite beverage?
Krawczyk: Non-alcoholic, I would probably say water or a well-brewed cup of coffee. As for alcohol, I'm a big fan of the Boulevardier or a perfect Manhattan.
Beverage that once just about killed you?
Krawczyk: I did drink cobra blood in Vietnam without thinking about how reptiles can carry salmonella, so that's probably the closest I've been to a beverage killing me. It was fine though.
Chef you'd most like to meet?
Krawczyk: David Chang. I think he has a very similar style of creative process to mine. I love the things he has to say about culinary tradition, authenticity and the industry. I've also been a long-time follower of Lucky Peach and Netflix show "Mind of a Chef," and I think he has rallied some great, sincere chefs and writers.
Best footwear (for the kitchen or otherwise)?
Krawczyk: I used to be a big fan of leather Birks, but since getting Blundstones they are my go-to.
Favourite "international" food in Waterloo Region?
Krawczyk: That's also an impossible question. K-W has so many different cultures, and I think they all have restaurants that are so truly authentic. I've found that a lot of the ethnic food here is easily on par with Toronto's best.
What scares you in a kitchen?
Krawczyk: Watching new cooks deal with hot oil, especially fryers. I feel you can't really respect how dangerous it is until you've either burned yourself or seen what can happen first hand. Most of the yelling I've done in the kitchen is when someone doesn't respect how dangerous hot vats of oil can be.
Greatest failed recipe?
Krawczyk: I can't remember what it was exactly, but I remember doing a smoked mackerel soup in high school. It was a Thai recipe, but I was way too inexperienced with Asian food to know what I was doing. It was pretty gross.
Something that gives you great pleasure?
Krawczyk: I do really love trying out new recipes at home. It helps me understand the finer points and gives me more time to tweak and play with the recipes. I also really love reading in my free time — if I can find the time and energy.
A favourite teacher you've had?
Krawczyk: Tyrone Miller was a huge influence on me, back in high school. He definitely let me do a lot of things I would not have been able to at that time. I was 15- or 16-years-old, and he was showing me how to butcher pig legs, make ballotine and demi-glace. I learned so much from him. A lot of the knowledge I gained through him I still use today.
Do you ride a bike?
Krawczyk: Like a motorcycle or a bicycle? I rode a little 110cc Honda around Vietnam for a couple weeks. I also used to be an avid biker a couple years ago, but I live downtown now so I just walk everywhere.
Favourite band?
Krawczyk: Modest Mouse is a band that I really loved throughout high school and still listen to often.
Who would you like to cook for?
Krawczyk: I really love cooking for my partner. She's a great sounding board and critic. But really nothing makes me happier than cooking for friends and having a party. Breaking bread with the ones you love and care about, I think, is one of the most beautiful things in life.
The thing you wish for Waterloo Region?
Krawczyk: Well, we just got a T & T Supermarket in Waterloo, so what more can you ask? I mean, Crafty Ramen could hurry up opening their west downtown Kitchener location I guess!
Go-to late-night snack?
Krawczyk: I usually have some pâté in the fridge, so that with pickles and crackers is a classic go-to of mine. I've also been really keen on canned smoked oysters and sourdough. Sometimes if I'm feeling energetic I'll make myself a full meal.
Best thing about being a chef?
Krawczyk: I get these moments while I'm working sometimes. It only happens when the restaurant's full, and I'm really busy. It's the idea that there's 30 or whatever people sitting in my restaurant, here to have a good time, and I am not only a part of that but maybe part of the reason they chose to come here. So when I'm hustling to feed all these people, it makes me really happy to know that one way or another I've made a part of the evening for my guests. Also, the fact that I can cook well is a great benefit. It constantly astounds me how many people don't know how to feed themselves and have to rely on other people to do it for them.
Most dumbest purchase you've ever made?
Krawczyk: When I first started cooking I got one of those pull sharpeners. I probably dropped like 80 bucks on it thinking it would work better. It was a piece of crap, and I gave it away.
Favourite city?
Krawczyk: Montreal has a special place in my heart. The restaurant and night life there is awesome, and it's the kind of self-indulgent debauchery I love. They really have restaurant culture down. Sharing, good wine, everyone's buying everyone shots. The music scene is also beyond killer.
TV chefs who annoy you?
Krawczyk: Well, there's Mario Batali, with the sexual harrassment and stealing tips and Paula Deen with the racism. I don't think they should really have a platform. Also Gordon Ramsay has had this habit of glorifying abuse in kitchens. Everyone I know in the industry has suffered one form of abuse or another. It's something that was a norm for a long time and a way of getting your stripes. But abusing people on television and normalizing that further is a step back, I think.
Would you describe yourself as sweet or savoury?
Krawczyk: Savoury?