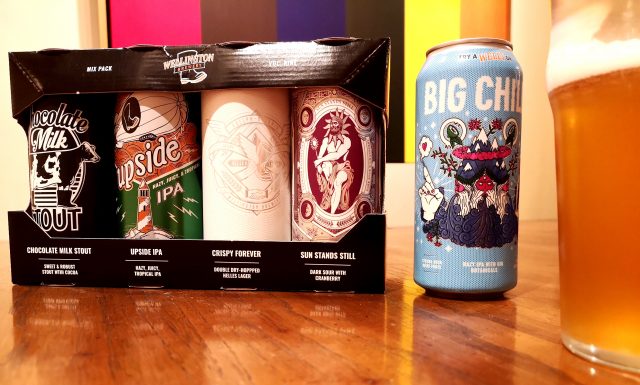 Reading Time:
< 1
minute
Hey! For the beer lover on your list: the Wellington Brewery Mix Pack Vol. 9 is now available.

I have a few local brewery-favourites, and a few virtually in my neighbourhood, that I just love: Welly, Descendants, Waterloo, Counterpoint and TWB — and others too numerous to list.

Consider the Welly mix pack (as always with cool can art;), its recent iteration in time for holiday season: included in the pack are the "Upside IPA" (IPAs are my fave, so I also tried the "Big Chill") and the "Crispy Forever," Welly's Helles Lager dry-hopped with Citra, Amarillo and Cascade hops. It has a satisfying quaffable nature that is nicely citrusy.
An interesting and mouth-watering creation is Welly's "Chocolate Milk Stout." At a magnificent 6.6% ABV, the stout is rich with chocolate and cocoa powder flavours within a creamy mouthfeel. It's back in action for a limited time and has been a popular beer in the Welly repertoire. It has a roasty-toastiness — I recommend nibbling on some creamy and sharp Stilton (warmed to room temperature) and enjoy this one in front of the fire.

Finally, as the days come to their shortest and darkest of the year — and what a dark year 2020 was in general — "Sun Stands Still" is a perfect strong beer (5.7% ABV) that's a dark sour with some dark berry flavours. This beer sums up the end of this year — but in a good way, 'cuz it's almost over!

Welly mix pack volume 9 is available for online order and at the LCBO ($14).

Cin Cin and Sláinte!