Unbottled: A tasting series at Fat Sparrow
Reading Time:
5
minutes

A recent visit to The Charcuterie Bar, a new concept by the always evolving Fat Sparrow Group, was both entertaining and enlightening — as well as delicious.

Part of a series of events in the newly renovated space in the uniquely dubbed "Fat Sparrow Block" on King Street in St. Jacobs, Unbottled featured the wonderfully casual and engaging Ren Navarro, the insightful beer expert and beer raconteur behind Beer. Diversity.

I've found that such food-and-beverage pairing-evenings need to be engaging, and this one certainly was.
FSG chef and co-owner Nick Benninger announced that need pretty much right away, both directly and indirectly: such events need approachable and informative wine and beer aficionados and cicerones like Navarro. And so she is.

"Bringing Ren here was something we really needed to do," said Benninger. "She is amazingly talented."
Benninger and FSG executive chef Loreena Miller oversaw the menu for the multi-course meal; Navarro provided the beer pairings.
Benninger, the face of the FSG brand, rarely withholds his excitement in sharing food with his guests, and that does a couple of things to my mind: first, it anticipates the dishes coming out of the kitchen that taste really good; and, second, he shares his love of cooking and the often playful takes on classics that pay homage and respect to the ingredients.

Benninger's and Miller's menu was a solid and filling one, a combination of shared plates and single dishes. They aren't shy with portions which were matched with their proper execution and deliciousness.

Fried stuffed olives caught everyone's attention and were quickly devoured, but so too were the pancetta crostini, the bresaola arugula involtini, and a classic app "devils on horseback." The Brazilian pastels (perhaps a nod to Benninger's partner Nat?) were also a delicious part of a board of satisfying starter nibbles that amounted to more than mere nibbles.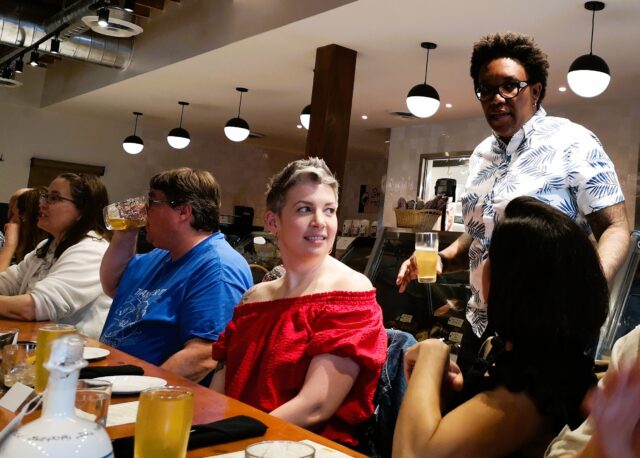 Navarro partnered a relatively light lager from Sparrow Brewing and Roasting Co. of Hespeler with these salty, crunchy snacks, and the two combined nicely with the beer contributing as a foil for the richness.

A witbier from Hamilton's Merit Brewing was Navarro's choice for a grilled radicchio, fennel, radish and bagna cauda — a beautifully garlicky treat — with gremolata. I think the character of the witbier did its job well in working with the garlic.
Next, Caledon Village's Sonnen Hill Brewing Bière de Garde, a "country beer" (at a beauty 6.7% ABV), was Navarro's selection for the hefty "Waterloo County fare" dish of smoked pork, apple and onion croquette. Soured cabbage and mustard complemented the porkosity ideally. A beer aged about a year, it had a bit of funk on it, says Navarro of the French-styled beverage. It was scrumptious.
Navarro then paired a Pleasant Disposition IPA (6.6% ABV) by Halifax and Dartmouth's North Brewing Company with Miller's poached leek and hot-smoked trout; the beer could easily keep up with a mustard sauce that was toned down by historic Canadian wheat Red Fife pancakes.

The plate was a substantial one but with ingredient flavours all nicely distinct. And with added texture of ultra-crispy fish skin too.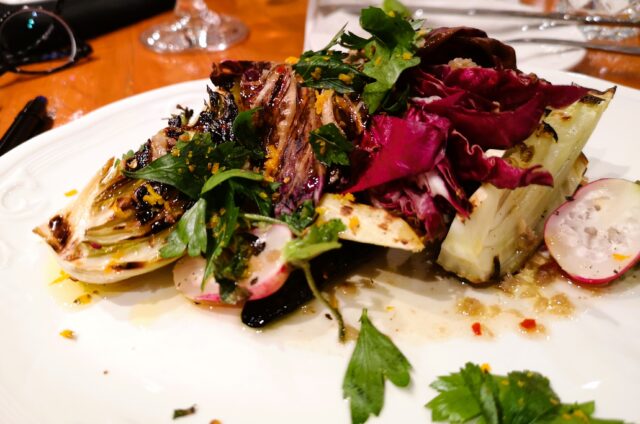 Finally, Toronto's Burdock Brewery IPA du Vin (7%) was Navarro's match with what I might call a "dessert beer" joining a small mountain of baked Alaska and its rhubarb, tea and elderflower accents. The beer is blended with wine for a unique tasting beer-wine hybrid experience.
From beginning to end, this Charcuterie Bar event taught me about a few different breweries, and more than just Ontario breweries, that I hadn't sampled before. It's good to get that wider perspective, for which Navarro is well regarded.

It was the instructional element, accessible and animated by Navarro, that helped distinguish this beer-food evening but while keeping things casual and fun.
Speaking in terms of "beer training wheels," though never condescending, Navarro is good at describing clear steps and touchstones for sipping beer with food — and vice versa.

Take a first sip to clear your palate, then a proper sip and explore the flavours and where they hit on the tongue — and how long do they linger? Or not. Sweetness may or may not subside at different points with different beer and foods.

Navarro adds simple but useful strategies: can you see your hand through the beer and how clearly? Look for flavours like banana and yeast, along with bubblegum in something like a witbier. Or, note how the beer is going to change and then it "comes back," Navarro said. "The sweetness might go, as well, and what remains is pith."
It's interesting to think about drinking beer in those terms.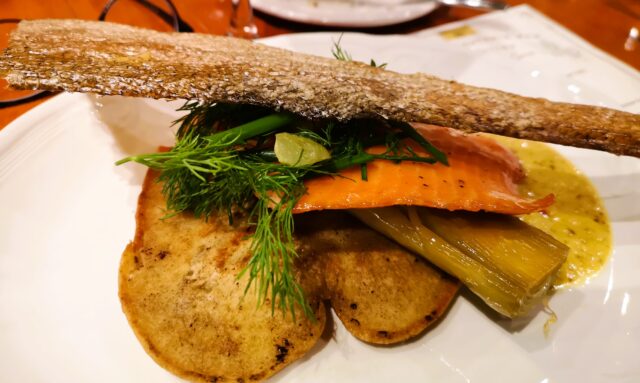 Overall, it's an engaging and fun process, even if you've been drinking beer a long time. Perhaps you've been doing it in a casual way: that's fine, Navarro would likely say, but you can easily explore and discover more if you wish.
For instance, she points out that water — the main component of beer — is different everywhere, so a Halifax IPA, she said, will be different than one made in Wellington County.
A final take-away for me is the manner in which beer can play a role in "evolving flavour" in relation to food, as that IPA, for instance, can steer its way through fatty dishes.

Simple, straightforward, illuminating — and delicious. If you have a chance, book yourself into one these FSG events. I'll bet you will have fun and learn something.

Look for upcoming tasting events at The Charcuterie Bar: from Unbottled tequila on May 25 and cheese "socials" June 1 and July 6 to a bison feast with Oakridge Acres (June 8), and a beer vs. wine "Great Bottle Brawl" on July 11.