TWB pivots: a chat with Alex Szaflarska
Reading Time:
4
minutes
Operating since February, 2016, Together We're Bitter Co-operative Brewing (TWB) calls itself a "multi-stakeholder cooperative" in which workers and community shareholders "have a say in how things unfold…."
It's a unique structure with "worker-owners" and some part-time staff at the Kitchener brewery. Together, TWB is happy to create IPAs, APAs, dark saisons, barrel-aged barleywines, oatmeal stouts and many other beers.

What they create is beer, yes, but for them connecting community is just as important. I can't recall a time, until the pandemic enclosure movement, when you'd walk into TWB and not find people talking, laughing and kibitzing at the bar and tables sipping a pint or filling a growler.

Like all of our bars and restaurants today, quiet at the Mill Street brewery (except for the brewery operations) is a new and defining feature — but the TWB group pivoted immediately and made changes to the business and to the way they "connect" with community.

In this interview (edited for clarity and brevity), worker-owner Alex Szaflarska describes the luck TWB has so far experienced during this crisis at the same time she recognizes that, sadly, many wonderful Waterloo Region businesses have not had the same good fortune and have had to lay off staff and shutter completely. That is sad for all of us.

*****
andrewcoppolino.com: How is the TWB family?
Alex Szaflarska: Well, we've been very, very lucky. Our team has really pulled together and everyone has been able to chip in. I know that hasn't been the case with every business, but we've been incredibly lucky to be able to keep everyone on.

What did you do to react to the news of the virus and what it could potentially do?
AS: We have two worker-owners [close to healthcare sector], and they were saying early on that this could be pretty serious. So we jumped quickly and moved to online sales almost overnight. We were lucky.

Is it different for a co-op than say a traditional top-down hierarchical organization who might just declare such a change?
AS: Yeah, you might have thought it was super slow when it comes to decision-making, but we found the opposite. Everyone has a role and we were able to react quickly, basically from one day to the next with online.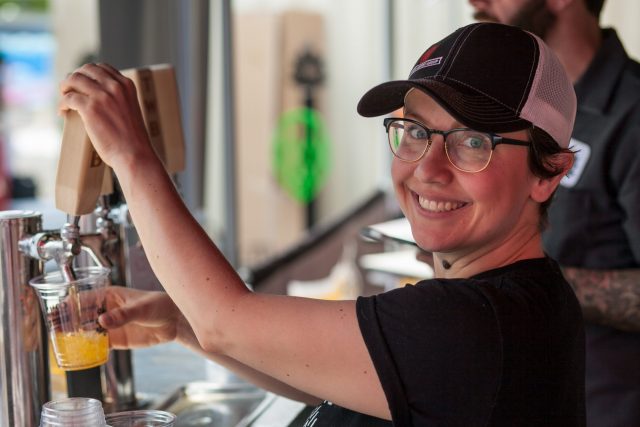 What does online represent in terms of sales?
AS: We're obviously not at the same level of sales but because of the big push to support local we're seeing the community really rallying.

I think you see that groundswell with a lot of businesses, food and beverage and otherwise.
AS: Yes, that's true. Thompson at Wooden Boat has been selling out. Swine and Vine, with whom we work a lot, are seeing great support too.

Let's hope that lasts a good long time. But let me ask, even though gas is cheap right now, what are the costs involved with online and delivery?
AS: We're learning about that. Mileage and labour hours. But it allows people to keep some money coming in.

What is the process for ordering online at TWB, so readers know.
AS: We've set up a separate website that has our bottles and growlers. Fill up your cart by 5 p.m. that day and you'll receive that evening, except for Sunday and Monday. We use route-optimization software to plan out our routes. We deliver contactless and check IDs from a distance. It takes two to three hours for us [to get through the deliveries]. There's gloves and sanitizing of course. We limit interaction.

So that's a very different process for your brewery.
AS: Yeah, we're wearing a lot of different hats. It's definitely taught us some new skills.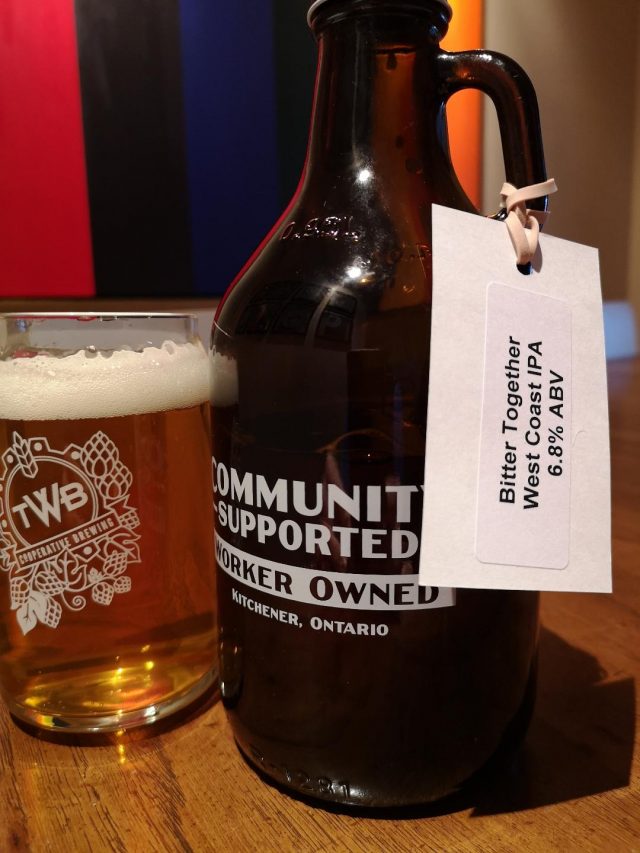 I don't think I've ever been to TWB when there hasn't been several people at the high-tops having a drink and socializing. There's events and often music in the brewery: that's a hallmark of the business, so this must be something very different for you?
AS: That has been hard. The space has been the one of the cornerstones of our business. But we won't be able to get back to that for a while.

That's hard to capture in these times, but what have you done?
AS: A lot of our delivery orders come from regulars, so we get to see them and wave through the window. As for our worker-owners, we don't get to see one another any more, so we have online chats. We have a tradition where we pick a business and do a joint order from them. Last week, it was Willibald [Farm Distillery and Restaurant] and we had a beer together, so to speak.

That is so cool.
AS: Yeah, we catch up a bit and see how everyone is doing.

That's a positive. It's difficult to imagine, but could anything else positive come from this?
AS: Like I say, we are very lucky. We have a great team, and we were able to adapt quickly. We recognize not all businesses have been able to stay open. But otherwise, yes, I think that delivery will be a new addition to our business model that I hope we can continue. Beyond that, it's the mutual aid network, the social solidarity, that we see popping up. We want to play a role in maintaining that in the community and supporting others.

Finally, regarding the idea of "worker-owners," do the current circumstances shed new light on that philosophy? On those values?
AS: For us, labour is a priority. I hope this focus that we are seeing on making sure workers are taken care of continues. The recognition that essential workers in every sector aren't necessarily who we thought they were. They deserve good protection and good wages. We hope that remains a part of how we engage when this is all over.

[Banner image / TWB Facebook ]