Superlative selection of shawarma
Reading Time:
2
minutes
The shawarma scene continues to grow in Waterloo Region. To the list, I would add Queen Shawarma & Kabab on Ontario Street near Charles in downtown Kitchener.

Shawarma rivals the ubiquitous "slice-and-a-pop" pizza joints that are familiar in strip plazas in every town or city: they tally to a few dozen outlets in the region. As such, they represent one of the most popular – and delicious – foods you can find.
That so much flavour can derive from the humble chicken is amazing.

Shawarma is pieces of chicken treated with spices such as turmeric, cloves, cumin, coriander, allspice, cinnamon, cardamom and marinated, sometimes as long as two to three days, to create a moist, rich meat that is stacked and layered on a metre-long skewer and mounted upright to rotate and roast in front of infrared radiant heat. Some of these larger cylinders of shawarma can weigh up to 50 or 60 kilograms.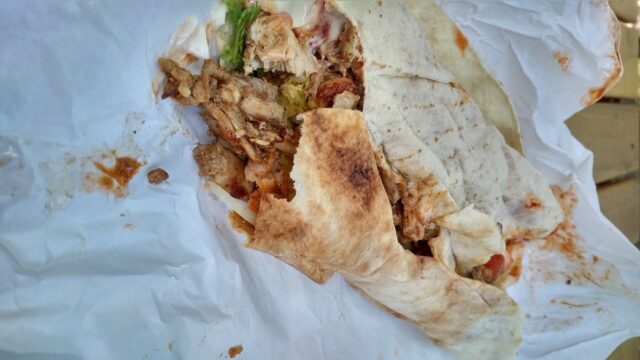 The origin of the dish is likely Middle Eastern, with Syrians, Lebanese, Jordanians, Iraqis and Israelis all preparing their regional versions. There is speculation that the Turkish word for "turning," cevirme, eventually evolved into the word shawarma.
The Greeks have their version which is often sold alongside shawarma and is a combination of meats formed into a similar sized cylinder.

The shawarma cook shaves pieces of meat into a tray with a long knife or an electric blade. The meat chunks, which may or may not then be dropped onto a flat-top for a last-second sautéing, are packed into a pita into which is loaded with vegetables of a combination similar to what might go on a sub sandwich, along with possibly hummus and sauces.

But the unique veg, and almost luridly so, is turnip batons which have been pickled with beets to give them a startling pinkish-red hue. The rolled and wrapped shawarma is often finished in a panini press.

Some shawarma shops may bake pita-like buns in wood-fired ovens. That's the best way to enjoy this sandwich.
---
Here's a random selection of just a few shawarma restaurants in Kitchener (there are many more):
iShawarma

Highland Halal Shawarma

Shawerma Plus