The Best Beer | The Bent Elbow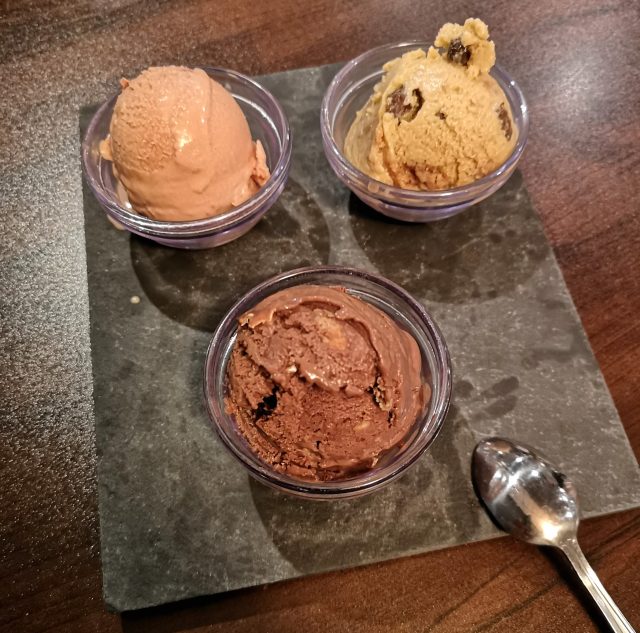 Reading Time:
3
minutes

The Bent Elbow
2880 King Street East
Kitchener, ON N2A 1A7
(519) 208-0202
thebentelbow.ca
On the menu tonight are jalapeno and bacon popper-rolls, a Carolina mustard pulled pork grilled cheese, a falafel with yogurt sauce and Thai chicken sausage with banh mi slaw.

Featured beers include a Schneeeule sour, beers from Anderson, Collective Arts Small Batch IPA and Belgian Orval Trappist ale.
*****
[Previously published] With 39 beers on tap and roughly 55 bottles or cans in their beer "Bible" (though it has been excommunicated during the pandemic), it is a haven for beer aficionados as well as folks who like to visit their local pub: The Bent Elbow has also carved out a distinction for itself for home-made food that's elevated beyond pub grub.

Conceived by proprietor and food- and beer-lover Harold Kroeker and his wife and co-owner Deanna, Bent Elbow opened eight years ago (the big day is January 28), the pair having previously owned and operated a pretty good beer pub and restaurant in the iconic "castle" across from Rockway Gardens.
Kroeker loves to experiment, boldly, with ingredients: most of what you eat at the 65-seat venue (pre-pandemic) is made in-house.

In that, he says he finds a certain pleasure in spending time in the kitchen preparing the menu items.
"During the day, it's nice to be back there getting the food ready, but then I like being out front too and seeing how it all comes together and hearing the reactions we get from customers. One influences the other," Kroeker says. "It makes you want to go back and do more because people appreciate it."
Beer as an ingredient
In the past several months, and even during the pandemic, the Elbow has been creating interesting dishes to go along with the beer — and using it as an ingredient.
An example? To coincide with Oktoberfest a few months ago, the burger was a porky, mammoth of a sandwich dubbed "The Beyond Veg Burger."
It is divine home-made beer mustard acting as a sort of cement for the tower of bratwurst patty, grilled beerwurst sausage, wiener schnitzel (the veal version), luscious Bent Elbow beer-braised onions and Havarti on a pretzel bun. There's a little sausage cap mounted on top too.

Kroeker is undaunted by its meat-forward construction. "There's a lot of people who like to eat meat, so we've tweaked a burger that way," he says. "There's no lettuce and tomato, but there is more meat. And we've sold quite a few."
They are not currently on the menu, but don't worry: there are always more inventive burgers on the horizon. "We're always thinking about new concepts and having new ideas," he adds.
Beer ice cream too
There's actual cooking going on. That's not 100 percent of the menu, but a substantial number of menu items. "We don't buy very many pre-packaged foods," Kroeker says. "It's fun to think of ways of using beer in the menu and for things people may not think of, like sauces and salad dressings."
The menu has included sandwiches and wraps, a curry, pork chops, schnitzel, a couple of salads (that don't have meat and benefit from the house-made sauces and dressings, like an IPA-orange vinaigrette, that the kitchen makes).
Deanna Kroeker makes a serious portfolio of beer-based ice cream: in the past, the current menu includes a radler creamsicle, porter chocolate, Elora Collusion chocolate stout and MacLean's Ales cherry porter to name a few; they are very good.
The effort to make menu ingredients has a practical basis too: knowing exactly what ingredients you are using helps when people have allergy concerns or intolerances. "Just tell us about it," Kroeker says. "We can find you something easily without having to grab packaging and reading the list of ingredients."
Sense of pride
It makes sense. Even in an excellent beer pub, Kroeker adds that people appreciate when you take the time to prepare the food yourself.
"I think there's a difference in the flavour, and there's a sense of pride we have too."