Latinoamerica Unida: the whole enchilada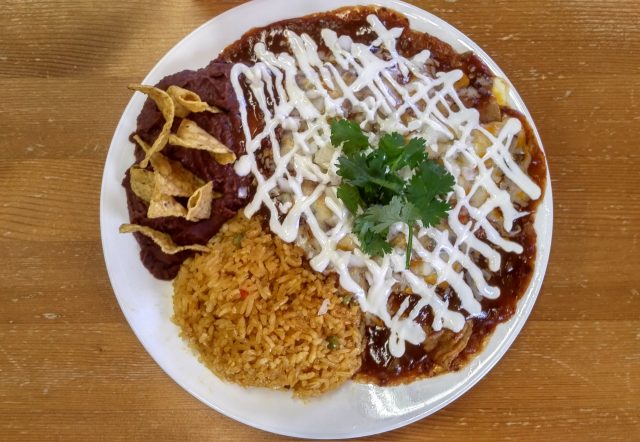 Reading Time:
2
minutes

Guadalupe Sanchez Diaz beams when she talks about the dishes and cooking at her restaurant, Latinoamerica Unida, in Cambridge. That passion for food speaks to me, as I think it does for most people. 
I've found people, no matter where they come from, really brighten when they get to discuss what they eat and how they cook when it comes to the foods of their particular community. It's always heart-warming to chat with them, and it's one of great aspects of a food culture.

The restaurant has been serving Mexican food for just over seven years. It's tucked away on Concession Street between Water and Ainslie streets, and perhaps without high traffic visibility—yet the quality of the food has garnered it a solid and loyal following. Incidentally, the Cactus Mexican Restaurant on Phillip Street in Waterloo is sister restaurant to Latinoamerica Unida.
Achiote gives colour
One of the dishes that people love—as do I—is the enchilada. A corn tortilla rolled or otherwise stuffed with meat (in this case, tender, moist pork), the enchilada is served with rice that is accented with achiote (from a shrub native to the Americas), giving it a yellowy-orange colour and with a touch of mild spice.
Enchiladas may be served with a steak or with eggs for breakfast; it's a hearty plateful, to say the least. One element of the dish that really stands out though is probably among the very best refritos frijoles—refried beans—you will have in Waterloo Region. Sanchez Diaz says that pinto beans, especially popular in the northwest of Mexico, she adds, are boiled and then blended together with garlic, onions, salt. They are creamy, rich and wonderful.
Chipotles and chile de arbol combine with tomato, garlic and onion to make the splendid rojas sauce for the large enchilada. The sauce adds complex flavours and a slight acidity to balance the richness of the dish.
Central American groceries too
The restaurant is also a good source of Mexican and Central American food products such as tortillas, spices and herbs, and in fact in the area near the kitchen was a very large and delicious looking bag of guajillo peppers ready to go into service where needed on Unida's large menu.
Talking with Sanchez Diaz, she noted that the menu includes foods from several regions of Mexico, a country that has 31 states and individual identities. She said the chimichangas, a sort of deep-fried burrito, are from Sonora, a region along the Gulf of California that borders the United States of America. That proximity makes it a popular Tex-Mex dish, and there are a few other dishes from the south of the country, as well.

It should be pointed out that Latinoamerica Unida is a Mexican restaurant—in comparison to the many (and delicious) Salvadoran restaurants that have appeared in Waterloo Region. In a way, that makes it unique.

It also gives me a chance to interject a tried and true cliché as a way of concluding this post: enjoy yourself at Latinoamerica Unida because it really is the whole enchilada when it comes to a delicious plate.
**********

Latinoamerica Unida Mexican Restaurant
#101-18 Concession Road
Cambridge, ON N1R 2G5
519-267-3634
www.facebook/latinoamerica Unida