New hours for Red Eye Cafe and Donuts
Reading Time:
4
minutes
Red Eye Cafe and Donuts has new hours:

Monday to Saturday: 10 a.m. – 5 p.m.
Sunday: 10 a.m. – 4 p.m.


*****
[Previously posted] In just over a year, Conestoga College hospitality management graduate Megan Dron and her Red Eye Cafe and Donuts has hit the bull's eye in targetting the recent donut Renaissance in Waterloo Region.
"It's been the quickest year of my life," says the Red Eye co-owner and co-founder.

Dron and husband and business partner Larry Dron opened Red Eye in June of last year and were caught off guard with at the so-called soft open, she says. A customer who was part of a Facebook page for Cambridge moms (there's a toy store next to the cafe) posted about her visit.

"We didn't even have a sign yet, but that weekend people were lined up to get in, and we only had two trays of donuts ready," says Dron. "That's a good problem."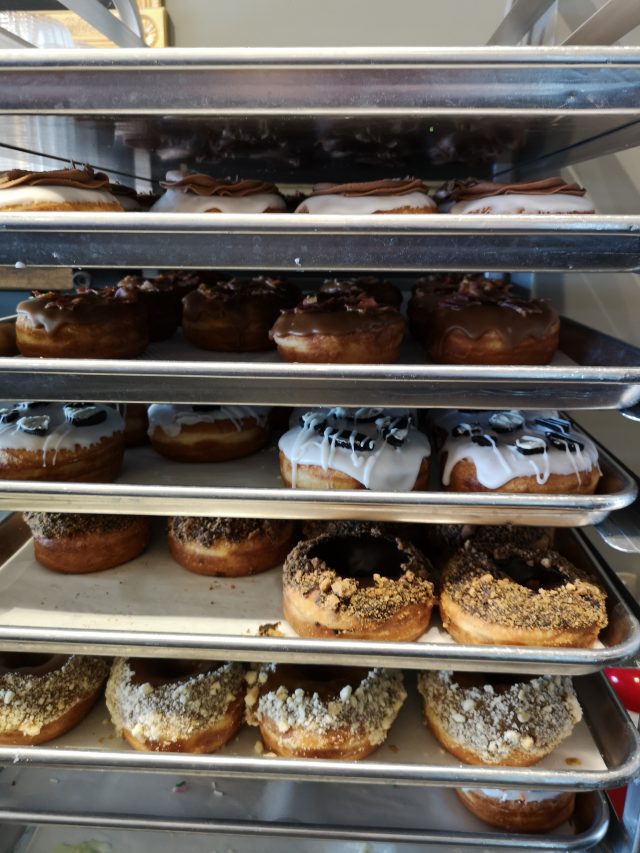 Dron is St. Johns, NL-born and moved to Cambridge when she was seven. After attending St. Benedict Catholic Secondary School, she wasn't sure of what career path to take upon graduating.

"I took a few years and worked and realized all the jobs were hospitality- or culinary-based. I said, 'I guess this is what I like.' I saw that Conestoga had a hospitality program for hotel and restaurant management, so I enrolled. It taught me a lot," she says. Dron graduated from the two-year program in 2016.
Entrepreneurial seeds planted
Food was in Dron's background. "My granny used to cook a lot. In Newfie tradition, there was a lot of home cooked meals. Jiggs dinner is nostalgia, but that's not what we've done here," Dron says. The idea of good donuts came from memory, however.
She worked at a number of foodservice and restaurant operations, including Beertown. During her hospitality education, the entrepreneurial seeds were planted and Dron developed an idea about what she wanted to do.

"I had worked at Starbucks for four or five years learning about coffee. Originally, I wanted to open my own pub, but I wasn't sure about closing a bar at three a.m. Then my husband and I thought about opening a cafe. Light lunches and we could close by five or six in the afternoon."
Originally, Red Eye Cafe and Donuts, now with about 10 staff, evolved out of a plan for a cafe at King and University in Waterloo that didn't come together, due to what would have been skyrocketing rent. "We weren't even thinking donuts at that point," she says.

"We stepped back and waited for something more reasonable. We were really impatient, and when the location fell through, it was disappointing. I realize more now that things will fall into place and work out."
Their thinking turned to Cambridge, but where Dron decided there were already several basic cafes. "My father-in-law used to own a donut shop, and he knew the basics of making donuts and what kind of equipment was required. His knowledge was key in helping us start this, including recipes."
They launched Red Eye as a casual cafe with seating for about 30 and open Tuesday Wednesday to Sunday. Each month, they carry about 15 kinds of donuts; there's always a dozen yeast donuts and three gluten-free, vegan donuts.

"Those special recipes were created by my mother-in-law," Dron says. Baked daily, it takes about an hour to make a donut — and to have all the donuts ready for 8 a.m. sale, production starts at 4 a.m.

There's a full range of coffee- and espresso-based drinks, as well as bagels. "Our kitchen is maxed out right now with baking equipment, but we are looking into offering light lunches."
The name of the cafe — appropriate on a number of levels — originated from a College physical resources project that required students to "build" a business, in stages, from the ground up. "Red Eye was originally a late-night video-game cafe for students," she says. "And, of course, it's a cup of coffee with a shot of espresso."
Offering something different
Dron says she wasn't expecting to start a business right out of college, adding that she didn't really think much of he physical resources project at first. "But I didn't realize how much that project in particular would teach me about starting a business. It was great to have," she says. "I still use my textbooks if I need to."
Recently, donuts, in an era of centralized and heavily processed baking, have seen a nudge in renewed interest and popularity as customers look for "home-made" goods and crafted foods that have a story and a connection to the people who make them; donuts have a new identity in an age of blasé national-chain donuts.

Red Eye seeks to attract donuts lovers who, when they make a purchase, will also see that there's good quality coffee for sale from Smile Tiger Coffee, as well as Grand River Tea. "For donuts, we were going for something better in quality. Big in size and something different. We wanted to bring the concept back that we remembered."
After a year and a bit, Dron estimates that things have gone well. There is a very small simmer of consideration being given to next steps, including possible expansion.

"Maybe that's another location for just wholesale, or in another city nearby," she says. "But right now, we're just trying to get staffing right so we can be more hands-off and look at more possibilities."