New faces, languages at East African Café
Reading Time:
2
minutes
East African Café
50 Ontario Street South,
Kitchener, ON N2G 1X5
(519) 342-0216
Downtown Kitchener's popular Ethiopian and Eritrean restaurant, East African Café (EAC), has a new cook and front-of-house manager, with owners Afework and Helen Germayie still involved with the business.

Haileab Haile and Menges Kassa moved to Canada from Israel earlier this year and expressed an interest in working with East African Cafe. Haile will be taking care of the cooking with Kassa taking care of the front-of-house.

"Haileab has had experience working at restaurants in Tel Aviv — Blue Rooster, for example — and will continue our traditional Eritrean, Ethiopian and Middle Eastern menu," says Afework Germayie.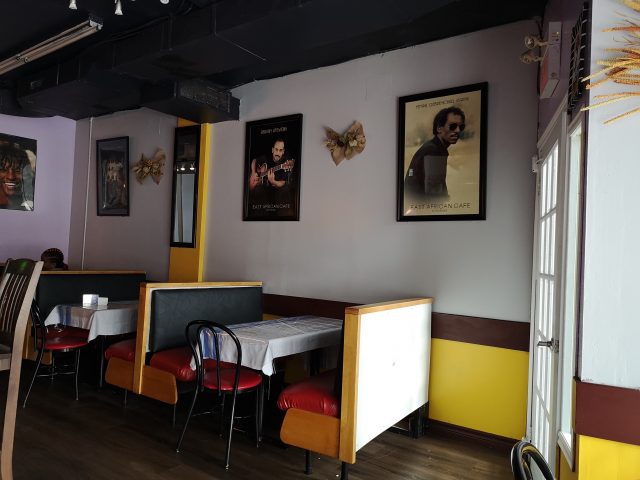 Germayie says that Haile has added some seafood to the menu and other dishes that are traditional.
"The East African Café is as multicultural as it is delicious."

— Afework Germayie

Zil Zil Tibs and Cha Cha are still on the menu at EAC, the latter pictured above, accompanied by mitmita and awaze condiments, including what is basically a hot Dijon-style mustard.

Kifto is a near-tartare of seasoned lean raw beef with cottage cheese-like side and a hot blend of chile pepper.

There are, of course, several vegetarian dishes. The injera, a teff flour-based flatbread, is a main focus of the cuisine — I just love it.
The food aside, EAC is a community hub, according to Germayie. "We are a good place for the area's East African community to gather but encourage anyone not familiar with our cuisine, or have never been to Africa, to visit and experience one of the oldest cultures on earth," Germayie adds.

"It's a real blend," Germayie continues." There's African languages like Tigrinya, Amharic and Arabic spoken alongside families happily chatting in English about the day's events. The East African Café is as multicultural as it is delicious."