Bar seat at Loloan: the best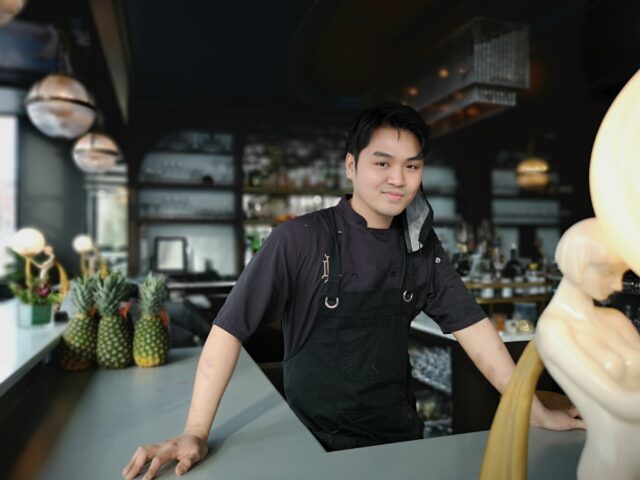 Reading Time:
2
minutes

I love hotel lobby bars.
Sit anonymously, listen to live piano music in the background and watch people come and go as you sip a dry Martini and munch salty, crunchy bar snacks while your imagination runs: who are these people, where are they from, where are they going?
Uptown Waterloo's Loloan Lobby Bar is the local ne plus ultra of the lobby bar: it's not in a hotel, of course, but it's unique in the region – starting at the revolving door that pirouettes customers in and out, one at a time, in its big-city wings.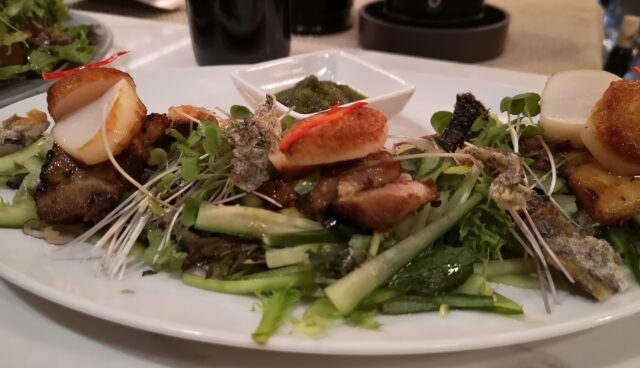 Chef-owner Paul Boehmer and his business partners have re-created the essence of elegant "lobbyness," if you will, and then some. The sleekness and symmetry in style moderne design motifs are captured in the bar lamps with graceful nude figurines and southeast Asian elephant themes.
Chef Paul Pambid, banner photo, worked with Boehmer for a couple of years at sister venue Bhima's Warung: he sends out delicious cooking.
Open since March, 2018, a sister venue to iconic Bhima's Warung, Loloan's 20-seat quartz bar is a coign of vantage for watching the entire space – and the people – especially from the comfortable aquamarine stools with Dorset Street windows behind.
From there, you can observe and fabricate stories and concoct tales: deconstruct the dynamics at a table of four millennials; guess the exotic locations where bar staff have worked; imagine that the lone regular, sipping a domestic beer, is secretly a millionaire. Think of Bill Murray. Or Anthony Bourdain.
Address: 14 Princess Street West, Waterloo, ON N2L 2X8
Contact: (519) 883-1010
Website: https://loloanlobbybar.com
For more of this story, please visit Waterloo Chronicle.