Duck confit at Artisanale
Reading Time:
4
minutes
214 Woolwich Street
Guelph, ON N1H 3V6
(519) 821-3359
https://artisanale.ca/
[Previously published]
Update: Artisanale has changed its concept, they have recently announced. They are now doing a 4-5 course tapas-stlyle tasting menu for dine-in on Fridays and Saturdays. There are two seatings, starting at 6 p.m. and 7:15 p.m.

Check their website for more details.
*****
Some bleary-eyed weekend morning, after you've had a sip or two of coffee, read the French labelling on that jar of strawberry jam in the fridge: "confiture."
Confiture is a preparation of preserved fruit, the word derived from the French verb, confire, meaning "to prepare."
Within the word confiture is confit: on a restaurant menu, it refers to both the dish itself – duck confit, for example – and its method of preparation.
Medieval cooks first applied the technique to fruits with honey or sugar syrup.
Proteins also got the treatment: when a pig was slaughtered in the fall, the meat was preserved, airtight, in the fat. It was a common preserving method for hundreds of years.
A confit of duck breast traditionally starts by salting and seasoning the meat, immersing it in duck or goose fat and slowly simmering it for several hours; the duck is then covered in the fat and stored in the fridge until a cook heats it, sears it in a pan and serves it to you.
A specialty of Gascony, the technique results in a delicious duck dish: one very good example is found at Guelph's Artisanale, chef-owner Yasser Qahawish's restaurant that embraces French country cooking.
"The reason I'm passionate about French cooking is that it represents regional cooking and the terroir, the seasons and what the people eat. We look for beautiful ingredients, cook them simply and make them shine," Qahawish says.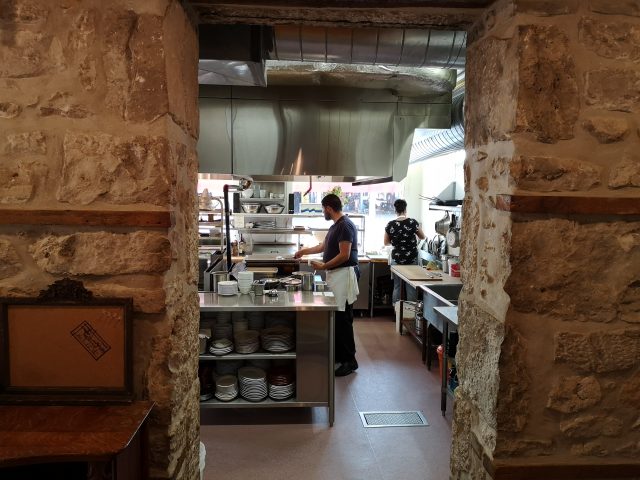 He opened Artisanale in late 2007, when I first visited, and moved to the 214 Woolwich Street location in 2012. The heritage building is unpretentious and rustic with stone, wood and charm that exude a comforting personality.
You pass a few shelves packed with supplies and preserves – a relaxed home-pantry quality – as you walk through the restaurant to a patio that, weather permitting, is equally casual and rustic; most of all, it's serene.
When Qahawish he talks about his food, you feel his passion. There's something about the dishes – their simplicity and their calm, straightforward execution – that's serene too.
His training includes work behind the stoves at Osgoode Hall for nearly a decade, and stagiaires at Trotter's, Le Bernardin, George Blanc, Michel Guerard, and Adria's El Bulli in Spain—people and places who've helped define cooking in the last several decades.
Here and now, local and seasonal have remained two of Qahawish's touchstones. Even in 2007, the kitchen was sourcing from Ignatius Farm, Antony John's Soiled Reputation and a Sebringville producer of heritage Berkshire pork.
Appetizers include rabbit, socca with salmon roe, a scrumptious haddock fish cake and salade verte. There's a roasted Japanese-style pepper: akin to a shishito, a supplier delivered them unexpectedly one day and Qahawish, liking them, cooked them.
The Artisanale roasted chicken is divine. Not currently on the menu, he makes an excellent croque-monsieur ham and cheese sandwich.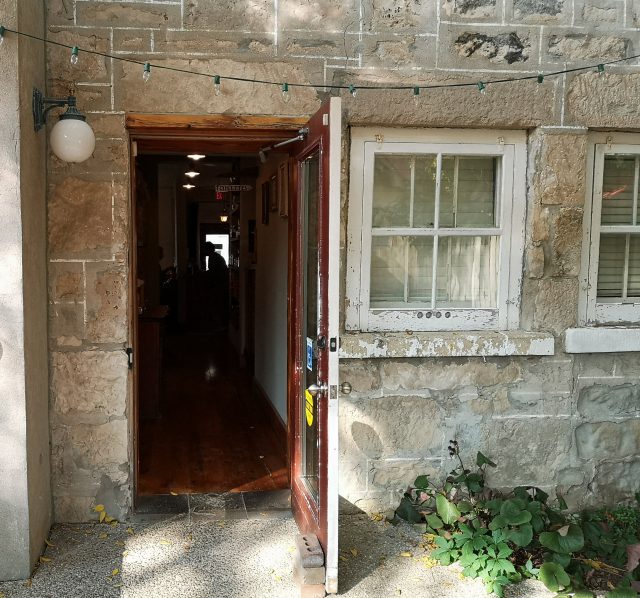 Desserts include chocolate mousse parfait and pear and almond tart; at this writing, nothing on the menu is over $25.
Having spent some time seeing to the front-of-house, he's stepping back into the kitchen. Along with him there are Jesse Wallace, who has worked with Qahawish for many years, and Brooke Howard who is responsible for pastry and helps with the front-of-house.

The crew makes a duck confit that's rich and moist with that classic crisp skin. "The leg is lightly salted over night and simmered at a low temperature, 250-degrees, in duck fat for three to four hours," Qahawish says. "We want the meat soft but not falling off the bone."
Beneath the duck is a lentil "stew" that is creamy but provides a slight bite along with some frisée for a gentle bitterness and a touch of caramelized onion: the dish is rich but not heavy.
What is always on the plate at Artisanale is simplicity, a never fussy arrangement of a few nicely cooked ingredients that contribute to a whole relaxed experience – made even better with a glass of wine.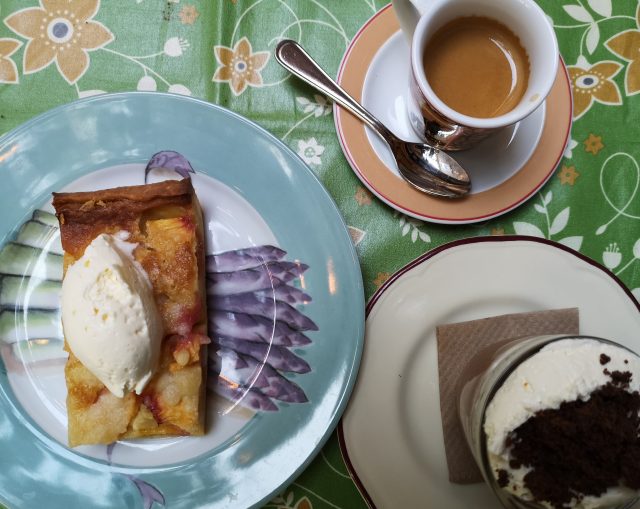 The menus, the hours and the seating capacity at our restaurants have changed during the pandemic – and have changed us all, in effect – but it's comforting in these times to find that a love for the simplicity of and attention to detail in French country cooking, and a classic dish like duck confit, still remains.

Check the Artisanale website for updated hours of opening.