Nostra Cucina = Veal Parm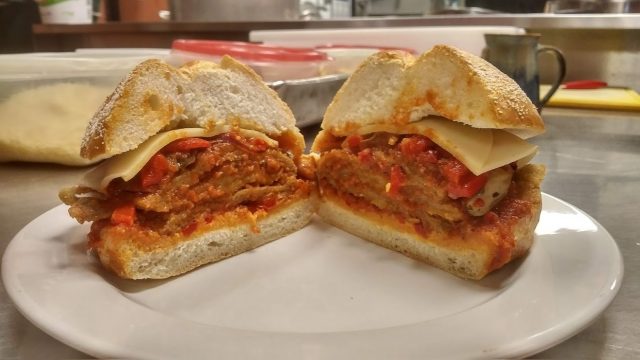 Reading Time:
3
minutes
Four words that you can craft, a sort of chiasmus, into a Kennedy-esque bit of rhetoric:

"Ask not what veal parm can do for Nostra Cucina; ask what Nostra Cucina can do for veal parm."
Well, they've done a lot for each other. It's a delicious sandwich made by some local (and fun) restaurateurs, Sian Burns and Dina Marsillo — including winning an award for it.

Note that there are summer hours for the inimitable Nostra Cucina, the days open being Tuesday to Friday: that means four days to get yourself one of the best sandwiches in southwestern Ontario and probably the best veal parm. (Hours are Tuesday and Wednesday 11 a.m. – 3 p.m.; Thursday and Friday 11 a.m. – 7 p.m.)

With summer and CoVid-10, there are some new rules of veal parm-engagement:
Phone 519-748-0504 to place your order;
Text 226-338-3842 upon arrival with name and vehicle description;
Wait in your car: someone will bring your order out when it is ready, and;
Use payment options of Debit, credit or cash.
*****
Nostra Cucina
31 Manitou Drive
Kitchener, ON N2C 1K9
(519) 748-0504
nostracucina.com

[Previously published]
A good veal parm is always what you need: it's been widely reported and is factually true.

Okay, that's fake news, but Nostra Cucina's magnificent veal sandwich is legit and one you do need to have. And regularly.
If I'm near the take-away restaurant, I pop in and buy one — even if I'm not hungry, or I just had lunch. They are just too good to miss.

It's a world-class sandwich and one that has won best veal sandwich in the province. That's right: the province. And that includes sandwiches in Little Italy of Vaughan and Woodbridge repute.
A world class sandwich x 150,000
Sian Burns and Dina Marsillo own and operate Nostra Cucina on Manitou Drive between Webster Road and Cress Lane.

At the time or writing, the menu features 15 or so hot or cold sandwiches (including the lovely New Orleans Muffuletta), pasta and pizza. But they excel at the veal, and they have done a lot of them over the years.

"I did some quick math," Burns says calculating a prodigious parm production. "I think we're at nearly 150,000 sandwiches in the 14 years that we've been here."

Each one has been remarkable but none more so than the one that brought home veal sandwich gold a couple of years ago for Ontario's Best Veal Sandwich, a competition sponsored by the Veal Farmers of Ontario and held at Toronto's St. Lawrence Market.

Don't worry: it wasn't a one-off sandwich. The sandwich that won the competition is the sandwich you'll get at Nostra Cucina. It's composed of several thin slices of veal breaded and shallow-fried and piled nice and high.
A hot-loaded or sweet-loaded sandwich
"You can bite right through because it's so thin and tender. Then there's roasted peppers, sautéed mushrooms, red onions, our tomato sauce and Provolone cheese. Or any way you want it," says Marsillo while she cooks one.
You can get the hot loaded version, or the sweet loaded version, depending on which peppers you choose. The breading is light (and lightly seasoned), so the individual flavours come through. The bun is thick—it needs to be to hold the heavy-with-goodness sandwich ingredients—but not heavy.
Sandwich love
"We've nicknamed it 'The Love,' and it's the reason Nostra Cucina exists. We didn't open a restaurant and ask ourselves what we should sell. I ate the sandwich and said we need to open a shop and sell this," Burns says.

"And it's made with love which I think is the most important part," she says. "Each veal sandwich is made like we're going to eat it."