DTK "speakeasy" Sugar Run is open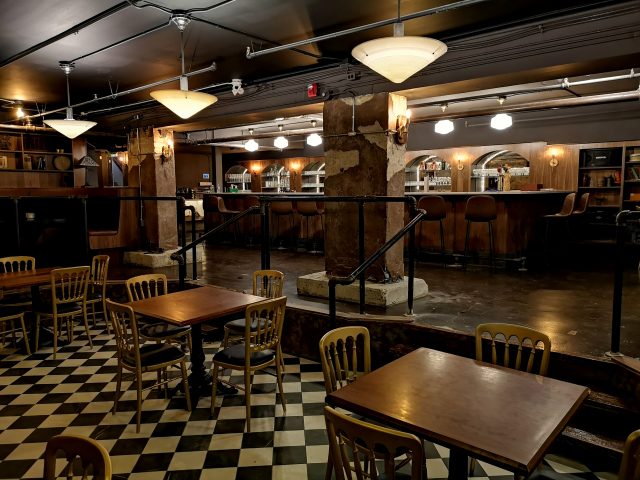 Reading Time:
5
minutes
Sugar Run Rum Bar, while it has night club hours, is more like a relaxed lounge, according to co-owner Kypp Saunders.

Saunders and his business partner and staff have re-opened Sugar Run as we settle into Phase Three during the pandemic.

The venue, given its fun (and not too serious) clandestine personality as a speakeasy, has had a slightly more difficult time getting back to "normal" again.

The bar, of course, is "hidden in plain sight," you might say, at the back of the buildings on Queen Street South, across from the Walper Hotel. You have to check into to their Insta to find the clues to the password: but that makes it a fun little quirk and something new for the area.

"Not having a patio has been rough," Saunders says of his re-open. "But things are getting better in the month we've been open again."

The lack of a patio is tough, but one advantage for Sugar Run and its customers is the large space the venue has inside: they have been able to re-organize and create safe physical distancing, and, along with plexiglass barriers and masking, there is a very comfortable roominess and vibe, Saunders says.

"People aren't hopping from table to table, and they are respecting the rules. Aside from a few gentle reminders to people who have gotten up and forgotten their mask, we've had no issues at all."

That's good to hear — it's what I've found inside the restaurants I've visited, and I think it's generally the way at the vast majority of Waterloo Region restaurants and cafés.
So, as I've stated several times, please continue to support these businesses as they navigate the choppy waters of the new pandemic reality.

Now that I think of it, a rum bar with a name like Sugar Run knows from choppy waters — I wouldn't be surprised if they had a cocktail so named!
*****
[Previously published]
Keep checking Instagram to learn where and when Sugar Run Rum Bar, Kitchener's new "speakeasy," is — and to get the password to get in.

The new bar, soon to open which opened in August, 2019, is the brainchild of local entrepreneurs and co-owners Kypp Saunders and Justin Vail.
"Justin and I came up with the idea after doing a lot of research in the U.S. and Toronto. Kitchener doesn't have anything like the idea of a hidden bar," says Saunders.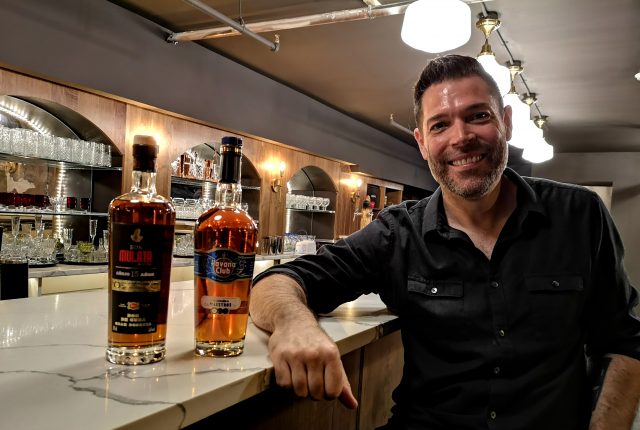 Knowing the password gets you the location and entry (if you're of age). "It is a speakeasy and it is hidden, but we want people to come, of course," says Saunders who opened, but is no longer involved with, Waterloo's White Rabbit bar several years ago.

His experience tells him that Kitchener and Waterloo have expanded in the number of bars and lounges, but Sugar Run will be is something different, he says. "Kitchener is really exploding with a younger crowd hungry for something new. The more cool new spots opening, the better it is for everyone."
Prohibition-era artifice
Speakeasies were Prohibition phenomena where illicit liquor sales and consumption of bootlegged booze took place. One had to speak quietly or "easily" about the secret venues for fear of tipping off the authorities who were dedicated, with no little malice, to aggressively rooting them out and making quite public temper tantrums and displays of pouring the casks of liquor down storm drains.

Recall that Kitchener and Waterloo have something of their own, though mostly mythic, bootlegging reputation: there's the former Rum Runner pub in the Walper Hotel and tales of Al Capone's nefarious appeareances; Waterloo's Stark and Perri was named for a rum-running/gangster couple (and, well, you know, the Seagram legacy).
The Sugar Run interior is decidedly "down-scale" and retro-bootleg in its artifice with chipped and faux-broken concrete beams and exposed electrical conduit and junction boxes.

There's a long marble-like bar with about a dozen stools facing five or six mirrors and the shelving of the back bar. Simple tables and chairs — there's capacity for about 130 in total in the venue — sit in floor space a few steps down from the main level and is a vibrant black and white tile.

There's lots of visible conduit and galvanized pipes, and it's nicely dark, with milk glass-like light shades.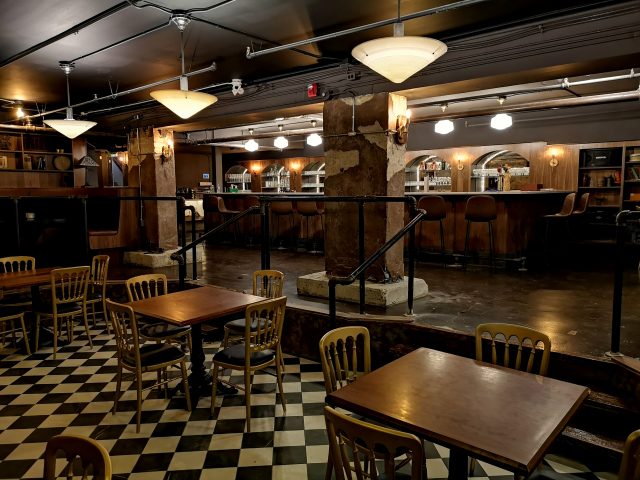 That achieved, you might well imagine Prohibition-era gangsters in heavily pinstriped suits and fedoras toting Tommy guns and sitting in a basement somewhere playing cards and chewing on cigars or toothpicks.
Rum-based beverages
"We don't have a rum bar in town," according to Saunders. "And that's what we wanted to do. We have a good tiki bar (pointing toward Grand Surf Lounge just down the street), and we are certainly not a tiki bar."

It makes sense, then, to put a heavy focus on rum-based beverages, including sipping rums. "Aged rum. It will be like good whiskey," he says.
There's a creative cocktail menu with lots of rum-based drinks. You could have a "Captain OG" with spiced rum and smoked pineapple jam, or a "Tortuga" with mezcal, El Dorado and black Mission figs. At the time of writing, prices were $11 to $18.

Dan Collins takes care of the bar.
There's also drinks with foam and nitro coffee from Smile Tiger. "There will be lots of plays on classic rum cocktails," says Saunders. "We're trying to get away from the syrups and infusions and go back to classic cocktails with simple ingredients. We have an eclectic wine list — not standard varietals — and four beers on tap, including a Belgian Trappist, and a couple of bottles."
Snacks for cocktails
The menu, at the time of the original story, was a small one, focussed on Caribbean flavours and techniques. "I'd call it a grazing menu," says Saunders. There was flank steak on a stick, ceviche, curried plantain and rum-butter jerk wings and other relatively simple preparations that are designed for sharing.

Now, like many restaurants, the menu has been reined in a bit given the circumstances. "Right now, we have meat and cheeses as charcuterie boards, a warm olive plate, and hummus. They are simple snacks that go well with cocktails," Saunders says.
To know where Sugar Run is and how to get in, you'll have to get out your phone, says Saunders.
"Follow us on Facebook and @sugarrunbar on Instagram. We'll be leaking the information because we do want you to be able to find us," he says with a laugh. "It'll be pretty easy to figure out."
[ Sugar Run will be open daily 5 p.m. to 2 a.m. is open Wednesday to Saturday, 8 p.m. to 2 a.m. You can visit their website at sugarrun.ca. ]