Weekend events and delicious dishes
Reading Time:
2
minutes
Here a couple of events coming up and two super restaurant dishes — either for delivery, take-away, patio or dining room — that you might want to consider for this weekend.
Knights of Columbus toy drive
The pandemic has set back the annual Waterloo Knights of Columbus toy drive. The drive usually collects about 25,000 new toys for kids in need.

The event is Saturday, August 29, starting at 4 p.m. There will be classic cars, a licensed patio, a visit from Santa and food trucks: Hangry Harry's, Cibo Streetery, Beavertails Mobile KW and Passado Brasil.
Blues and Foods
[Okay, it's a half-rhyme]
A modified physically distanced "True Blue Summer Series" of the Kitchener Blues Festival starts Friday and runs until Sunday.

Outdoors, it's probably the greatest event of the summer, and organizers are trying to capture that energy in this the Festival's modified "pandemic form."

Bobby O'Brien's, Crazy Canuck DTK, Jack Burger, McCabe's, The Falls Road Irish Pub, Descendants Beer and Beverage Co. and Swine and Vine are hosting venues. Physical distancing rules apply: please check with individual restaurants.
*****
Summer veggie delight
Summer harvest, TWH Social at the Walper
A plateful of summer revealing vegetarian goodness with a smorgasbord of fresh local produce by Grant Holdbrook and the TWH Kitchen. Try it!

Romano beans, favas, zucchini, pea puree, some herbs and leaves: the "Summer Harvest" dish is exactly that — and a delicious creation. The introduction of tangy and unusual seabuckthorn berries, lightly charred broccolini and some crispy lentils give the dish a burst of texture-attitude.
Finger food for kids of all sizes
Chicken tenders, Chef on Call
Chef on Call makes some great burgers, but their chicken tenders — a quintessential kids' finger food — are nothing to scoff at.

Fresh-breaded daily, the panko-crisp tenders are nice and hot. According to Chef on Call, they're a favourite selection and have been on the menu since the company began in Montreal.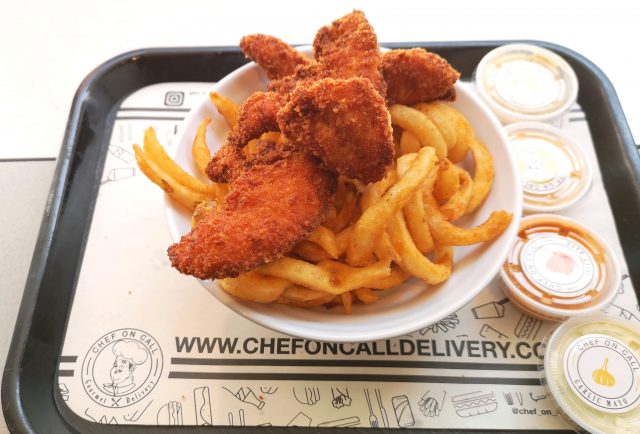 [Banner image/Kitchener Blues Festival Facebook]