Bibimbap "mixed rice" at Taste of Seoul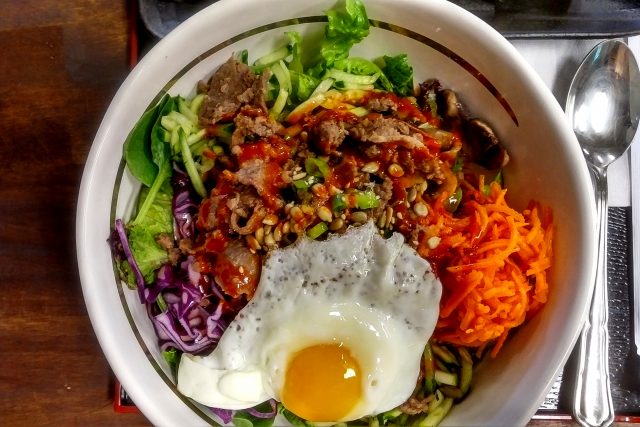 Reading Time:
2
minutes

[Previously published]
Located on the west side of Victoria Street South between Park and Theresa streets, Taste of Seoul
serves up, among other meals, a very good bibimbap. It has always been a favourite dish of mine.

The small venue, with informal seating for about 10, is located at 154 Victoria and has built quite a loyal following.

You'll find udon noodles, japchae (glass noodles), rice bowls and sides of miso soup and kimchi. The bibimbap is a classic Korean dish of rice, vegetables, a protein, a couple of sauces and usually a sunny side-up fried egg. It's bowl of goodness that is balanced in its flavours and textures and sparkles with its presentation.

The word bibimbap translates to something akin to "mixed rice" – and the best way to eat the dish is to mix it all together and gobble it down. For that, there's both chopsticks and, traditionally, a long-handled spoon.

Owner Jin Hwa Chye says the dish is often prepared with cooked vegetables, but the Taste of Seoul version has a good healthy dose of fresh lettuces and ribbons of cucumber.

"We kind of do it like a salad," she says. "There are six kinds of vegetables that we put in it and add our home-made teriyaki sauce and a sauce of fermented red pepper paste."

The protein choices you can select are beef, pork, chicken or salmon and of course a vegetarian version. It's a very large bowl, which, I dare say, could just about feed two people.

The process of eating it is simple: take the bibimbap ingredients as they are presented to you in the bowl and observe how beautiful they look – like an artist's paint palette. Then, with your chopsticks, take the meat, the veg, the egg and the rice and mix them all up together so you get a bit of each of the morsels in a bite.

If there is anything missing here, it's what might be known as the nurungji — the beautiful grains of rice that have turned brown and toasted and crispy-caramelized on the bottom of the bowl. A serving vessel that is often used for bibimbap is a stone dolsot bowl that is heated to blistering hot. When the rice is tucked into the bottom of the dolsot, it develops a crispy, candied coating that's unbeatably delicious.

Likely for logistical reasons and getting take-away lunches out quickly, Taste of Seoul does not use a dolsot, but, regardless, the combination of ingredients still makes this dish one of the great bowls of food found in world, one not to be skipped.

Taste of Seoul to open Monday to Saturday. Pick-up meal kits available. There is parking off Park Street.