Marshalling matériel at culinary school
Reading Time:
4
minutes
Having spent a good portion of his career as a cook and restaurateur, John Baltazar is now sharing his logistical skills and experience with students in Conestoga College's culinary program.

If, as Napoleon purportedly said, an army marches on its stomach, then keeping staff and students stocked with the supplies they need to do the job requires a similar military precision.
"This is about organization and looking ahead," says Baltazar, a Hamilton native and graduate of George Brown College culinary school. "There's a certain precision."

Baltazar worked for many years at a local restaurant, My Thai, as well as with Pearle Hospitality, where he cooked at Spencer's at the Waterfront in Burlington.

He was eventually tapped to help open a couple of landmark restaurants in Waterloo Region. He helped current Conestoga Bloom Restaurant executive chef and instructor Brad Lomanto open the Cambridge Mill, a Pearle property, where Lomanto was executive chef.
Baltazar was also on the team that opened Jonathan Gushue's ambitious and excellent restaurant, The Berlin, in downtown Kitchener, in 2015.

Yet Baltazar also has experience with his own venture in Cambridge: an inventive restaurant with thoughtful and delicious cooking called "Homage." He was behind the stoves and in charge of the Grand Avenue bistro for about two years.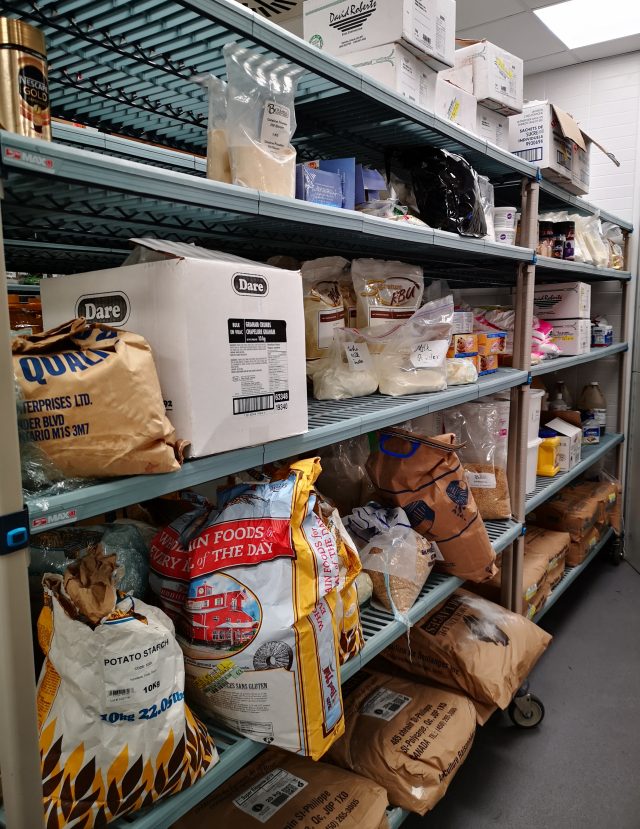 The sum total of this range of responsibilities gives him the experience supplying Conestoga's culinary program and working with students learning the back-end of the industry. As a store-room technician marshalling and providing logistics, he supplies the matériel so that instructors can instruct and students can cook. 
 
"I get classes ready from week one to 15 in terms of the database and all the ingredients and recipes," he says. Those recipes and weight calculations are built into a logistics program which he consults as part of his daily tasks, say, for the course "Culinary Trends, Week 7, Lab 1," which Baltazar then sources and compiles for the classes. 
He sends out his weekly orders depending on the course schedule and also receives shipments from suppliers and producers, whether its flour or pork shoulder. In restaurants, those deliveries can come several times a week and need to be checked against what was originally ordered and then stored.

He builds the carts that hold the food supplies and equipment for the classes, of which there can be 10 a day. The heavily-laden carts are either wheeled to the classrooms or they are picked up, says Baltazar.
As he answers the questions I have just asked, a full-time Co-op student in the program, Navneet Kaur, hovers nearby waiting for a suitable moment to interrupt our conversation with her own question.

Under Baltazar's supervision, Kaur works about 35 hours a week assisting and learning the logistical end of restaurant operations. (He answers Kaur's question and directs her to the correct chef-instructor.)
But more than just organization and logistics, he says his role is one that also focusses on relationships with purveyors: just like the larger industry after culinary school, that can be critical to a restaurant's (and a chef's) success. "Having relationships and being able to communicate what you need is important," he says.
 
He's quick to point out that another skill set, perhaps not always understood nor embraced by students and young cooks, is mathematics and calculating amounts and quantities. "That's really important in an industry where the margins are so slim. For anyone working as a manager in a kitchen, as a sous chef, for example, it's really important to see where your costs are." 
In any food setting, attention to detail is key and having a project plan instrumental. "I think exposure to the store-room and this process helps students understand time management, how to set priorities and what it takes to have good organization," according to Baltazar.

After his years in the trenches on the line prepping and cooking, he says he can't complain about the hours of a "regular" job. "It's quite a departure from traditional restaurant hours for me, though it has some of the same physical elements as working at a restaurant."  
 
That said, he does miss certain aspects of the restaurant kitchen though there is also an upside that goes along with it.

"I miss that adrenaline rush leading up to service and during," he indicates. "But the good thing is that I get to cook at home a lot more now."