Community connections: Crafty Ramen
Reading Time:
3
minutes
Crafty Ramen opened its second location in downtown Kitchener in November. It's a new sister to the original Guelph location which has been hugely popular for several years (see more about that here). Their home-made noodles, and other southeast Asian dishes, are delicious.

Like the quaint and cozy noodle house-like Guelph restaurant, the larger Kitchener location on Water Street is a beautiful venue that is well on its way to similar popularity. Until now: in a time of social distancing and isolation from ramen and any other sort of noodle.

Owner Jared Ferrall has obviously made changes to the businesses in order to at least try to survive during this Covid crisis. I spoke with him recently.

[Responses have been edited for clarity and brevity.]

*****

andrewcoppolino.com: I know it's a dumb question to ask, but how are you?
Jared Ferrall: Well, under the circumstances, okay. I consider us very lucky. We've managed to keep our take-out open so there's some money coming in, though it is nowhere near what it was. To be honest though, I'm feeling grateful.

So with two restaurants you're operating, is that good or more difficult to manage?
Ferrall: With Guelph Crafty, I don't have any concerns there. We'll be okay for a while. Kitchener, though, we don't have the clientele base yet, but we're getting great support.

Have you been able to keep most staff?
Ferrall: I've been lucky there. I've managed to keep most of my team. That keeps some money going into their bank accounts.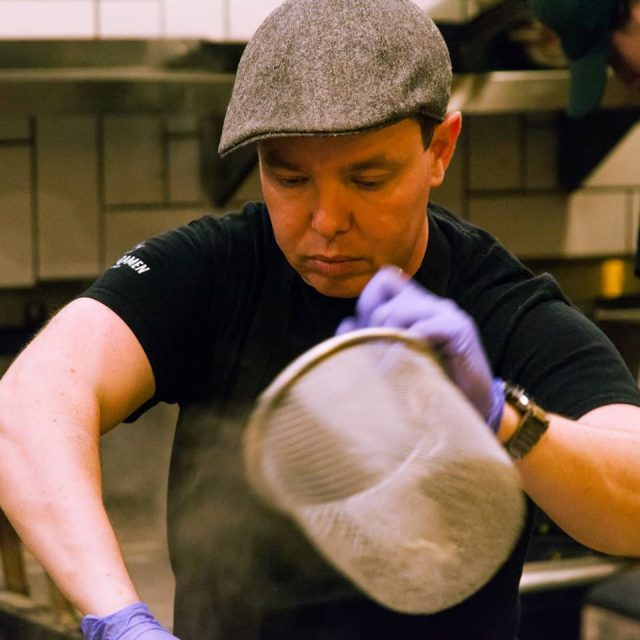 And how do they feel about working during this? The money aside.
Ferrall: Staff are saying they want to work and come here. If they all say they don't feel comfortable tomorrow, then we close.

That's understandable.
Ferrall: Yes, no question of that. We've asked them numerous times about they feel about it.

And how does that make you feel, I mean as an employer?
Ferrall: There are still conflicts within me. I own the business, and I'm worried about their safety and feel responsible. But as well, I think we're also offering something to them and to the community right now.

How so the community?
Ferrall: Food is important to the community as nutrition and staying alive, but food is a connection to the community too. Even just take-out. The ramen is a little bowl of comfort in this time of isolation.

But then again, people have to get close and that may not be best?
Ferrall: Yes, are we contributing to making this last longer? I just don't know. I'm conflicted in that, but I still feel like we're doing the right thing. But I'm torn. We're following all guidelines and we have sanitizer everywhere. There's lots of hand-washing of course and rubbing alcohol is constantly being used to disinfect.

How do we get food from Crafty Ramen?
Farrell: UberEats is the most active way, but a lot of people come to pick up. That's a ritual. I'd really like to see more people picking up.
This will be over. What can start to see about what we are learning? To take away from this?
Ferrall: Oh, I'm not sure right now. We're certainly learning about our business and what we can do. It's clear about a living wage. Food-industry workers need more pay. I'd love to see that, but I think [as a society] we need to be ready to pay more for our food at restaurants. That's always a battle.

Well, that's certainly an issue when we think of wages and industry fragility when something like this comes along.
Ferrall: I don't know what we will learn from this, ultimately, and what we can do as a society better. I don't know. More will become clear in reflection later.

What have you been heartened by?
Ferrall: People are reaching out. And we've made great connections on social media with other businesses. They're saying stay strong and stay in there. I think that's been great. And restaurants in Kitchener and Guelph that weren't really take-out before have pivoted and they're selling out. It's great to see.

Well, that's good.
Ferrall: Yeah, people are showing that they care about their local and favourite restaurants as an intrinsic part of the community. That's what has come of this so far. I hope that continues.

Crafty Ramen Guelph and Kitchener are open for delivery and take-away 12 p.m. – 9 p.m. Monday to Saturday and 12 p.m. – 8 p.m. on Sunday.