Spicy hot chicken for cold weather
Reading Time:
2
minutes
In Nashville, the go-to for hot chicken in Prince's Hot Chicken Shack, a business that has been making the searing-spicy dish for 80 years. That's eight – zero.

The James Beard Foundation has decreed, fwiw, that the restaurant is worthy of an "America's Classic" designation; Eater dubbed it one of 38 essential places to dine in the U.S., and Bourdain said he had never eaten something like Prince's chicken, adding that it must be "an initiation ritual for Yankees."
It can have that college-dorm hazing ritual aspect to it.

Often, the primary spice is cayenne, which registers between 30,000 to 50,000 Scoville units for spice-heat measurement (the green bell pepper measures zero).

Hot chicken does have an oddly addictive quality, as many people attest to — myself included: although I'm generally not a fan of really hot food, I find myself thinking about and lusting after hot chicken.

Really hot hot chicken is often too much to take, and yet you seem strangely drawn to return for more punishment.

(Incidentally, you can read more about the Prince's phenomenon in this New Yorker article, which notes that Beyoncé and Jay-Z have a peon to get the chicken for them.)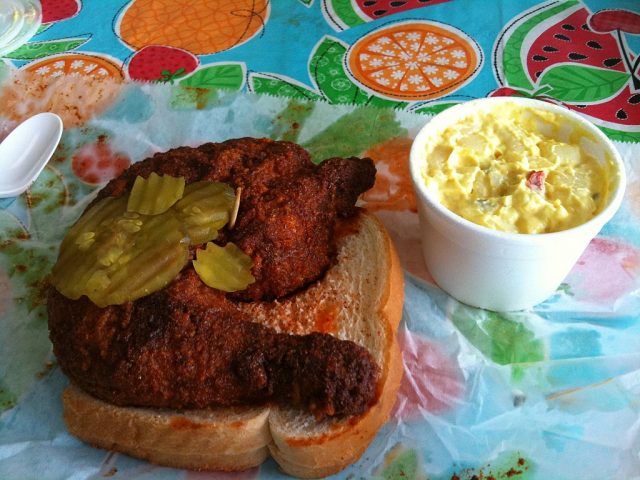 Waterloo Region and surrounding environs have a few examples of hot chicken.

In Stratford, when travel again permits, head to The Red Rabbit for two pieces of Nashville hot chicken with Wonderbread, sweet pickles, macaroni salad. The chicken is, the menu says, "legit spicy hot." I can attest to that: it is very legit hot, in a wonderfully painful way.

In Kitchener, get a half-fried bird "spice-oil dipped" (medium or hot) for one or two at The Lancaster Smokehouse. That's five pieces of chicken, white sliced bread (for sopping up hot oil, of course), a choice of two sides, cornbread and pickles. The full bird expands on that load. Co-owner Tim Borys says they use a lot of cayenne and good paprika. "It's simple but searing. You're supposed to cry," he says.

For a milder hot chicken, check out Guelph's Lucky Belly Food Co. which serves up a spicy Chicken Cheddar Jalapeno sammie with jalapeno corn relish.
In Preston Towne Centre, The Cambridge Restaurant, a downtown diner that has been slinging food for locals on the same site for just about as long as Prince's in Nashville, has a slew of what it calls "the best" chicken sandwiches — of course, that includes the famous Nashville-style. The sammie is chicken coated in a savoury, spicy glaze and served on a fresh bun with pickles and slaw.
[Banner image/Lancaster Smokehouse]