Throwback Thursday for delicious flavours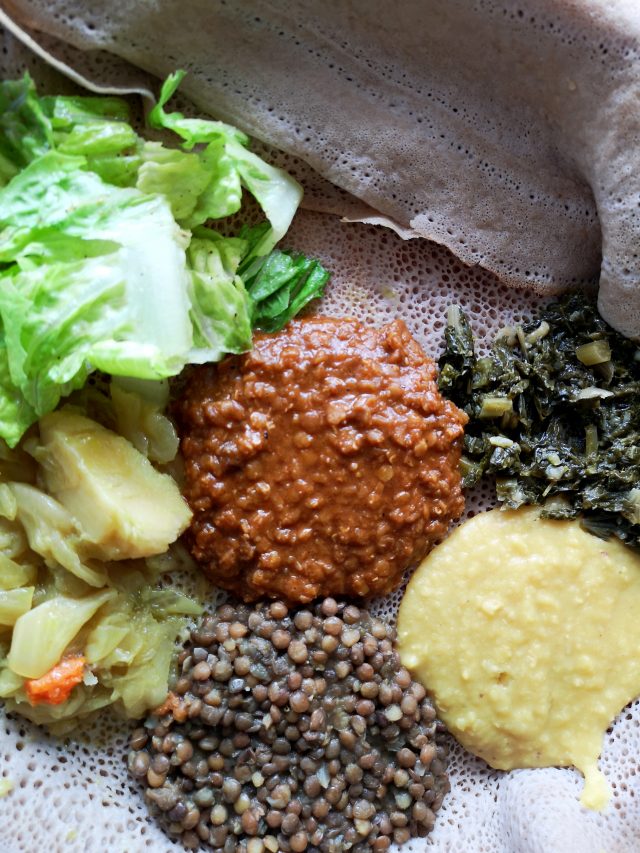 Reading Time:
3
minutes
Originally published a rather long time ago, I'm posting a short newspaper reviews of a current restaurant from my column, from years past, and and two restaurants which have closed.

On Throwback Thursday, it's interesting to see what the dining scene was like — and how it was growing — from more than a decade ago.

I think it is all about perspective.
*****


Kitchener's A-M Africa [now closed] has been serving customers since the mid-1990s, and with its injera and cayenne-inflected berbere spice, it has pretty much single-handedly held down the African food front.
But new restaurants specializing in African flavours have given the downtown more tastes of lamb, chicken, goat stews, lentil dishes, kale and collard greens, as well as spicy kietefo (tartare) beef served on a foundation of traditional injera bread.
With injera, imagine a platter-sized, very thin pancake with fairly large bubbles. Flour from teff, a grass-like plant native to Ethiopia, is used to make a fermented starter dough similar to sourdough—with the pleasing result that injera has just a hint of tang.
Ripping pieces of the bread for each bite, injera is a utensil for collecting dollops of zigni beef stew, tibs alicha (lamb often with jalapeno), and ful (broad beans).

The east African specialties are good in their own right, but the momentarily alienating method of consuming what you usually eat with a spoon forces you to reconsider the entire act of putting sustenance into your mouth.
At Dire Dawa Restaurant [now closed], for instance, doro wat ($12), one of Ethiopia's national dishes, is peppery spiced chicken stew which, with garlic, cardamom, cumin, and fenugreek, has underlying flavours reminiscent of Indian cooking. Those spices combine to form berbere and, along with niter kibbeh (clarified butter spiced with cumin, coriander among others), are a characteristic spice mixture of east African cookery.
Dire Dawa's doro wot was not too fiery—the only issue was that the serving was rather small for the price. When we visited, the single staff member seemed somewhat surprised to see us, though he was very friendly.
Dire Dawa
273 King Street W, Kitchener
519-743-5963
Tuesday to Sunday 1:00 p.m. – 11:00 p.m. Licensed. Visa, Mastercard, Interac accepted.
---
On nearby Ontario Street, East African Cafe has a menu limited to about 10 dishes in Ethiopian and Eritrean style, including two breakfast offerings ($5): ful with egg, tomato and peppers, and kita fitfit, home-made pita with spiced butter and yogurt.
Misir wat is a garlicky whole red lentil and onion stew, while the misir besin features split lentils. When the kitchen prepares such dishes—spiffed up with garlic and spices—they haven't cooked the lentils and legumes down to a pablum state maintaining a firmer consistency that provides a pleasant texture.
Cowlow is a cabbage stew with carrots, potatoes, and garlic, while kamlie is kale with jalapeno, onion, and garlic. Injera is the common base for many of these foods, and you can select a combination to sample along with a green salad ($6-$10).
Simple tables and stackable chairs make for a very casual ambiance at East African Cafe—to the point that it seems the decorating budget ran out, though artwork by local artists cheers up the room.
East African Cafe
Unit C – 50 Ontario Street, Kitchener
519-342-0216
Monday to Sunday 10:30 a.m. – 9:30 p.m. Licensed. Visa, Interac accepted.
---
Tucked back off the street in a plaza along Highland Road, Hirna Restaurant and Cafe also seemed a bit surprised when I walked in. Don't go for the decor: like its cousins in downtown, it is sparsely decorated and an odd, partial wall (from whatever shop was there before it) divides the room.
Yet, if you arrive to find one of their meat samosas, freshly made, still warm and only $1, you'll be happy: a satisfying blend of crisp eggroll-style wrapper and tender chewiness, the samosa offers a light cumin spice with a bit of green pepper accenting the mild ground beef inside. The two I tried had been deep fried just the right amount of time and with no residual grease. Also available are fresh diamond-shaped biscuits that are closest perhaps to a cakey shortbread. They were delicious.
The kitchen also puts up a t-bone steak, pasta (curiously), and chapati, the unleavened south Asian bread which, along with the spices and techniques used, give Indian and African cooking some similar flavours and textures.
Serving chicken, beef, and vegetarian dishes, Hirna also plates a simmered goat ($8) that was sweet, extremely tender and garnished with a smooth jalapeno chutney. It's a good sized portion and though bony here and there as you expect with caprine meat, there is not a fibrous texture in the lot. A colourful, perfectly cooked confetti basmati enough for three people swamps the plate as the faintest scent of cinnamon wafts up.
Push aside bland boiled peas and carrots, nibble the lightly vinegary iceberg-lettuce side salad and enjoy your goat while watching Aljazeera news on the large television in the corner.
Hirna Restaurant and Cafe
1 – 200 Highland Road W, Kitchener
519-342-2566
Monday to Sunday 11:00 a.m. – 9:00 p.m. Halal dishes. Not licensed. Visa, Interac accepted.
Assessing food, atmosphere, service, and prices, Dining Out restaurant reviews are based on anonymous and unannounced visits to the establishments. Restaurants do not pay for any portion of the reviewer's meal. Andrew Coppolino can be reached at andrew@andrewcoppolino.com.